A passion for education and the nation
Share - WeChat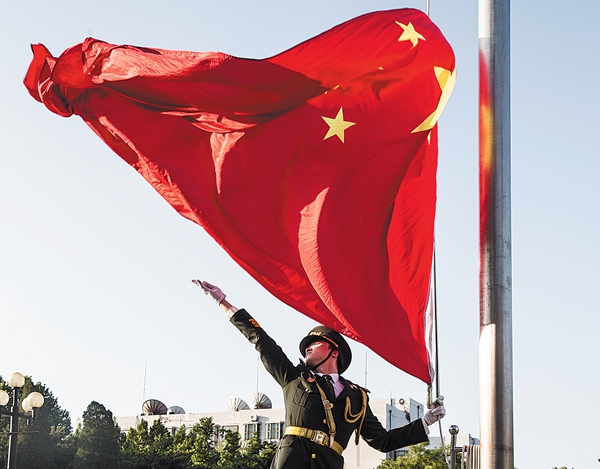 HK native wants to contribute to Chinese mainland schools through his multicultural background, Li Yingxue reports.
Having lived and worked in several countries and regions across three continents, 30-year-old Enoch Wong Yi-lok is considered a global citizen by many of his friends. However, despite his many years abroad, Wong believes one must know where he or she comes from-the Hong Kong native has always been proud to be a Chinese citizen.
A co-founder of three educational startups, Wong is keen to contribute to the advancement of online education in his country. He hopes to expand the worldview of young people so that they might have better opportunities.
Wong is also senior development manager at the Office of Lifelong Education Administration at Tsinghua University.
Last year, Wong hosted more than 100 hours of global webinars and online meetings with education experts and practitioners, including the opening session of the Global MOOC Conference on Dec 11, which attracted more than 10 million live attendees online. MOOC refers to massive open online courses which are made available over the internet, without charge, to a very large number of people.
Be it studying, working, or starting his own business, education is always one thing Wong is very passionate about.
Though Wong's parents are both blue-collar workers and never had the chance to go to college, they are aware of the importance of education. When Wong was 10 years old, they sent him to study at a boarding school in the United Kingdom.
It didn't take long for him to acclimatize to living alone in a foreign country. "I didn't get why my classmates were crying all the time," says Wong, who had already learned to be independent before going to the UK.
"My mom had three jobs, and my dad had two jobs, so they worked constantly. Since I was quite young, I sort of learned to take care of myself and be independent," he says.
When he was studying in Hong Kong, Wong was not a good student by any standard. However, he did his schoolwork so well in the UK that he skipped two grades.
"I was the same student as I was in Hong Kong, but in the UK, I studied so well and that was the first time I found my interest in education," he recalls. Wong later went to the University of Warwick to study mathematics on a full scholarship.
All the overseas volunteer projects Wong participated in during his college days strengthened his resolve to devote himself to the field of education.
During his sophomore year, Wong had a chance to volunteer on the outskirts of Karachi after Pakistan was hit by one of the most devastating floods in its history. Wong helped to distribute food and water as a volunteer.
After graduation, Wong got a job at consulting firm McKinsey, joining its newly formed business unit in South Africa. However, the pull toward education eventually saw him to quit the job, but not Africa.
He and several friends spent three years in Africa working with nongovernmental organizations, the United Nations and local universities on projects helping to develop leadership skills.
A year later, Wong moved back to Hong Kong and started his first company coding programs with several friends. After working with local schools, their team expanded the business in Southeast Asia and the United States.
"We know education on the Chinese mainland is a huge market, but we didn't know much about it then," Wong says.
He then moved to Guangzhou and started his second entrepreneurial project-providing cultural training to foreign trade companies.
Most Popular