A passion for education and the nation
Share - WeChat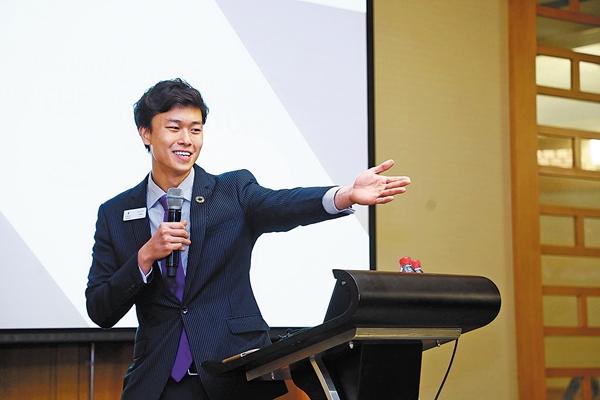 In 2016, Wong moved to Beijing and started a company which provides career training to both university students and corporate employees.
After eight years of working, Wong decided it was time to go back to school himself. In 2018, he became a Schwarzman Scholar at Tsinghua University, as he wanted to not only learn about the field of education, but also to get to know his motherland better.
There are about 200 scholars chosen each year for this program. "We live and study in the same building. This allows us, as students from over 30 countries, to enjoy closer interactions with one another," he says.
To better understand his homeland, Wong applied to become a member of the university's honor guard. He became the first member from Hong Kong, Macao or Taiwan since the team was founded in 1994.
As he had no prior military training, Wong had to learn how to march and the technique of throwing the flag into the air with confidence and style.
The team trained through the night and over the weekend. For an official flag-raising ceremony, they would gather at 4 am.
"I can really feel the respect I have for my motherland and the responsibility of being Chinese," he says.
In December 2019, Wong became a member of the delegation sent to Macao in celebration of the 20th anniversary of Macao's return to China, and the team held a joint flag-raising ceremony with its counterparts from the University of Macao.
He hopes to one day do the same on an anniversary of Hong Kong's return.
As a member of the honor guard, he also had the opportunity to visit the Xinjiang Uygur autonomous region. The team hosted a winter camp at a primary school in Kashgar and Wong taught some art classes.
"The students in Xinjiang are really adorable and full of imagination. I feel that there is no difference between us, and that we are all Chinese," Wong says.
During his studies at Tsinghua, he found his focus-online education, which he believes is the trend of the future.
He also had the chance to do some volunteer work for the university's lifelong education administration office, and he became part of the team after graduation last year.
Wang Xiaoxiao, deputy director of the office, says the work focuses on online education, and Wong is helping to prepare and run the Global MOOC Alliance and Global MOOC Conference.
One of Wong's tasks is to invite university chancellors to join the MOOC conference. Through this task, Wang thinks Wong is a person who pays a lot of attention to details and is open to opinions and suggestions.
"When Wong wrote emails to the principals of the universities, he would first do hours of research on the recipients, finding comments, opinions or research they were involved with pertaining to online education, and discuss it with them in the emails," she says.
Apart from connecting with universities worldwide, Wong also hosted many online sharing sessions.
"Because he was born in Hong Kong and studied in the UK for 10 years, the combination of Eastern and Western cultures gives him the ability to tell our stories to Westerners in a way they can better understand," she says.
Wang believes innovation is a key element in online education. "In this field, all new things will soon be shared by the world, and the more people using this, the more value it has, so we hope to do something cutting-edge in online education," she says. She adds that Wong always brings new ideas to the team.
In the future, Wong plans to study for a PhD in education at Harvard University. Wang supports his plan as she thinks that each platform supports a person for a certain period of time. Once they have better abilities and views, they move on to places more suitable for them.
Wong says he hopes to teach at a college in China if he finishes his doctoral degree. "I want to do research and teach in the education field and make my own contributions to China's education system," he says.
Most Popular