Multi-skilled talent seen as key to manufacturing
Share - WeChat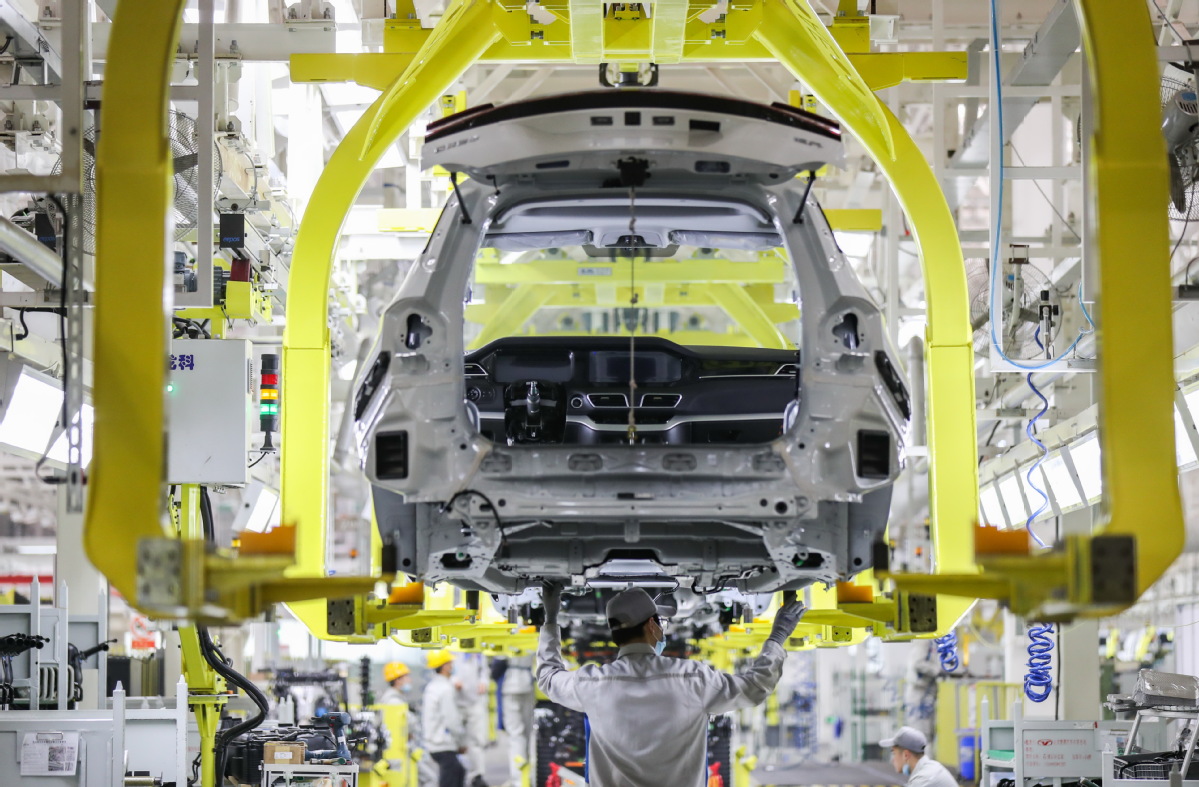 More efforts are needed to cultivate multi-skilled manufacturing talent in China, as the nation's 14th Five-Year Plan (2021-25) has highlighted efforts to pursue industrial upgrades and promote intelligent manufacturing, experts and company executives said.
Zhang Long, general manager of the intelligent manufacturing research center at the China Center for Information Industry Development, a Beijing-based think tank, said in the post-COVID-19 era, China's manufacturing industry will place greater emphasis on the shift to high value-added fields, which puts forward new requirements for digitalization and intelligence of the manufacturing industry, and thus puts forward higher requirements for manufacturing talents.
Jonathan Woetzel, director of the McKinsey Global Institute, said that by 2030, about 220 million Chinese workers may need to change their professions, and it is advisable to expand the coverage of the education and skill development system to include not just the student population but the overall workforce of 775 million people.
The government, industries, and the society need to work together to promote the skills transformation in China, Woetzel said.
The comments came after this year's Government Work Report said China will implement projects for upgrading industrial infrastructure foundation and give full play to large enterprises' capacity to provide leadership and support.
The plan will make efforts to boost industrial foundation, modernize the industrial chain, and stabilize the proportion of the manufacturing industry (in GDP), it said.
At the same time, China faces a structural employment challenge, with the coexistence of companies having difficulties in recruiting people and workers finding it hard to secure satisfactory jobs. There is a shortage of high-level skilled manufacturing workers, experts said.
To help solve this problem, Chinese tech giant Lenovo Group Ltd launched a "purple-collar talent initiative" last month to help cultivate talents for the new intelligence transformation era.
According to Lenovo, "purple-collar" talent refer to talent who meet the requirements of intelligent manufacturing, are familiar with the actual manufacturing process, understand the corresponding technical theories and have both hands-on operation capabilities and management capabilities.
Qiao Jian, senior vice-president of Lenovo, which is the world's largest personal computer maker, said the company hopes that the "purple-collar talent initiative" can help drive industrial upgrade in China and foster high-quality development of manufacturing.
Under the initiative, Lenovo said it will leverage internal sources such as supply chains and its charity foundation to partner with universities and vocational colleges to cultivate people for a wide range of manufacturing industries. Currently, over 10,000 people benefit from Lenovo's vocational education initiative every year, and it aims to expand the scale so that more people can participate in the project.
Liu Baomin, deputy director of the institute of vocational and technical education center at the Ministry of Education, said vocational education during the 14th Five-Year Plan period will need to provide talent support for high-quality economic development. Deepening school-enterprise cooperation is the core for vocational education. And more efforts are needed to improve the standard system of vocational education to ensure its quality, Liu said.