Transformation into winter venues fine-tuned
Share - WeChat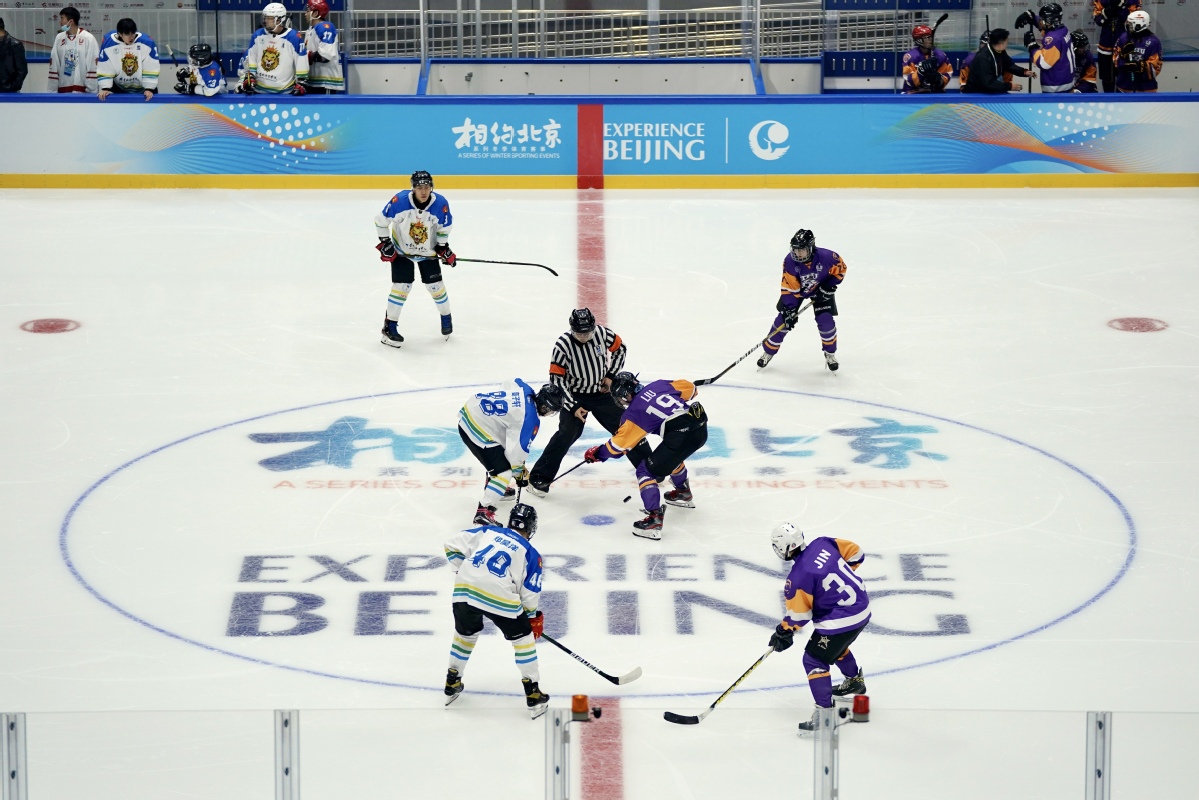 The remarkable transformation of Beijing's Summer Olympic facilities into Winter Games venues is being fine-tuned this week with the roll-out of a rigorous ice sports test program.
Built for the 2008 Olympics in the capital's downtown area, the National Indoor Stadium and Wukesong Arena have switched to Winter Games mode as organizers this week stage an invitational ice hockey tournament to evaluate facilities, operations and COVID-19 protocols as part of the 10-day program.
Newly built NHL-sized rinks, rather than the larger international-standard surfaces, hosted four-team men's and women's events, competing in a round-robin format as part of an adapted test schedule tailored for Beijing 2022 in response to the COVID-19 pandemic.
Wan Haoyuan, captain of the Tsinghua University team in the men's event, hailed the conditions at the National Indoor Stadium as the best he's ever played on.
"It's so comfortable to skate on it," said Wan after Tsinghua lost to the Capital University of Physical Education and Sports in the first official hockey match played at the arena on Friday.
"The extreme flatness and smoothness of the surface made it probably the best ice I've ever played on. It really is a special treat to be able to have the first feel of the Olympic ice so early."
Designed as a venue for gymnastics and handball at the 2008 Summer Games, the indoor stadium in December finished a two-year renovation that involved the installment of an under-floor cooling system, upgrade of internal lighting and the construction of a new training hall.
Now American expert Nelson Don Moffatt and his technical team will attempt to perfect the ice surface to be ready to potentially host NHL superstars like Sidney Crosby and Alex Ovechkin next year.
"The quality of the ice is not very good at the moment but there are still 10 players out there skating around on it," said Moffatt, who is serving at his fourth Winter Olympics after being hired by Beijing 2022 as the chief ice maker for both hockey venues.
"Obviously they are not skating as fast and hard as Olympic athletes but there is still stuff we can learn from them."
The National Indoor Stadium will host most of the men's hockey matches at Beijing 2022, while the Wukesong Arena, a basketball venue during the 2008 Games, will stage the majority of the women's competition.
Both venues have adopted an eco-friendly ice-making system using carbon dioxide as a clean refrigerant, instead of the environmentally harmful substance Freon, as part of Beijing 2022's promise to host sustainable and green Games.
Having already hosted high-level hockey events such as the NHL China Games in 2017 and 2018, the Wukesong Arena can now switch between a hard-wood basketball court and a standard hockey rink within six hours.
Moffatt, who underwent mandatory quarantine and repeated COVID-19 testing upon landing in China before starting his work, has been busy communicating with engineers, training Chinese assistants and logging rink temperatures between the two venues over the course of the test tournament.
"It'll take me throughout pretty much this entire event to really get a good feel on where we need to set the refrigeration," Moffatt said while checking ice temperature after the first quarter of the opening game.
"Right now I'm looking for the warmest end so I know where I have to keep it above, and then later on in the week I will look for the coldest part.
"Once I know those two numbers, it's fairly easy for me, then I just pick something in the middle and we're good."
To help prepare the rink alongside Moffatt, each of the two venues has assembled a Chinese team, made of local ice makers and apprentices from sports colleges, to assist, observe and learn from NHL's former facilities operations supervisor.
Building an operational legacy for top hockey competitions is at the core of Beijing 2022's post-Games agenda.
"Working side by side with him is a valuable learning experience for our local staff," said Lei Ming, executive deputy director of operations at the National Indoor Stadium.
"We've been writing down every little detail learned from him while training our own staff step by step. We are going to make the most out of the time working with him to prepare not just for the Olympics but also future events."
In a country where hockey remains a niche sport compared to the likes of basketball and soccer, Moffatt admits getting local organizers up to his elite standards is sometimes challenging.
"We're not speaking the same language yet. It's not just Chinese and English, they're not speaking hockey," he said.
"So we're learning a lot about how we can work together and well... but overall so far it's been a really good learning experience."
Moffatt, though, believes all the effort will pay off once the first puck drops at the Olympics.
"I think a lot of kids are going to want to play and I really think it will (popularize the sport)," he said.
"It's already taken off to some extent. There are a lot of new rinks being built for kids playing hockey and I think the Olympics will really explode hockey in the Chinese market."
Most Popular
Highlights
What's Hot