More countries join China in rebuking Western claims
Share - WeChat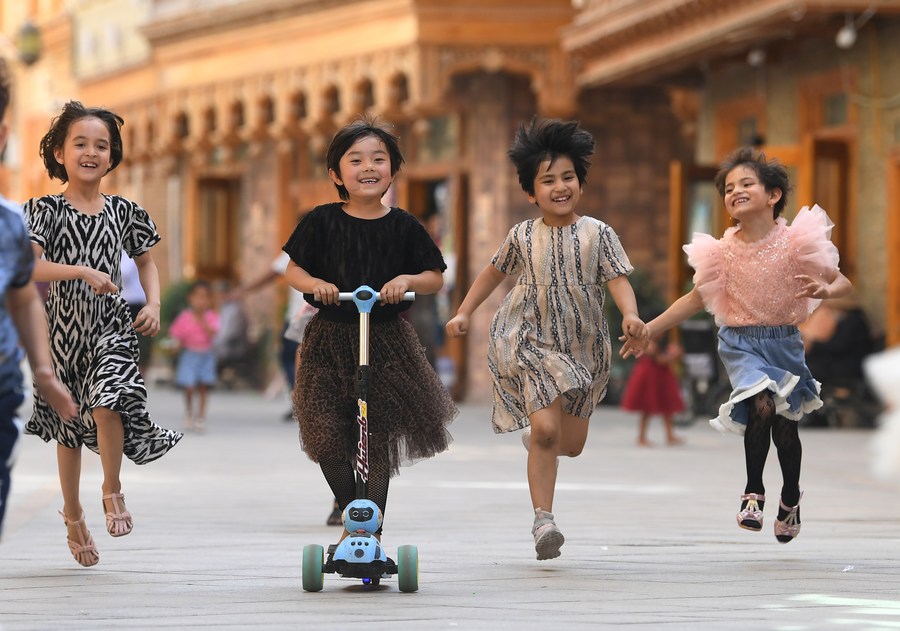 A growing number of countries have joined Chinese diplomats and ordinary people in lashing out at some Western nations' attacks against China on human rights issues, calling for a stop to political interference that aims at frustrating developing countries.
It would be "the biggest injustice in human history" if some Western countries persist in using human rights as an excuse to suppress and contain developing countries, State Councilor and Foreign Minister Wang Yi has warned on Sunday.
Such moves attempt to "deprive non-Western countries of their rights to develop", Wang said at a meeting in Abu Dhabi with United Arab Emirates Foreign Minister Sheikh Abdullah bin Zayed al-Nahyan.
"No country is superior to another in this world, and the standard of a single country should not be regarded as the international standard," Wang said.
The UAE foreign minister said the criteria to assess the human rights situation in a country should be whether the people there lead a happy and tranquil life, and that imposing one's values on others is a sign of hegemony.
Many developing countries have suffered unfair treatment over human rights issues, and the UAE is ready to enhance communication and cooperation with China on promoting and protecting human rights, he added.
The foreign ministers of Saudi Arabia and Iran made similar points when meeting with Wang last week, voicing objections to interference in China's affairs or pressuring China.
Jiri Paroubek, the former prime minister of the Czech Republic, has condemned claims of "genocide" in the Xinjiang Uygur autonomous region, noting that there have been no terrorist attacks in Xinjiang in the past four years, which is greatly conducive to the region's social and economic development. He added that great progress has also been made in education and literacy in the region.
Some Western media reporters have indulged in spreading rumors and telling lies about Xinjiang, but media agencies should distinguish facts from propaganda and get to know the reality in the region, he said in an article published on Wednesday.
In a six-nation tour that started on Wednesday, Wang said the world should listen to and appreciate the views of developing countries so that the definition of human rights can be made more comprehensive, diverse and balanced.
He reiterated that China opposes interference of any kind in other countries' internal affairs in the name of protecting human rights, and it objects to attacking and discrediting other nations by using human rights as a political tool.
Sanctions to backfire
On Monday, officials and people from Xinjiang warned at a news conference in Beijing that sanctions against China that aim to contain the nation's development will only harm those imposing the punitive measures.
Almire Tursun, from Kuqa, a city in Xinjiang, who works for a textile company, said the foreign forces spreading rumors about Xinjiang had not visited her company and do not know the real situation.
What they said was fabrication aimed to destroy the jobs of people such as her, and such moves are shameful and hateful, she said.
Xu Guixiang, a spokesman for the autonomous region's government, said the purpose of the West's sanctions is nothing more than to harm companies in Xinjiang. Such measures aim to undermine social stability and pull Xinjiang back into the quagmire of turbulence, frequent violence and terrorist activities.
In response to the domestic online boycotts of fashion brand H&M after the company decided to stop buying Xinjiang cotton, Xu said that it was an unwise move for the company to get involved in sanctions.
"I don't think a company should politicize its economic behavior," he said.
Companies from various countries are closely linked in this globalized world, he said, adding that "while waving the big stick of sanctions at other countries, it will also hit one's own head, which is detrimental to both".
At a news conference in Beijing, Foreign Ministry spokesman Zhao Lijian said that foreign companies are expected to operate in China according to law and regulations, and not to become tools of certain political forces or challenge the will of the Chinese people.
He reiterated that the Chinese market is always open and China always provides convenience for foreign companies, and it is impossible for foreign companies to make money in China while they smear the country and damage its interests.
United Nations Secretary-General Antonio Guterres said in an interview on Sunday that the UN High Commissioner for Human Rights Michelle Bachelet's expected visit to Xinjiang "is being negotiated at the present moment".
In response, Zhao, the spokesman, said China welcomes Bachelet's visit to Xinjiang, but that visit should not be used as a form of "political manipulation" to pressure China.
Zhao Jia contributed to this story.