Report on Human Rights Violations in the United States in 2020
Share - WeChat Editor's Note: China's State Council Information Office on Wednesday issued the Report on Human Rights Violations in the United States in 2020. Full text below:
Foreword
"I can't breathe!"
-George Floyd
"The scenes (the U.S. Capitol building violence) we have seen are the result of lies and more lies, of division and contempt for democracy, of hatred and rabble-rousing-even from the very highest levels."
-German President Frank-Walter Steinmeier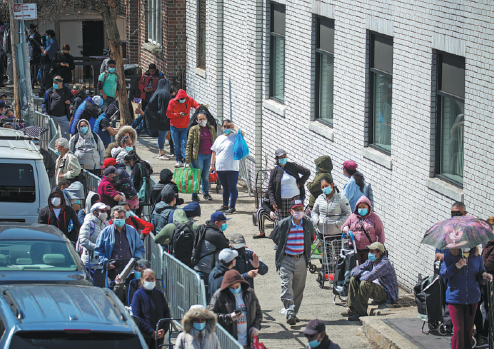 In 2020, the COVID-19 pandemic wreaked havoc around the world, posing a major threat to human security. The virus respects no borders, nor does the epidemic distinguish between races. To defeat the epidemic requires mutual help, solidarity and cooperation among all countries. However, the United States, which has always considered itself an exception and superior, saw its own epidemic situation go out of control, accompanied by political disorder, inter-ethnic conflicts, and social division. It further added to the human rights violations in the country, the so-called "city upon a hill" and "beacon of democracy."
・ The epidemic went out of control and turned into a human tragedy due to the government's reckless response. By the end of February 2021, the United States, home to less than 5 percent of the world's population, accounted for more than a quarter of the world's confirmed COVID-19 cases and nearly one-fifth of the global deaths from the disease. More than 500,000 Americans lost their lives due to the virus.
・ Disorder in American democratic institutions led to political chaos, further tearing the fabric of society apart. Money-tainted politics distorted and suppressed public opinion, turning elections into a "one-man show" of the wealthy class and people's confidence in the American democratic system dropped to the lowest level in 20 years. Amid increasing political polarization, hate politics evolved into a national plague, and the Capitol was stormed in post-election riots.
・ Ethnic minority groups suffered systematic racial discrimination and were in a difficult situation. People of color made up about one-third of all minors under the age of 18 in the United States but two-thirds of all of the country's imprisoned minors. African Americans are three times as likely as whites to be infected with the coronavirus, twice as likely to die from COVID-19, and three times as likely to be killed by the police. One in four young Asian Americans has been the target of racial bullying.
・ Gun trade and shooting incidents hit a record high, and people's confidence in social order waned. Americans bought 23 million guns in 2020 against the background of an out-of-control epidemic, accompanied by racial justice protests and election-related conflicts, a surge of 64 percent compared with 2019. First-time gun buyers exceeded 8 million. More than 41,500 people were killed in shooting incidents across the United States in the year, an average of more than 110 a day, and there were 592 mass shootings nationwide, an average of more than 1.6 a day.
・ George Floyd, an African American, died after being brutally kneeled on his neck by a white police officer, sparking a national outcry. Widespread protests for racial justice erupted in 50 states. The U.S. government suppressed demonstrators by force, and more than 10,000 people were arrested. A large number of journalists were attacked and arrested for no reason.
・ The gap between the rich and the poor widened, with the people at the bottom of society living in misery. The epidemic led to mass unemployment. Tens of millions of people lost health insurance coverage. One in six Americans and one in four American children were at risk of hunger. Vulnerable groups became the biggest victims of the government's reckless response to the epidemic.
The U.S. government, instead of introspecting on its own terrible human rights record, kept making irresponsible remarks on the human rights situation in other countries, exposing its double standards and hypocrisy on human rights. Standing at a new crossroads, mankind is faced with new, grave challenges. It is hoped that the U.S. side will show humility and compassion for the suffering of its own people, drop hypocrisy, bullying, "Big Stick" and double standards, and work with the international community to build a community with a shared future for humanity.
Most Viewed in 24 Hours
China Views