Art that puts culture in the picture
Share - WeChat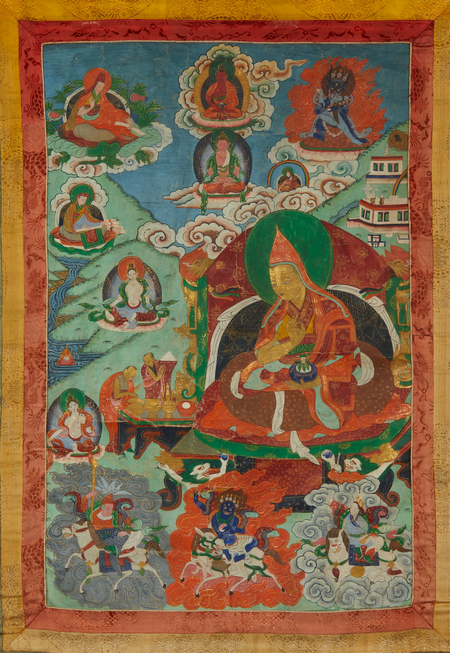 It is not unusual to find exquisite pieces of thangka displayed in the museums of major cities. Some, though, have found the art form mysterious and difficult to understand. As an important representative of Tibetan fine arts, thangka depicts the history, culture and life of the local people and reflects cultural exchanges between the Xizang autonomous region, the rest of China, and the world.
Thangka is a "scroll painting, a painting of cloth or paper with images that can be rolled into a bundle on a scroll", according to the Tibetan and Chinese Dictionary. In the long process of development, thangka, through the unremitting efforts of generations of painters, has given rise to different styles of paintings, such as miantang, miansa, qinzi and gamagachi. They are all rich in expression and meaning.
Thangka covers a wide range of topics, including history, politics, economy, culture, folklore, secular life, architecture, medicine, astronomy and calendar, and is known as the "Encyclopedia of Tibetan culture". Geographically, thangka can be divided into weizang, ando and kangba, as well as exotic Nepal.
Among these areas, the style of weizang is more traditional; anduo, represented by the Regong and Labrang Monastery, is deeply influenced by the Han culture and Kangba is based on the gamagachi style of Ganzi, Sichuan province. Meanwhile, the Nepalese style of thangka is thin, like South Asian style.
In terms of material, thangka is divided into ordinary weaving, embroidery, silk and pearl, etc. The formation of the style was influenced by the art styles of Central Plains culture, Gandhara, Kashmir and Nepal. Later, through the mutual integration and digestion of the three local Tibetan painting schools of miantang, qinze and gamagachi, formed the current mainstream style of thangka. It is an art form integrated into Tibetan culture and includes the recognition of foreign culture while still following its cultural foundation.
Although the content and themes of thangka are rich and varied, the main content is the image of Tibetan folk culture. The simple painted patterns in the Karuo and Qugong cultural relics from 4,000-5,000 years ago created the precedent of thangka art. However, political, economic, geographical and other reasons have resulted in the general lack of cultural and educational institutions in Xizang. For nomadic people, thangka, with storytelling as the main content, which makes it easy to transport, is undoubtedly the best means of ensuring civilian education.