Super Su schools rivals in scintillating return
Share - WeChat Veteran sprinter storms to victory after 17-month competitive hiatus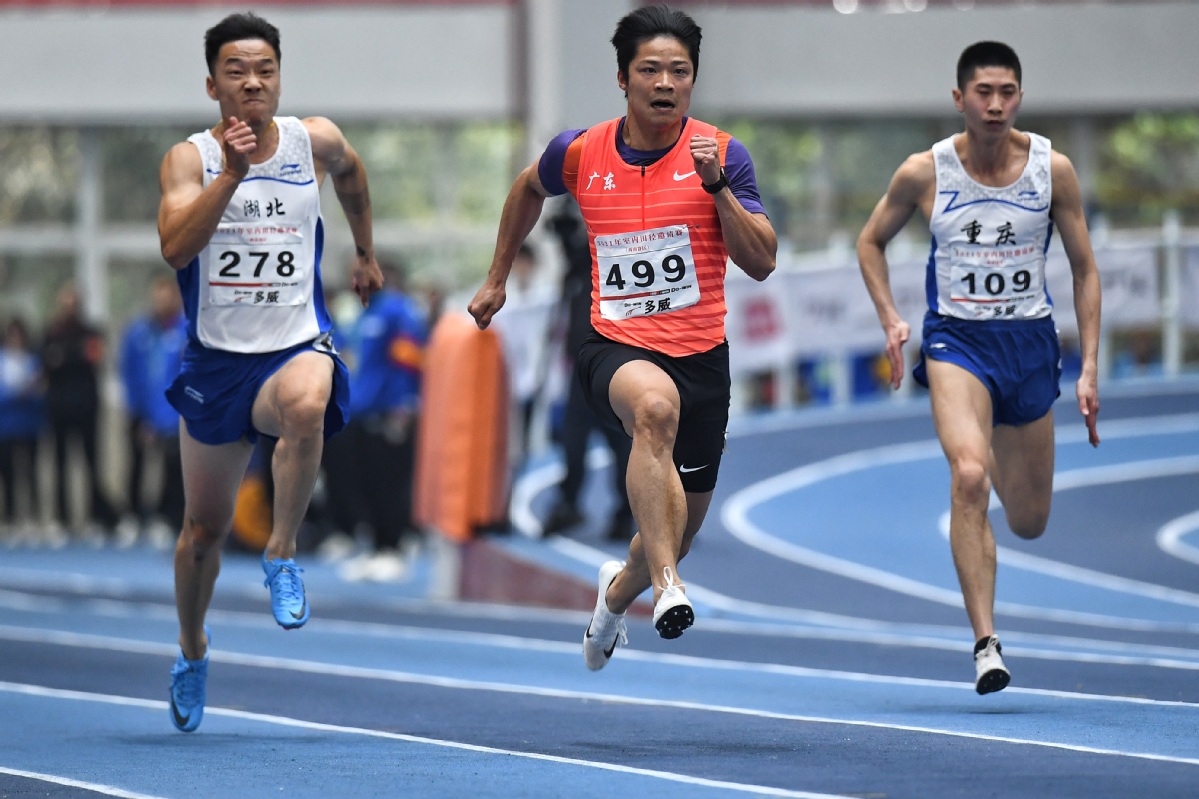 It had been over 17 months since veteran Su Bingtian last participated in an official competition, but Asia's fastest man showed no signs of rustiness in his comeback on Friday to leave his young rivals trailing.
The 31-year-old stormed to 60-meter gold at the 2021 National Indoor Athletics Championships in Chengdu, Sichuan province, where he clocked 6.49 seconds-the fastest time in Asia and third-quickest in the world this year.
"I hadn't competed for so long, so I was not very confident at the beginning. I just thought of myself as a rookie athlete who was stepping onto the track for the first time," said Su, the men's 100m Asian record holder.
"I was trying to remember everything on the track, such as how to warm up and how to handle every detail. I followed my memory and did everything step by step. Before the race, I did not demand a great result from myself."
Su displayed excellent form in 2018 and 2019, frequently making headlines by winning 60m and 100m races at domestic and international meets.
As the first-ever Asian-born sprinter to break the 10-second barrier in the 100m in 2015, Su twice equaled the 100m Asian record of 9.91 seconds in 2018 and clocked 9.92 to take that year's Asian Games title in Jakarta.
However, a waist injury in late 2019 slowed Su's progress, before the COVID-19 pandemic wiped out the entire 2020 season to thwart his comeback plans.
Su credits his relaxed mindset last year as helping him return to full fitness, although his younger teammates admit they mistook that easygoing attitude for a lack of will.
"As a much younger athlete, I knew Su hadn't competed for a very long time. So I just wanted to apply more pressure and let him feel the competitiveness on the track again. Winning over Su is the biggest respect that we can show him," said Wu Zhiqiang, who claimed 60m silver on Friday in 6.63, ahead of Liang Jinsheng in third.
Despite Wu and Liang's hopes of usurping their rival, it's now apparent that Su's dominance on the track is not over.
"The result is the clearest sign to me that the 2019 version of the uninjured Su Bingtian has returned. It has been a very long period of time since then. I haven't competed for so long and the injury would be hard for any athlete," said Su.
"I haven't had the familiar feeling of winning for a long time. And through the race I can tell that I've got the right intensity of training, matching the same pace that I had in the old days.
"Before the race I suddenly realized they are using a new type of starting block that is different from the ones that I used in training. I quickly adapted to it shortly before the race started."
Time, though, is not on Su's side in terms of his career. He will be 32 in August, and many of his teammates in the national squad are about 10 years younger than him.
He admitted he considered retiring in the past, but his desire to compete at the Tokyo Olympics, which has been postponed until this summer, has motivated him to continue.
Su, however, remained cautious about his Olympic ambitions after Friday's race, telling media: "Now I just want to find out if I can rediscover my speed and return to the peak condition I had in 2019."
According to Beijing Youth Daily, Su's American coach Randy Huntington is also trying to keep expectations in check, instead focusing on Su's starting skills out of the blocks.
Despite being out of the media spotlight, Su has kept fans up-to-date on his progress on social media.
"It's been a long time since I've competed and I race with a mindset of a new sprinter to the sport," Su posted to his 3.5 million followers on his personal Weibo account on Friday.
"Thanks for everyone's support. My perseverance showed the spirit of my generation of athletes. It's a joint effort with my support team. I will keep training and embrace the next challenge in better condition."