Let's have a cup of coffee, and eat it too
Share - WeChat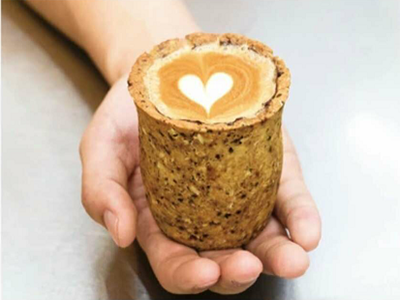 A friend of mine in Shanghai said she recently bought a cup of coffee-and the cup, she said, tasted as delicious as the beverage was stimulating. Made of oatmeal cookies, the cup is an edible product, much like an ice cream cone. Grabbing such innovation with both hands, she can sip coffee and bite some cookie-cup at the same time.
The wall of the cup is covered with chocolate sauce, and it won't melt when you pour hot coffee into it, she said.
The innovation is an offering of a coffee shop chain named "M Stand", which opened its first store in Shanghai in 2017. The company recently received more than 100 million yuan ($15.4 million) in its A round of financing. It plans to open 80 to 100 stores in Shanghai, Beijing, Guangzhou and Shenzhen this year.
The edible coffee cups have drawn the attention of many young consumers, my friend said. They are seen taking pictures of such cups and posting them on social media platforms.
The cup design has helped the coffee shop to become popular online. Best of all, the oatmeal cup helps save a large volume of paper cups.
There are also some other varieties of edible coffee cups that are made of rice paper, seaweed or potatoes. Coffee served in such edible cups tends to be pricier than conventional servings, but they have gained recognition among consumers nevertheless, market observers said.
"Retailers can make a decent profit from contributing to the green economy," said Li Jincan, an analyst at the LeadLeo Research Institute, a market research provider.
"Price, quality and the taste of products are no longer the only concerns of consumers. Whether or not the packaging is environmentally friendly and nontoxic-that has increasingly become a major factor influencing buyers' preferences," Li said.
Of late, Chinese consumers have shown a high level of awareness of environmental protection even as they pursued high-quality lifestyles. By preferring safer and greener materials for packaging of things like food, consumers are pushing brands to build a better reputation via environmentally friendly practices.
More than 60 percent of consumers that LeadLeo surveyed said if product labels show logos indicating green or environmentally friendly practices, they are more willing to buy them compared with ordinary packaging without any such logos.
Meanwhile, more beverage and food retailers are adopting green materials for products such as straws, cup covers, tableware and doggy bags.
When I ordered milk tea from Heytea, a chain that is based in Guangdong province with branches nationwide, I was greeted by a choice of such straws. I was able to choose from among a variety of straws made of paper, or environmentally friendly polylactic acid (PLA) materials, or not to use any straw at all. PLA straws are made of starch extracted from plants such as corns, and biodegradable.
Heytea said it stopped the use of disposable non-biodegradable plastic products before the start of this year at all of its stores nationwide.
Since 2019, Heytea has been promoting paper straws and helped obviate the use of more than 12 million plastic straws.
It also encouraged customers to bring their own bottles to purchase drinks, and obviated the use of more than 30,000 disposable cups, it said.