'New development stage' embraced by multinational firms
Share - WeChat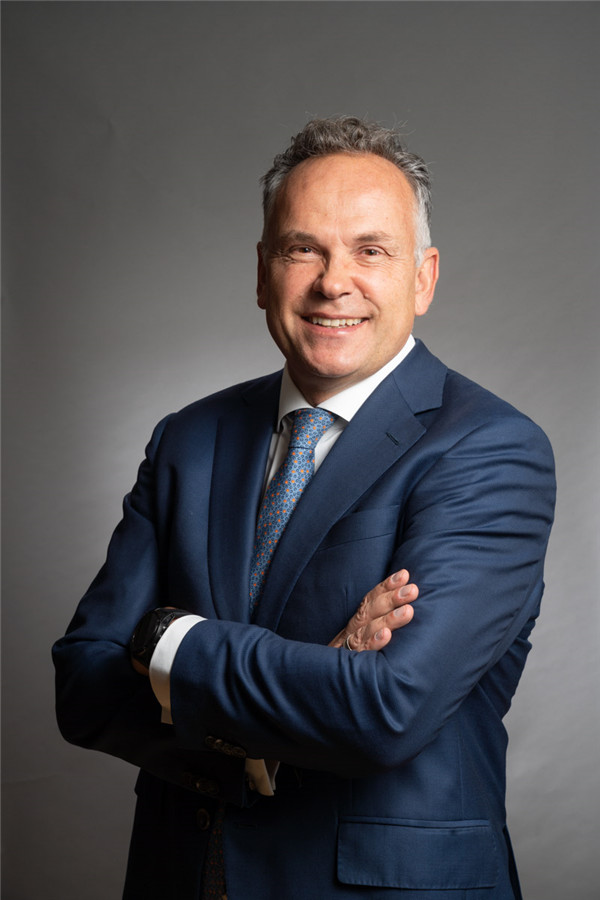 A1: As China has entered a new stage of development, the focus for economic and social progress will gradually shift from an emphasis on "high speed" growth and economic scale, to "high-quality" growth that further fosters innovation and quality. Such a strategic move will highlight the potential and advantages of China's quality-driven market, driving further progress and cooperation opportunities for both domestic and international markets, while adding new momentum to the country's economic development.
Echoing China's new development theme, Sanofi's China strategy will continue to focus on accelerating product innovation and digital healthcare innovation, and actively seizing the opportunities brought about by China's new development paradigm. We look forward to bringing at least 25 innovative medicines and vaccines to Chinese people by 2025, and to helping to promote a Healthy China.
A2: We believe "innovation" is the top priority in China's 14th Five-Year Plan, and the country's 2035 long-term development goal. Aligned with China's national agenda, Sanofi has placed innovation at the core of our future development strategy. It is also expected that the Healthy China 2030 blueprint will continue to guide the healthcare reform, with a focus on people's health, disease prevention, and the necessary quality investment.
On top of introducing cutting-edge products, innovation also includes improving patient outcome and access to medicines and therapies, with the health needs of Chinese people at the core of Healthy China 2030. We were among the first multinationals to establish a truly dedicated team for the primary care market, and are currently working together with our partners to establish an innovative payment mechanism for rare diseases – improving access to fundamental care to ensure that these patients can live a healthier life.
In addition, Sanofi is committed to leading and promoting the digital transformation of the healthcare industry. For example, Sanofi is among the first healthcare companies to launch its own virtual healthcare services, with Amulet Smart Care, which aims to provide an integrated approach for chronic disease patients, to manage their disease outside of the hospital, using software tools and high quality, professional care support. With that, Sanofi aims to reverse the spread of chronic diseases in China with the joint efforts of all partners.
A3: Leveraging our knowledge and expertise, we would like to play a more active role in the Chinese healthcare ecosystem to achieve win-win development with local stakeholders and partners. Sanofi has been increasing investment in R&D in China, and the new Institute for Biomedical Research in Suzhou, which will open officially in April, will be a critical part of our global R&D capacity, demonstrating our strategic transformation that complements "in global for China" with "in China for global".
We have also been continuously strengthening our links with the Chinese digital ecosystem, which is another good illustration of international collaboration. Sanofi China has been partnering with local giants like Tencent and Ping An, as well as startup companies, to develop innovative technologies or digital tools for better disease management. In June 2020, we invested in Cathay Innovation, a global venture capital fund offering an international support platform, aiming to engage the dynamic innovation ecosystem of health tech start-ups in China.
A4: Sanofi is a witness to, participant in, and beneficiary of China's reform and opening-up. In recent years, we have more deeply felt China's determination and confidence to enhance reform and opening-up, encourage innovation, and create a world-class business environment.
Especially in 2020, we were delighted to see that the Chinese government was actively safeguarding international trade and foreign investment – which provides a more open and stable market environment to promote business, while strengthening communication and cooperation amidst global economic uncertainties. We expect that the new initiatives such as the revision of the Foreign Investment Law and the amended negative list will further expand opening up, actively promote foreign investment, and strengthen the legal rights and interests of foreign investment – providing comprehensive legal protection. We are carefully evaluating with local key partners how significant additional innovation investment can be balanced with the incentives to do so.
A5: Sanofi China has a history of being deeply committed to protecting natural resources in all industrial affairs, R&D, and business activities. By continuously improving our environmental management system, carrying out energy-saving measures, and promoting the careful use of resources, we aim to minimize the ecological footprint of various operational activities.
Our Sanofi Planet Mobilization plan comprises of five key commitments. Between 2015 and 2025, we will reduce carbon emissions by 50 percent water consumption by 10 percent; recycle 90 percent of wastes; ensure all manufacturing sites implement product lifecycle management plans; and implement our Biodiversity Awareness Program in 100 percent of Sanofi's operational locations.
In order to enhance employees' environmental awareness, Sanofi China launched our annual Sanofi World Environment Day activities at manufacturing sites. We also conduct environmental protection experience activities, and regularly promote carbon emission reduction. With sustainable development at the core of our strategy, Sanofi is committed to supporting environmental protection and ecosystem improvement, to help China achieve carbon neutrality by 2060.