Digital technologies key to modernization of farm ecosystem
Share - WeChat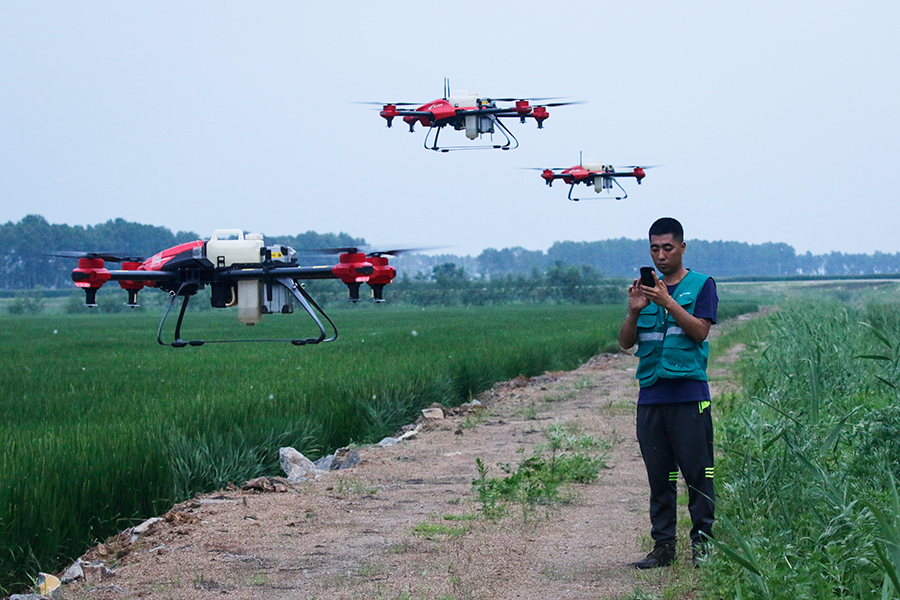 Farmers play a vital role in the global community, because their hard work and dedication produce the food and other necessities that we all need.
Agriculture is the most basic priority of a successful society. As the famous agronomist, Nobel Peace Prize winner and "father of the green revolution" Normal Borlaug said, "Everything else can wait; agriculture can't."
Among all the nations in the world, China has the largest population and thus the most mouths to feed. The well-being of our own people depends on our ability to feed ourselves with safe, nutritious food that is grown sustainably. This is not easy, given that we have 20 percent of the world population but only 7 percent of arable land.
China has successfully developed its agricultural sector over past decades but such development has also contributed to a shortage of good farmland as well as a strain on water supplies. Beyond our borders, the whole world faces an urgent need to collaborate on climate change and environmental protection.
In 2020, the COVID-19 pandemic also disrupted farming, reminding us of the fragility of food supply chains and their critical importance to people everywhere. Holistically, it's plain to see that a strategic approach to farming is a key route to human well-being and stability.
China's leaders are meeting these challenges head on. Today, food security is the government's primary agricultural agenda. Advancing agricultural modernization, especially agricultural technology modernization, and strengthening the integration of agriculture and technology were incorporated in the 14th Five-Year Plan (2021-25).
This year marks the start of the 14th Five-Year Plan. The newly released No 1 document of 2021 highlighted the need for rural revitalization and the importance of modernizing agriculture. The central government pledged again it will ensure adequate grain output and improve agricultural products' quality and food safety, which will be the top goals for this year.
While Chinese consumers and society are increasingly paying attention to food quality and safety, improving the quality and nutrition of crops becomes equally important with agricultural product consumption confidence, which means teaching farmers how to maintain yields without overusing fertilizer and pesticides.
This is why building a modern agricultural ecosystem is important and where digital and technological platform can make a huge difference, one example being that we can now provide information on local weather patterns, and weed and insect threats, to enable farmers to confidently increase yields and reduce pesticide use.
With modern agriculture platforms, smart farming technology, including drone and satellite imagery and pattern modeling available now, we are able to provide farmers across the country the support they need, turning their mobile phones into intelligent environmental tools and resources.
These transformations are already taking place and will help Chinese farmers quickly leapfrog into modern, highly efficient agricultural techniques, while also reducing the use of fertilizers, pesticides and save water.
This is also in line with the guidelines from the latest No 1 document, which said" (China will help) expand specialized agriculture service providers and introduce advanced and suitable breeds, inputs, technologies and equipment to small-scale farmers."
China's plans to support market players to establish regional centers that provide comprehensive agricultural services covering the whole supply chain are also exciting for the entire industry and all market participants.
Despite all the attention on China's urbanization, China has a large percentage of its population still living and working on farms. With the help of agri-tech and this new business model, small farmers can benefit from a huge and supportive ecosystem.
With modernized agriculture, income gap between rural and urban residents can be further narrowed and the poverty alleviation outcomes will be further consolidated. Creation of more jobs is also expected in rural regions as the entire industry value chain develops further.
All these will help ensure that, by 2025, China will see substantial progress in the modernization of agriculture and the countryside and then achieve by 2035 the goal of making "decisive" progress for basic modernization of agriculture and rural areas, a timeline outlined in the No 1 document.
And for the consumers they ultimately serve, smart farming and digitalization can also solve their pain points-for example, tools are already available on the market that enable full product traceability, giving consumers the ability to scan a code to see information on farm location, harvest date and sustainability.
Making agricultural production more sustainable and environmentally friendly, while digitally connecting farmers to the consumers who consume their food, not only represents the trend for Chinese agriculture, but also the future of global agricultural development.
We have only one planet. We need to pay more attention to the protection of soil health and water resources, to help life on our planet co-exist with growth and to protect biodiversity.
The No 1 document emphasizes that the country must retain a "red line" of 1.8 billion mu (120 million hectares) of arable land.
It is important to carry out and expand farmer training and capacity building projects all over the world, using scientific and technological research and development to help farmers quickly respond to the problems encountered in agricultural production, including how to combat climate change, abnormal weather, and other challenges.
For China's and even the world's agricultural sector, green production and quality improvement are possible through technological innovation.
By tracing and analyzing the data from across China, it would be possible to ensure farmers who have been trained, and are equipped with modern agriculture technologies and tools, produce better quality agricultural products with higher land utilization rate, improved fertilizer utilization rate, and reduced carbon emissions.
Agriculture plays an important role in tackling global climate change issues. Facing the ambitious goal of achieving carbon neutrality, the agricultural sector and leading companies shoulder great responsibilities and will also embrace great opportunities.
Enabling farmers worldwide to be more productive, more environmentally sustainable, more independent, and more risk-resilient in the face of extreme weather and disease is the key to feeding and protecting the whole planet.
The writer is president of Syngenta Group China.
The views don't necessarily reflect those of China Daily.