Auto czar hopes to boost Chinese car brands
Share - WeChat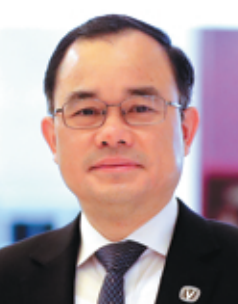 Having worked in the auto industry for 35 years, Zhu Huarong has become a firm leader in self-dependent innovation and brand building.
Though China overtook the United States to become the world's top automaker and car market in 2009, Chinese brands and technology still have a long way to go.
Zhu, 55, president of Chongqing Changan Automobile and a deputy to the National People's Congress, has made a series of suggestions to boost Chinese car brands, encourage technological innovation and strengthen the management of intelligent connected vehicles as well as promote new energy vehicles.
He suggested on Monday ahead of the two sessions that the country's top legislature should foster a domestic chip industry, as chip shortages from international suppliers are forcing the global automotive industry to cut production.
"The authorities should draft policies to facilitate the production of automotive chips to ensure the safety of the supply chain," Zhu said.
At least 90 percent of China's automotive-grade chip market is now dominated by US, European and Japanese companies, and Chinese chipmakers make up an almost negligible share, he said.
Zhu said he is suggesting that the authorities should promulgate favorable policies for chip designers and manufacturers, and Chinese carmakers should be encouraged to use chips from Chinese companies.
On the healthy development of new energy vehicles, he said that local governments and national strategic plans must be consistent in the development plan.
As of the end of 2020, the total number of new energy vehicles in China reached 4.92 million, accounting for 1.75 percent of all vehicles across the country.
"If China is to achieve the goal that (new energy vehicles) account for about 20 percent of total vehicle sales by 2025, a series of current problems need to be resolved, such as unbalanced market development, inadequate profit making ability and inconsistent standards in power application systems," he said.
To better understand the users' needs, Zhu started his social media account in 2012 and became one of the top influencers in China's auto industry, with nearly 600,000 followers.
In the summer of 1986, the vehicle engineering graduate from Beijing Institute of Technology started his career in Changan, in his hometown Chongqing, a major manufacturing base on the upper reaches of the Yangtze River.
He started as an engineer, spent many years in scientific research and development and finally became a leader in technology innovation.
Over the years, Changan has established a global R&D system in China, Italy, Japan, Germany, the United States and the United Kingdom, becoming the first Chinese automobile company to establish an overseas R&D base.
The company is now one of the top four automobile groups in China and a State-owned automobile manufacturer headquartered in Chongqing, mainly producing passenger cars, microvans, commercial vans and light trucks. It also operates joint ventures with Ford (Changan Ford) and Mazda (Changan Mazda).
Amid the global economic downturn and fierce competition in the domestic market, the company announced that it sold over 2 million cars in 2020, up 14 percent over the previous year. About 1.5 million of those cars were sold under its own brand, Changan, an increase of 12.9 percent over 2019.
Zhu believes that though it is very hard for Chinese automakers to catch up with foreign peers in the traditional auto industry, Chinese companies have a good opportunity to win in this new technological revolution.
"All the auto companies are facing the same challenge, and it is very likely that we can surpass foreign players in this new arena of auto software development," he said.