Shanghai, Hangzhou lead in fresh wave of realty tightening
Share - WeChat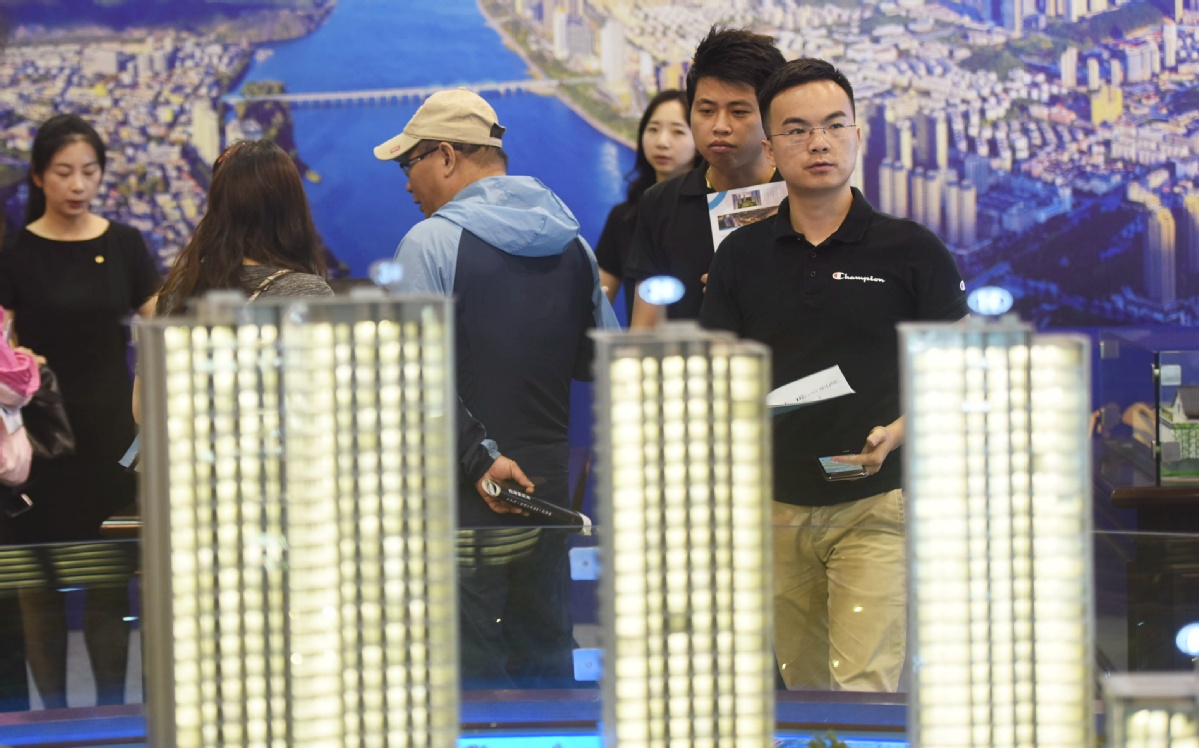 Local govts heed financial regulator's call to rein in speculative investments
The local governments of Shanghai and Hangzhou in Zhejiang province have introduced new curbs to cool the property market.
The move came in response to the national financial regulator's call to preempt possible financial risks relating to property loans and promote stable development of the market.
Consequent to the nation's resolution to combat speculative investments in residential properties, a number of local governments like that of Shanghai and Hangzhou have resolved to introduce necessary measures, experts said.
For instance, Shanghai announced stricter measures on land supply, land bidding, home prices, and new home transactions.
For its part, neighboring Hangzhou instituted new rules covering purchase restrictions on foreclosures, loans, illegal activities of real estate agencies, and publication of industry-related information.
Guo Shuqing, chairman of the China Banking and Insurance Regulatory Commission, warned on Tuesday about the possible risks from speculative investments in property.
"Many people decided to buy property for investment or speculation, not for living, which is very dangerous," Guo said.
Such market behavior, Guo warned, could potentially generate industry chaos and economic turmoil, eroding market value of homes during downturns and causing mortgage defaults.
Chen Jie, a professor specializing in property research at Shanghai Jiao Tong University, said the latest rules should help send the right signals to the market as it enters a critical period of the year.
The property market, he said, conventionally sees a rebound in March after a low season around the Lunar New Year holiday in late January or early February. So, this month could set the tone for the rest of the year.
Under the new rules, new homes in Shanghai bought on priority basis cannot be resold until five years from the date of purchase.
This is a follow-up measure to the rule announced by the city's housing regulators in January, when a "lucky draw" mechanism was introduced in new home sales.
According to the policy, people who do not own any residential property would receive preferential status in the lucky draw for home purchases.
"The five-year lock-in period means Shanghai joins other cities that have imposed similar restrictions on home sales. The requirement would effectively stop speculators from taking advantage of their priority status in home buying," said Pan Hao, a senior analyst with the Beike Research Institute.
Other tough rules include increase of land supply for residential projects, caps on prices for land auctions to prevent high premiums and irrational land purchases by developers, guidance for developers to set home prices reasonably, and a ban on housing projects with unreasonably high prices.
Fang Hang, director of the Shanghai branch of the China Index Academy, said the city's new rules should help put the land and residential property under comprehensive control.
In Hangzhou, some foreclosures were bid at high prices relative to the market average, industry insiders said.
The trend peaked on Feb 27, when a 90-square-meter apartment was bid for 95,834 yuan per sq m after 154 rounds, 40 percent higher than a comparable apartment's price in the pre-owned homes market, said Gao Yuansheng, executive head of the Zhejiang branch of the China Index Academy.
"Inclusion of foreclosures in the provincial capital's home purchase restrictions is in line with the central authorities' principle that 'housing is for living in, not speculation', and goals of stabilizing home prices, land prices and market expectation," said Pan.
A few years back, when the property industry overheated due to speculative investments, the Chinese government introduced certain measures to cool the market and also to curb the tendency to use realty booms to reverse economic downturns.
Zhang Dawei, chief analyst at Centaline Property Agency Ltd, said several cities across China have introduced fresh restrictions on the local property industry in the first three days of this month.
"The high frequency of tightening measures is targeting the soaring home prices in mega cities," said Zhang.
Analysts said the new wave of tightening is expected to cool and stabilize the market, rein in speculative activities, and ensure healthy development of the industry in the long run.