Life at the heart of a city
Share - WeChat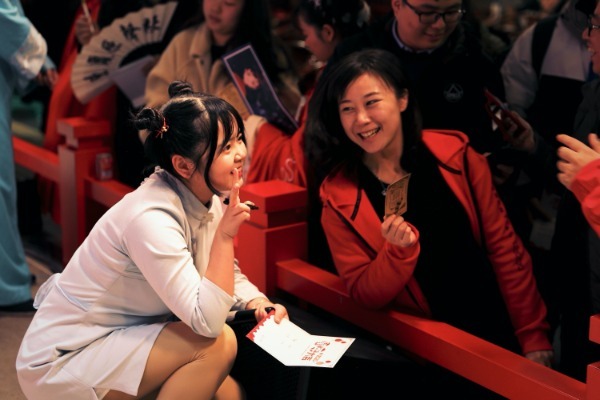 In Chongqing's Jiefangbei CBD, bustling with young people dressed in trendy, stylish clothes, 23-year-old crosstalk performer, Li Yuanyuan, wearing qipao-a traditional Chinese, body-hugging, one-piece dress, has just finished a gig at a bookstore.
Li and her partner, Yu Zhenghao, staged the crosstalk show, which includes a series of original works they have created based on the observation of people's daily lives, in various local dialects. For instance, they will imitate the differences in the way people living in Chongqing and the nearby Sichuan province haggle, greet each other or act on dates to generate gags that make the local audiences laugh out loud.
"The combination of local characteristics and the traditional Chinese comedy is refreshing for many audiences," she says.
As a female crosstalk performer, she is a rarity. Li's interest in the art form was cultivated at a students' club at the Chongqing Normal University where Li and Yu often staged crosstalk performances for the teachers and their classmates.
After graduation, she refused to bow to parental pressure to hunt for a stable teaching job back in her hometown, Sichuan province's Mianyang city, instead insisting on chasing a career in the spotlight, founding a comic group in Chongqing.
The group has sought any opportunity to stage gigs, no matter the location. She says that they have performed in public squares, in cafes, bookshops and bars, sometimes even on the street.
Wherever they go, Li, with her hair up in double buns, makes an impression with her cute appearance and distinctive style of performance.
As many public places were shut down during the COVID-19 outbreak, Li decided to produce more original scripts and short videos of their performances, which helped her to reach more than 460,000 followers on the short-video platform Douyin.
Fortunately, Li's comic group has found a small theater at which they are able to host regular performances, making their debut on Feb 26.
Most Popular