Suning hoping to get its retail wind back after financial input from major State firms
Share - WeChat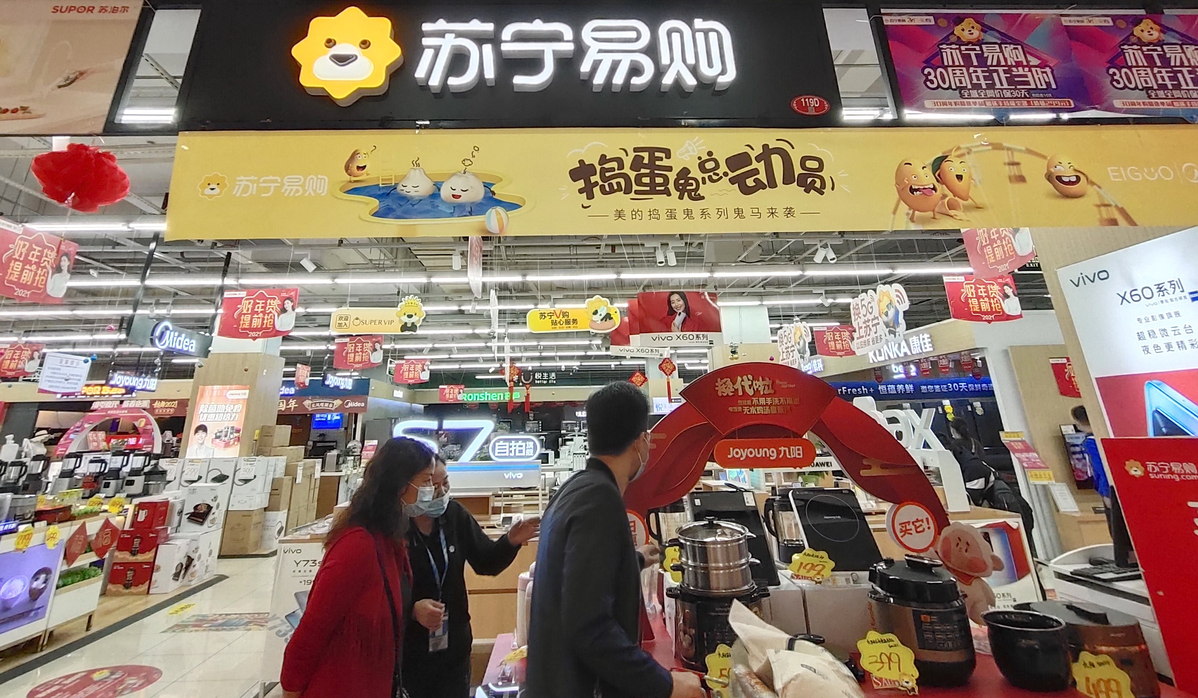 Suning, a leading online and offline retailer in China, sold 23 percent of its shares to State-owned investors on Sunday in an effort to return its focus on the retail business and expand its presence in the South China market.
Shenzhen International Holdings, a logistics services company, acquired 8 percent of Suning's stake. Kunpeng Capital, which is under the Shenzhen city government, acquired 15 percent of its stake, according to a statement by Suning. The transaction is worth 14.8 billion yuan ($2.3 billion).
Zhang Jindong, billionaire founder and board chairman of Suning, continues to be the largest shareholder in the company.
Suning's shares on the Shenzhen Stock Exchange on Monday hit an intraday high of 7.7 yuan, reaching the daily upside limit of 10 percent.
Suning's retail business has underperformed in recent years and worsened further last year.
Suning Group ranks No 5 in China's retail market after Sun Art Group, Vanguard Superstores, Yonghui Group and Walmart Group, according to data from Kantar Worldpanel China.
Suning's market share in the fourth quarter dropped to 2.8 percent from 3.1 percent in the same period of 2019, Kantar said.
Suning's retail sector has been underperforming despite its acquisition of 80 percent stake in Carrefour China in 2019, said an industry insider.
"The retail market in China has seen a drastic change, with traditional retailers such as Suning undergoing a major transformation, which would require massive capital investment to build digital and supply chain infrastructure," said Jason Yu, general manager of Kantar Worldpanel China.
However, the COVID-19 pandemic has fueled competition among embattled traditional brick-and-mortar retailers, Yu said.
The continuous investment to digitalize retailers with upgraded logistics also puts pressure on profits, he added.
By September, the Nanjing, Jiangsu province-based retail giant had 2,697 self-owned stores in total, including its Suning.com Plaza and Carrefour hypermarkets and its household appliance stores. It also has 6,588 retail-cloud franchised stores. Its online revenue grew 18.2 percent in the first nine months of 2020 compared with a year earlier.
The pandemic has taken a toll on Suning's offline sales, experts said.
According to its financial report for the third quarter of 2020, from January to September, its household appliance 3C specialty stores, which sell home appliances, saw revenue fall 28.8 percent year-on-year.
Revenue from its department stores and Suning.com Plaza fell by 6.8 percent during the period.
The new SOE strategic investors are expected to alleviate the company's financial pressure and help Suning to get back to its main retail business, Kantar's Yu said.
Suning said in the announcement on Sunday that it will set up its regional headquarters in Shenzhen, Guangdong province, improving operational capacity and brand awareness in South China.
Suning said the new investment will help the company further coordinate its omnichannel retail business in hopes of achieving a 20 percent growth in revenue in the next three years.
Suning Group has quickly expanded its business empire in recent years, from owning a world-leading Italian football club to acquisition of Japanese home appliance retailer Laox Co, with group-wide businesses ranging from retail, property, finance and sports.
But since the second half of last year, Suning has faced many liquidity issues.
The company announced on Sunday that it would cease the operation of Jiangsu Football Club-Jiangsu Suning, which is owned by Suning Holdings Group-due to financial factors.
Company Founder Zhang emphasized in January the urgency to focus on retail.
"Other businesses make sense only when we can manage our retail business well," Zhang said. "Those that do not generate value or profits will be phased out."