Spring Festival collections bring joy to film producers, distributors
Share - WeChat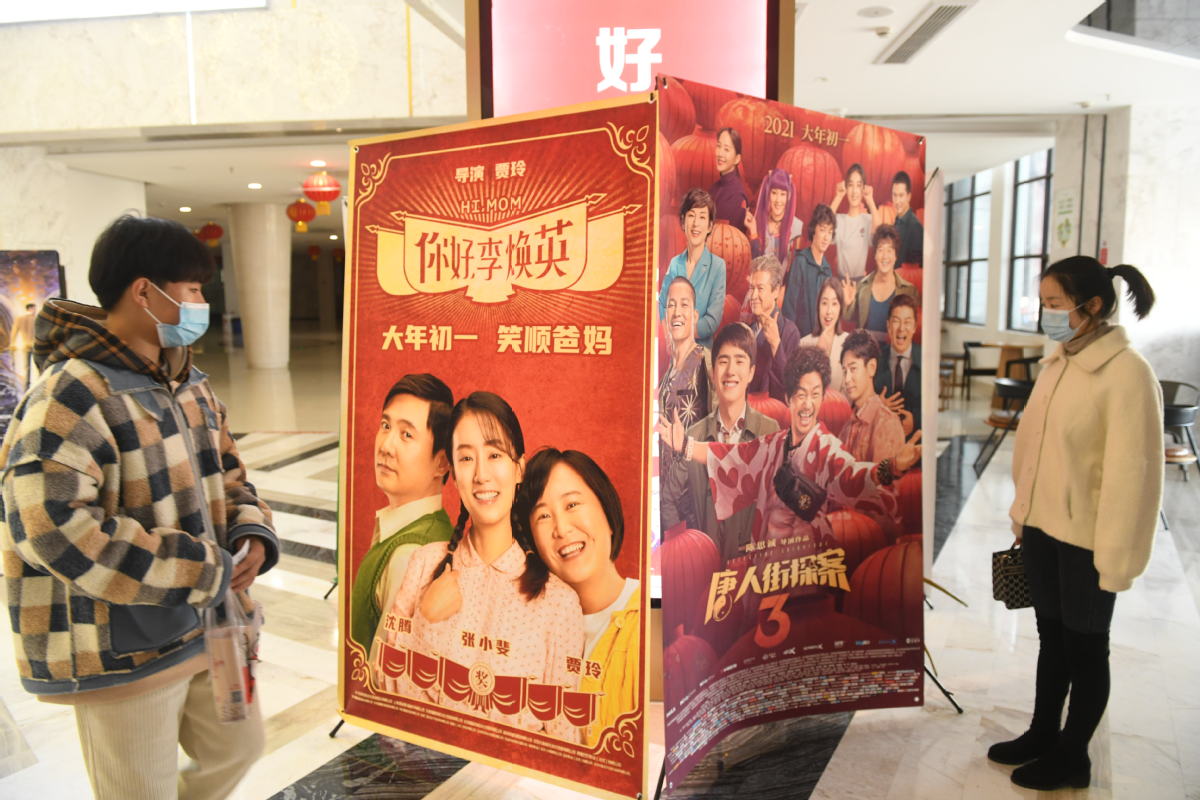 Film companies in China are anticipating better box-office fortunes for the remainder of the year, after most of the movies released during the seven-day Spring Festival holiday drew record crowds and revenue, industry experts said on Wednesday.
Total box-office collections for the seven-day period to Feb 17 stood at 7.8 billion yuan ($1.2 billion), according to data tracking app Maoyan. This year, 10 Chinese films were released over the holiday.
More importantly, box-office receipts from Jan 1 to Feb 16 were more than 50 percent of full-year box-office earnings in 2020, according to Maoyan data.
Beijing Jingxi Culture and Tourism Co Ltd, one of the producers of Hi, Mom, the second-highest grossing film during the seven-day period, earned revenue of 60 million yuan to 65 million yuan as of Feb 17.
Huayi Brothers, which has also invested in Hi, Mom, reported revenue of 8.6 million yuan to 10.31 million yuan from the film.
Wanda Film, one of the leading film companies in China and one of the producers and distributors of Detective Chinatown 3, the highest grossing film during the Spring Festival period, is said to have earned 550 million yuan, according to a report by Guosheng Securities.
Experts said the healthy earnings of film companies and the Spring Festival box-office collections are an indication that China's film industry is recovering gradually from the COVID-19 impact. Last year, cinemas across China did not resume business until July. A report from Qianzhan said that Chinese film companies may have incurred losses of over 30 billion yuan last year.
"Tens of millions of Chinese people chose to stay in cities where they work instead of going back to their hometown for family reunions during this year's Spring Festival holiday as part of the country's efforts to prevent the spread of COVID-19. This drove up demand for entertainment, particularly for watching films at cinemas. It was also the reason for the higher-than-expected film ticket prices and strong box-office performance," said Zhi Feina, a professor at the film and television research institute of the Chinese National Academy of Arts.
"Another major reason for the better show has been the steady improvement in film content, which further boosted the overall film viewing experience for consumers," Zhi said.
"The box-office boom and its contribution to film companies' revenue growth will provide new impetus to the movie market and drive its recovery after the COVID-19 pandemic," said Zhi.
"The healthy performance will also boost the recovery of the industry chain and sustain the growth trend in the long term."