Capital Customs shrugs off COVID impact
Share - WeChat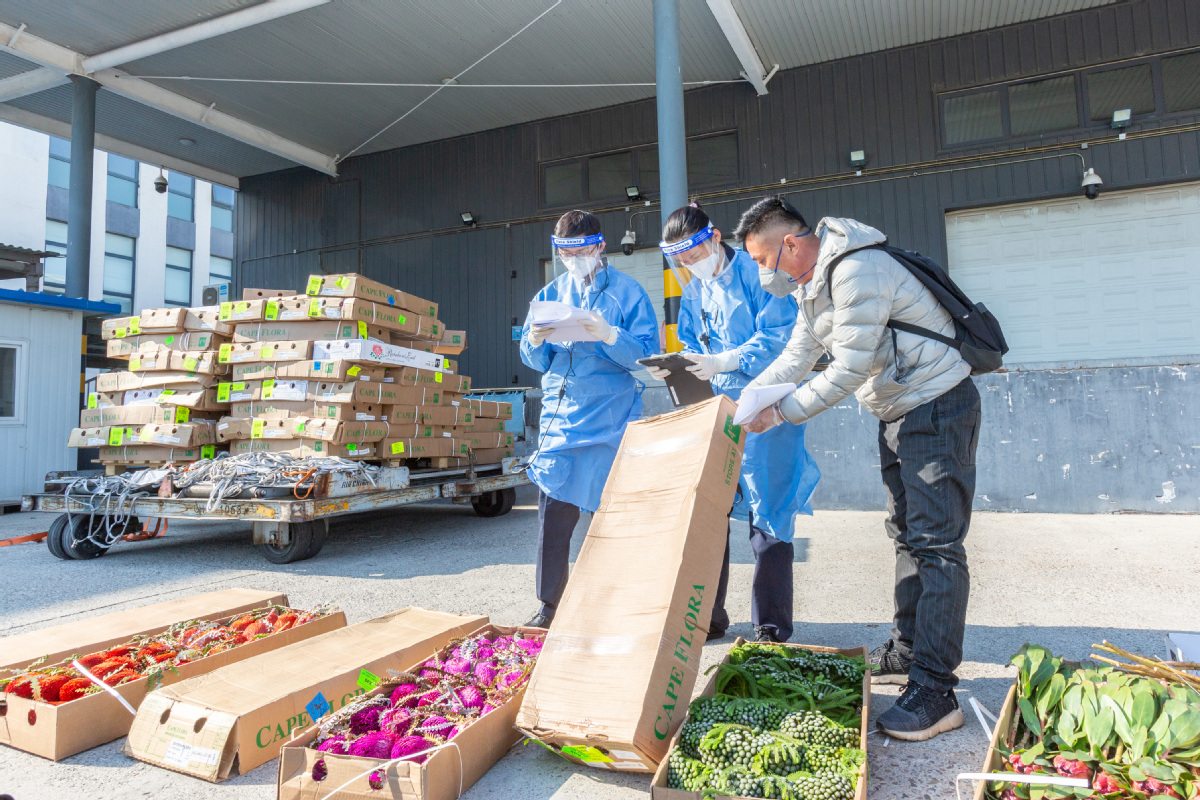 Simplified process and tech enable easier imports, supplies, 2022 Winter Olympics
Not long ago, the Customs' supervision zone at Beijing Capital International Airport was stacked with a large number of imported contagion prevention and control goods like masks and protective gowns.
Not anymore. China's effective COVID-19 control measures mean such products have given way to high-end passenger vehicles, auto parts and other industrial and consumer goods shipped from countries such as Germany, the Netherlands, Japan, the United States and South Africa.
The import volume of wines, candies and cosmetics notably surged during the Spring Festival holiday period.
The Beijing Customs district had set up a special clearance channel at its service area within the airport to ensure that flowers, dairy and meat products can be cleared within 24 hours, said Yu Ye, an inspection official.
Zhang Jizhou, deputy head of Tianzhu Customs, a branch of the Beijing Customs district, said thanks to Chinese consumers' diversified spending channels and growing purchasing power, the number of cross-border e-commerce products surged before the Spring Festival holiday period. The Customs house saw 34 metric tons of products enter its supervision zones.
Meantime, Tianzhu Customs cleared 330,000 batches of items, including clothing, cosmetics, champagne, caviar, fruits and high-end industrial parts worth 284 million yuan ($43.93 million) in all.
The sharp rise in consumption of a wide range of consumer products in recent months indicated a further rebound in consumer confidence. This will likely support the country's economic recovery and growth this year, said Zhang Yongjun, a researcher at the Beijing-based China Center for International Economic Exchanges.
He said the pandemic hurt the consumer market like never before in 2020. But, the market rebounded soon after the contagion came under better control across China, underpinned by the recovery of consumer confidence and the growth of foreign trade.
The combined sales by key retail and catering enterprises reached 821 billion yuan from Feb 11 to Wednesday, representing an increase of 28.7 percent year-on-year, and 4.9 percent higher than the same period in 2019, the Ministry of Commerce said.
With the 2022 Beijing Winter Olympics and Paralympics fast approaching, the local Customs branch has taken a number of steps to provide efficient and convenient Customs clearance and supervision services to participants who will be coming in from all parts of the world.
It has completed the inspection and Customs clearance of more than 10 batches of imported materials for the Winter Games by the end of January, including snow-making machines and snow plows with a total value of more than 21 million yuan and more than 19,700 pieces of goods of the Beijing Winter Olympics Logistics Center worth 36 million yuan have been inspected.
The General Administration of Customs recently announced that during the Beijing 2022 Winter Olympics and Paralympics, it will provide "one-stop" services, including Customs clearance, supervision and consultation.
It will also set up VIP courtesy channels for the Winter Games, special windows for Customs declaration of inbound and outbound materials, and special channels for inspections at major ports of arrival such as Beijing, giving priority to Customs procedures such as declaration, inspection, sampling and testing.
The International Freight Distribution Center of the Beijing Tianzhu Comprehensive Bonded Zone is determined to put up a peak performance as the key logistics center of the Beijing Winter Games. It will provide centralized warehousing and distribution services for all kinds of materials purchased, leased and borrowed.
Through real-time data sharing, Customs can ensure intelligent supervision of bonded goods, non-bonded goods, vehicles and materials, said Gao Ruifeng, deputy director-general of Beijing Customs.
Regarding the temporary entry materials for the event, he said Beijing Customs will handle Customs clearance procedures under a tax guarantee provided by the Beijing Winter Olympics Organizing Committee, and deliver relevant materials through special checkpoints.