Used goods sector a growing phenomenon
Share - WeChat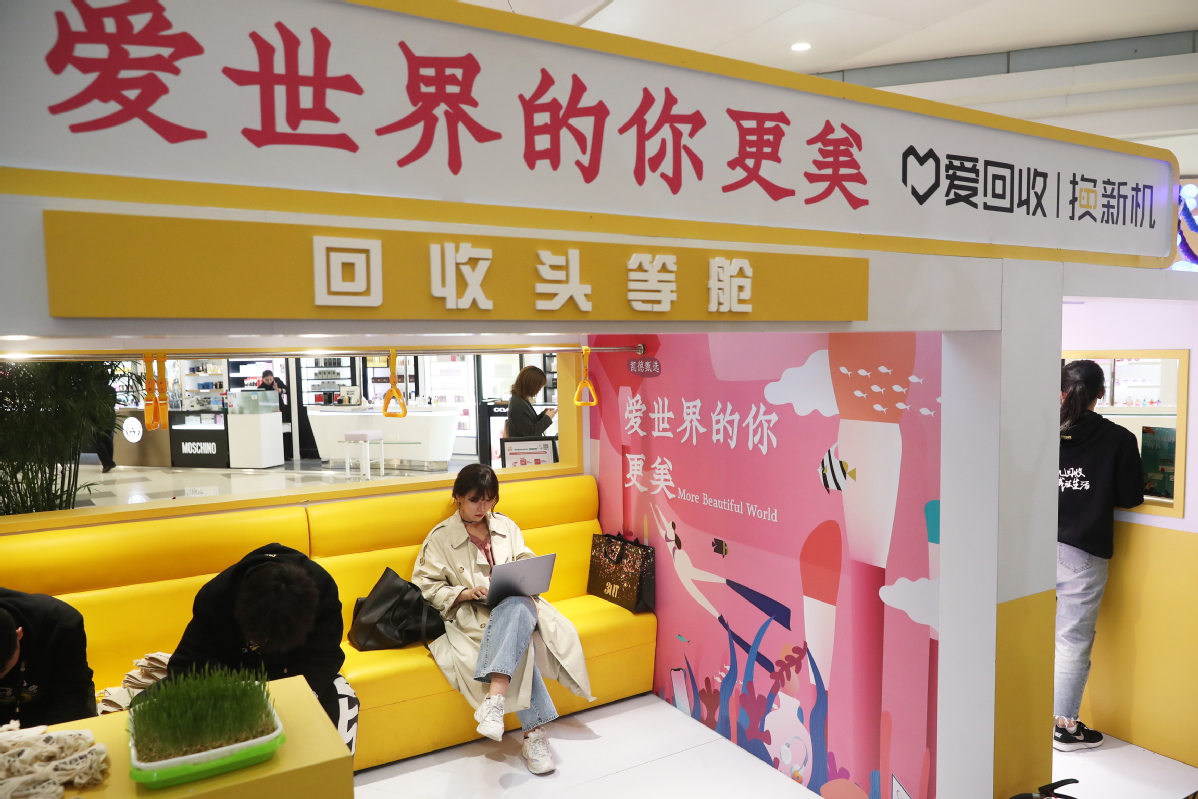 Recycling economy becoming big hit among environmentally conscious youth, those wishing to make most of purchases
Wang Hao, 27, an engineer from a software company in Beijing, is a pen aficionado. He usually buys and sells the writing instruments on Xianyu, a popular customer-to-customer platform in China for trading secondhand goods run by Alibaba Group.
"I love collecting various types of pens with unique designs and excellent workmanship, such as Lamy, Montblanc, Parker, Sailor, Duke and Hero. The new ones are often very expensive, and I just use them for a short period of time and switch to another one," Wang said.
Buying used pens through online secondhand e-commerce platforms can save a lot of money, he said, adding that the products can more easily reach new owners, while sellers can get some extra income. "It's a win-win business," he added.
Wang is among younger Chinese who are increasingly concerned about environmental issues. The demographic is doing away with old habits of rejecting used goods and instead looks for high-quality affordable products on secondhand platforms.
China's secondhand goods market continues to thrive. Revenue of the country's used goods market reached 740 billion yuan ($115 billion) in 2018, a 30 percent increase on a yearly basis, according to a report from Shenzhen-based market research company AskCI Consulting Co.
The figure was expected to reach 1 trillion yuan in 2020.
More than 1 million users post more than 2 million used goods daily on Xianyu, ranging from apparel, shoes, smartphones, cosmetics, maternal and baby products to furniture and home appliances.
Launched in 2014, Xianyu has become one of the largest online trading platforms for used goods in China. The company said its gross merchandise volume, or GMV, surpassed 200 billion yuan in 2019 and its online sellers reached 30 million, with the post-1990 generation accounting for more than 60 percent. So far, it has 90 million monthly active users.
There remains huge potential in various sectors of the secondhand space. Recycling of smartphones and electronic items represents a vast market. The Ministry of Industry and Information Technology said that about 524 million mobile phones might have been discarded in 2020, but only 2 percent of them were recycled using regular channels.
Compared with street vendors who engage in mobile phone recycling, online platforms provide users with a more reliable and stable recycling channel with transparent pricing structures.
Chinese online electronics recycling platform All Things Renew, formally known as Aihuishou, announced it had completed over $100 million in a series of E+ rounds of financing, which was jointly led by e-commerce giant JD and Guotai Junan International Holdings.
Established in 2011, the company focuses on the recycling and trading of secondhand electronic products, such as cameras, phones and laptops. It has opened more than 700 brick-and-mortar stores in 140 cities across the nation, with the daily trading volume of 3C products-namely computers, consumer electronics and communication products-topping 70,000 units.
"We will strengthen in-depth omnichannel cooperation with JD and seize opportunities arising from upgrades to 5G mobile phones. Furthermore, we will accelerate our layout in the business-to-consumer segment to upgrade our business model," said Chen Xuefeng, founder and CEO of All Things Renew.
The company now operates five business lines covering C2B electronics recycling platform: All Things Renew, B2B used electronics platform Paijitang, B2C secondhand platform Paipai, AHS Device-which concentrates on electronics recycling in the global market-and garbage sorting and recycling platform Aifenlei.
How to build up supply chain capabilities is a top priority for secondhand mobile phone trading platforms and All Things Renew will continue to improve its supply chain capability, including enhancing automated quality inspection ability, expanding online and offline recycling scenarios and services, and lifting transaction efficiency.
In June 2019, All Things Renew merged with Paipai, a secondhand trading platform backed by e-commerce behemoth JD, in a bid to further standardize the electronics recycling process and improve efficiency by leveraging on JD's retail, logistical and technological strengths. After the merger, All Things Renew began to operate secondhand, inventory, resale and other businesses based on 3C categories within JD's platform.
In addition, it has carried out cooperation with traditional handset retailers such as D. Phone and Gome to launch "trading in an old for a new one" services.
Huishoubao, another mobile phone recycling startup, has accumulated extensive experience in secondhand smartphone inspections and artificial intelligence-powered pricing through providing all-around smartphone aftermarket services. It received strategic investment from e-commerce giant Alibaba in 2018.