A return to its roots
Share - WeChat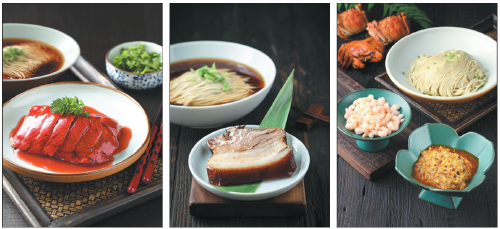 When Song He Lou, or the Mansion of Pine and Crane, started its business 260 years ago, its staple dishes revolved around the noodles, an economical means to keep the stomach filled.
Having originated in Suzhou, Jiangsu province, during the reign of Qianlong in the Qing Dynasty (1644-1911), the restaurant brand made noodles that were characteristic of the Yangtze River Delta.
Unlike noodles from other regions of China, the uniqueness of Suzhou-style noodles lies in its focus on the soup rather than the noodles or condiments. There are two soup options-white and red, with the latter being richer in flavor.
Suzhou-style noodles are also generally thinner compared to those from other regions. Its condiments, too, are served as individual dishes, as opposed to being mixed with the noodles.
But with the brand's steady rise as a high-end traditional Chinese diner over the past few decades, noodles were considered too mundane an offering and removed from the menus.
"Locals only eat noodles for breakfast or for a quick meal fix. Noodles aren't for formal dining," explains Hua Yonggen, the honorary chairman of the Jiangsu Cuisine Association and a former employee of Song He Lou in the 1970s and '80s.
"When Song He Lou grew bigger and focused on providing dinners, noodles simply became irrelevant."
In 2019, the brand made an about-turn, having realized that there was huge demand from young, time-strapped working professionals for affordable noodle stores located in bustling businesses areas.
The result was the birth of the Song He Lou Suzhou Noodle chain.
Another reason behind this return to its roots was the brand-revitalization strategy of Yuyuan Inc, the Shanghai-based tourist and retailing conglomerate that acquired Song He Lou in 2018.
"The competition in the dining industry is fierce, and time-honored brands need to keep up with the pace of the market. Suzhou-style noodles are very suitable for a chain business. It's smaller in scale, and provides convenient and affordable meal options for young professionals," the company tells China Daily through email.
To promote the brand, Yuyuan Inc has opened accounts on various social media platforms including WeChat, Weibo and Douyin. Its chefs have even livestreamed cooking lessons.
"Young consumers today are into unique brands, and uniqueness is the key quality of a time-honored brand. What we need to do is to bring the time-honored restaurant closer to young people and inject vitality to the brand," the company says.
Most of the outlets are located in high-end shopping malls close to office towers. Each outlet sports an elegant decor reminiscent of a traditional Chinese garden. Still, customers only pay 12 yuan ($1.80) for a bowl of soup noodles, albeit without condiments.
Business has been brisk, with most outlets packed with customers during lunch hours.
Most Popular