EV startup Nezha to join battery-swap bandwagon
Share - WeChat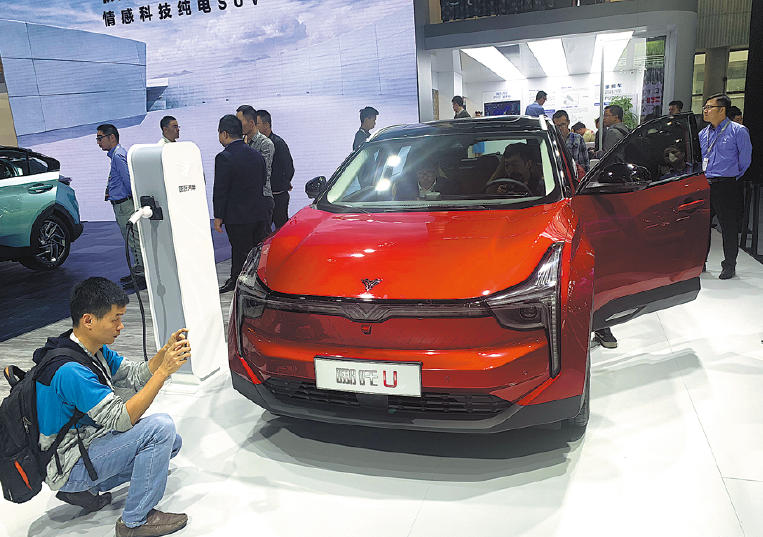 Chinese car startup Nezha will launch electric vehicles capable of battery swapping this year, joining the growing ranks of companies that believe the technology can accelerate the NEV sector's development.
In an online news conference on Wednesday, Nezha CEO Zhang Yong said the startup will build 100 battery swap stations this year, as the batter-swap variant of its Neta U vehicle is to hit the market.
Battery swapping is gaining momentum in China, fueled by the belief that it allows customers to buy the vehicle and rent a battery from the carmaker.
That means they can own an electric vehicle at a lower price and are spared the worries that the used battery may become a burden when they sell the car. Besides, it usually takes just minutes to get a battery swapped, much faster than getting it charged.
Nio is one of the first carmakers to promote the technology. Companies including BJEV, Geely as well as Xpeng are offering battery-swap vehicles. By the end of 2020, there were almost 600 battery-swap stations across the country.
The sector is expected to see faster development this year. Charging infrastructure company Aulton said it will establish 500 new battery-swap stations in 2021, which will be found in more than 50 cities, bringing the total number of its stations to 800.
Zhang said Nezha is also working on a range-extending model that can run for over 1,000 kilometers.
It will have a mileage of around 300 km in the pure electric mode. Level 3 autonomous functions will be available in the model as well. The model is expected to be unveiled later this year and hit the market in 2022.
Also at the online news conference, the startup said it is planning to invest 2 billion yuan ($309 million) in a research and development facility, with a primary focus on smart onboard functions and autonomous driving to sharpen the competitive edge of its products.
Zhang said Nezha will strive to sell 40,000 to 50,000 vehicles this year. In 2020, it sold 15,091 vehicles, up 51 percent year-on-year.
Around 1.37 million electric cars and plug-in hybrids were sold in 2020, up 10.9 percent year-on-year, according to the China Association of Automobile Manufacturers. The association expects around 1.8 million will be sold this year.