Chip shortages could remain through H1
Share - WeChat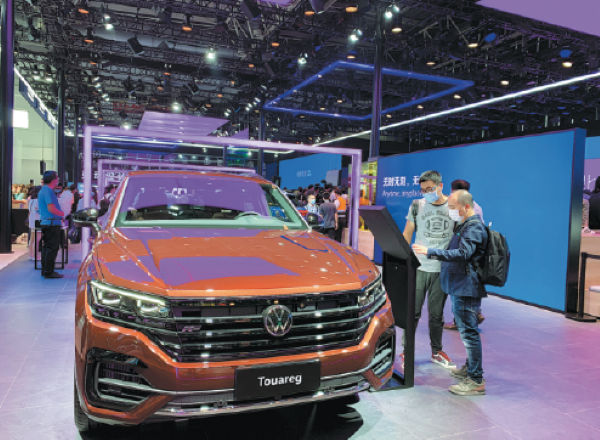 IHS Markit forecasts production of half million vehicles could be put on hold
Chip shortages in the auto industry may remain in the first half of the year, with semiconductor makers having few immediate solutions other than raising prices, according to experts.
Netherlands-based chipmaker NXP and Japan's Renesas Electronics said they were seeking to increase prices in the wake of the shortage and as raw material costs climbed.
Swiss rival STMicroelectronics is also considering a similar move, the Financial Times quoted a person familiar with the matter as saying.
Taiwan Semiconductor Manufacturing, the world's largest contract chipmaker, said it will prioritise the production of auto chips if it is able to further increase capacity, but added that its current production capacity is full.
Yu Kai, founder and CEO of a Beijing-based AI chipmaker Horizon Robotics, said the production capacity of automotive chips usually needs to be planned about a year in advance. He added, the entire supply chain is expected to recover by mid-2021.
Chip shortages started to emerge in China in late December as a result of the unexpected recovery in the auto market.
The rising demand for electronic gadgets because of lockdowns across the globe, and pandemic-caused plant closures have exacerbated the issue.
Stephan Woellenstein, CEO of Volkswagen Group China, said the carmaker's production in China was cut by around 15,000 vehicles in 2020, because suppliers could not offer enough chips.
He said the issue will continue for a while through the first quarter, and the situation will become clearer in April.
Chen Shihua, a deputy secretary general of the China Association of Automobile Manufacturers, said the shortage may continue to affect car manufacturers in the second quarter of this year, based on a poll of carmakers in the country.
The problem is not limited to China. Volkswagen warned late last year that it must adapt production at North American and European locations as well.
General Motors, Honda, Daimler, Ford and many others have idled production lines and furloughed employees.
The production of more than 280,000 vehicles has been put on ice, according to data provider AutoForecast Solutions. IHS Markit forecasts that as many as 500,000 vehicles could ultimately be affected.
The shortage could lead to more than $14 billion in lost revenue in the first quarter and some $61 billion for the year, advisory firm AlixPartners predicts.
In an effort to avoid a repeat of the crisis, Volkswagen said it was considering bypassing its large suppliers, such as Continental, to develop closer relationships with chipmakers themselves.
Some carmakers may decide to take more manufacturing in-house as the crisis raises concern that the car industry will be more reliant on chips as vehicles become electric, smart and autonomous.
Although electric vehicles only make up around 3 percent of global car sales, the value of the semiconductors in them is roughly three times more than that of a gasoline car, according to IHS Markit.
This would be an even more disturbing problem for China, which is the largest market for both gasoline and new energy vehicles.
"This episode of chip shortages has once again shown how urgent and necessary it is to have autonomous and controllable supply chains," said Chen of the CAAM.
The Chinese mainland's integrated circuit industry has seen rapid growth, with sales revenue totaling 653.2 billion yuan ($100.8 billion) in 2018, up 20.7 percent year-on-year, according to the China Semiconductor Industry Association.
Yet the country is over-reliant on foreign companies, especially for high-end chips. China has a deficit of around $200 billion in the integrated circuit industry, said Yue Xiekang, deputy president of the CSIA in an interview with the National Business Daily.
So far, Horizon Robotics is the first company on the Chinese mainland that can produce auto-grade AI chips. Its rivals include Nvidia and Mobieye.
Statistics from IC Insights show that $143.4 billion was spent on integrated circuits on the Chinese mainland in 2020, of which 36.5 percent were sales of locally made chips. Those made by Chinese mainland companies were worth $8.3 million, less than 6 percent of the total.