Tasty treat: Chowing down on chunbing makes for a delicious meal
Share - WeChat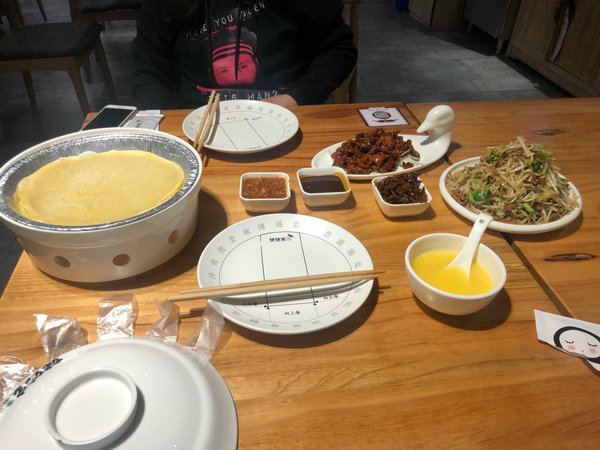 When we Americans think of pancakes, we think of breakfast.
The fluffy, golden brown circles of delight are usually topped with something sweet like fruit or honey, or even my favorite, maple syrup and butter.
Having traveled internationally a bit, I've noticed that pancakes in Asian nations tend to be more savory. In Malaysia, for instance, one can enjoy a rolled crepe snack called popiah, which usually consists of lettuce, shredded vegetables, a meat of some kind and a sweet sauce.
Here in China, bing, a round, flat wheat-based food, follows that same savory path. I usually like to eat it in the form of my favorite Chinese street snack, jianbing, or fried pancake.
Recently, I was introduced to another variety, known as chunbing, or "Spring pancake", so named because in the past, it was traditionally eaten to celebrate the beginning of the Spring season, which falls on Feb 3 this year.
My friend took me to Laolaojia Chunbing, a restaurant in our area of Chaoyang district in Beijing. She had told me that the chunbing there was excellent and that I should try it since I had never had it. I wholeheartedly agreed, and we set up a date to have lunch there.
It was quite crowded when we arrived, so we had to take a number and wait for a while. Once we were seated, one of the servers immediately offered us a bowl of soup. My friend declined; she had eaten it before and didn't like it. I had not tried it before, so I accepted it... and immediately agreed with her. There was no seasoning at all, so it wasn't to my taste either.
Fortunately, that was the only part of the meal that I didn't care for.
The menu offered a variety of meats, vegetables and sauces as fillings. We decided we wanted duck with soy sauce, bean sprouts with minced pork, chili sauce, sweet bean sauce and pickled vegetables to wrap up in our chunbing. Once we received everything, my friend pointed out that the plates have instructions about how to properly fold the cake. Indeed, there are directions, with a rectangle in the middle that is meant to help you determine how much of the filling you should put inside before you wrap everything up.
To describe it as delicious really doesn't do it justice. Quite frankly, the food was outstanding. I was very pleased with the combination of the sweet and savory elements that I could just roll up and enjoy. They even supply you with a utensil kit that includes plastic gloves you can wear, so you can eat without soiling your hands.
Best of all, the price was very reasonable. Between the two of us, we spent a total of 104 yuan ($16), and we had plenty of food. Trust me, for that price, you will definitely not leave the table hungry at Laolaojia. I am looking forward to going back!
China is filled with interesting foods that I have never seen in the United States. I continue to be amazed by the variety of great snacks and cuisines. Though I admit that I haven't enjoyed everything (I had a weird yam jerky snack recently that just didn't work for me at all), the majority of what I have consumed has been delicious.
I hope that as the nation continues to bring the COVID-19 pandemic under control, I will get the chance to sample a lot more of China's culinary delights.
Contact the writer at jamal@chinadaily.com.cn
Most Popular