Despite tough year, guesthouse still in business
Share - WeChat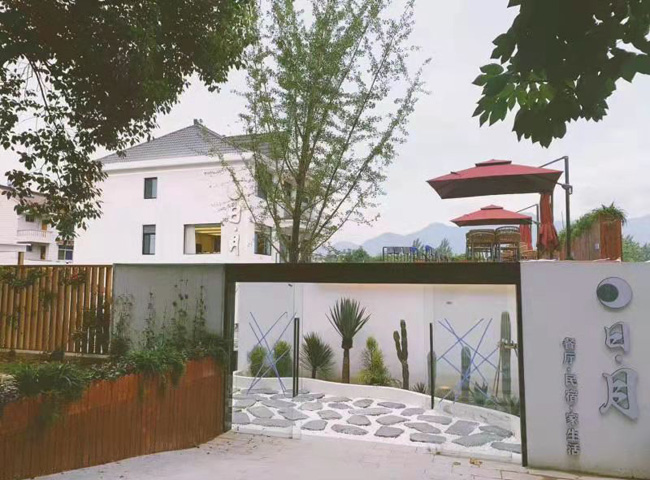 "In 2020, the most important thing is not what you've already lost, nor what you've yet to achieve, but rather what you have now. Let go of the past, and laugh for the rest of your life."
Yu Jianping, who wrote these words in a post on his WeChat page, might just have been imagining his recent entrepreneurial venture. He and his wife, Huang Li, opened a guesthouse and restaurant in Tonglu county, Hangzhou, Zhejiang province, during the star-crossed year of 2020, but still survived and thrived.
The idea for the business had been brewing in Yu's mind for some time. An army veteran, he had drifted through a number of careers across different fields, from express delivery and shipping to aquaculture and even car sales and maintenance, often leaving Tonglu to chase opportunities. But in recent years, he yearned to finally earn a living in his hometown, dubbed one of the most beautiful counties in the country, and had observed with great interest a trend of guesthouses and restaurants opening to meet the growing demand for tourists.
Tonglu county has long been fertile land for tourism, thanks to its scenic rivers and verdant mountains echoing landscapes from classic Chinese scroll paintings. And more recently, the government has planted additional seeds for prosperity by investing more in tourism infrastructure, such as creating a greenway for cyclists and pedestrians on the shore of the Fuchun River, while encouraging more businesses to develop in support of the tourism industry.
Yu and Huang found an idyllic riverside property next to the greenway and close to tourist areas, and soon envisioned a theme for the business-promoting mental wellness for weary city dwellers by creating a relaxing and uplifting environment. Ri-Yue, the chosen name for the guesthouse, unites the Chinese characters for the sun and moon in the hopes of cultivating a brighter tomorrow for guests and the business itself.
Yet a year marked by a pandemic subdued the shine of these aspirations, as the couple faced the inevitable pressures that came with opening a business in the tourism and hospitality sector. Planned renovations and redecorations were pushed back for months, delaying the grand opening. When the gates finally flung open in June, a time when tourism still hadn't fully recovered, the decline in the number of potential patrons forced them to seek alternative sources of income, such as hosting birthday parties for kids at nearby schools.
But despite this, they persevered. And through listings on Ctrip, Meituan and Airbnb, the guesthouse and restaurant began to grow its customer base and receive more bookings. Today, Yu's WeChat page showcases a colorful collage of experiences for guests-such as the quiet greenway curving under the leafy canopy of trees, fireworks lighting up an evening birthday celebration on the patio, and a brown clay teapot perched beside a fresh cup of green tea.
This couple's startup story reminds me that success doesn't necessarily depend on, say, having the heavens align in perfection. After all, Yu also wrote on his WeChat page, "Those who are strong are not without tears, but rather keep pressing on in spite of the difficulties." This is the kind of spirit that has propelled them and many others through devastating times. And with that same persistence, your dreams, once as distant as the stars, might one day rise in brilliance, like the sun and the moon.
Contact the writer at jocelyn@chinadaily.com.cn
Most Viewed in 24 Hours
China Views