For wigmakers, from hair to eternity
Share - WeChat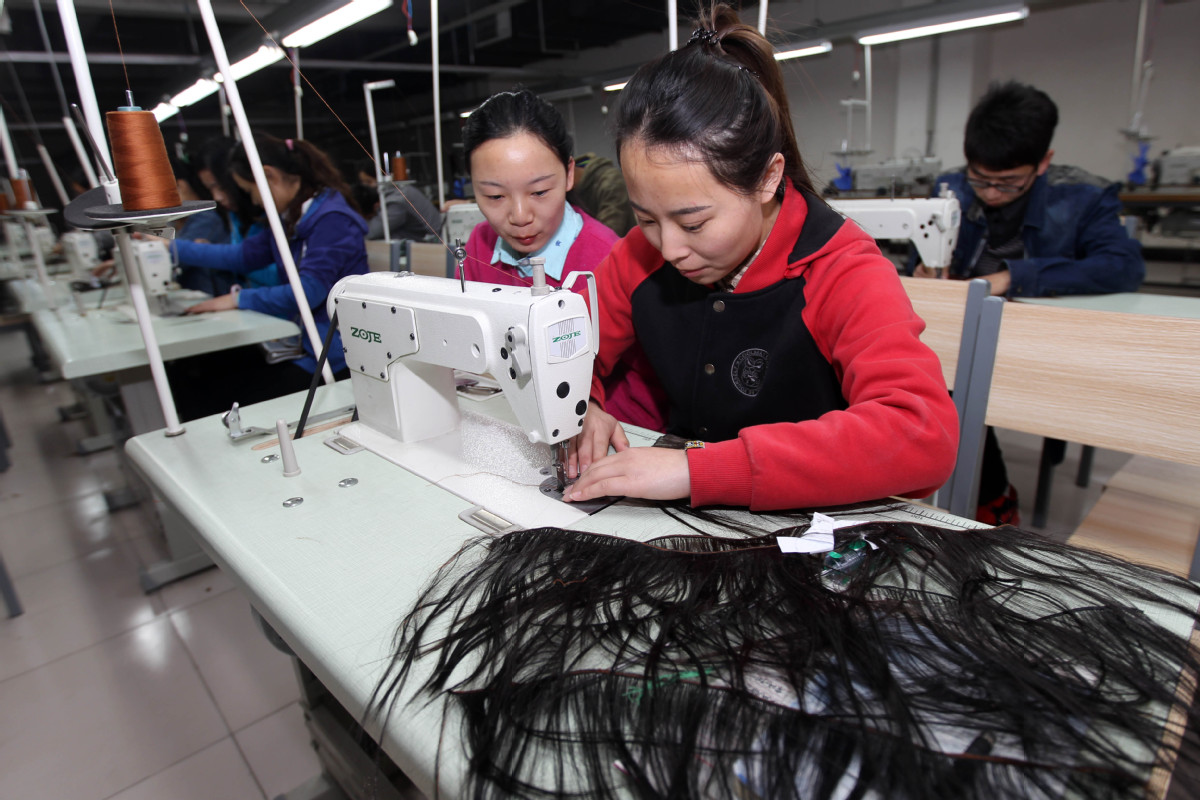 Industry hub in Henan sees soaring exports, huge growth potential in domestic market as livestreaming gains ground
Henan Rebecca Hair Products Co Ltd, a major Chinese wig brand based in Xuchang, Henan province, said most of its sales come from exports to Africa, Europe and the United States. Despite the ongoing COVID-19 pandemic, its sales overseas have seen little impact, and cross-border e-commerce platforms have helped fuel its revenue.
With a comprehensive industrial chain and good brand reputation, the Shanghai-listed company has a factory in India.
Real hair is sourced from around the world, but such materials are often in undersupply. Chemical fiber wigs are a cheaper alternative, according to the Xuchang government.
In terms of hair loss or thinning remediation efforts, wigs are generally more adaptable and convenient than other options such as transplants. Synthetic wig prices can range from 1,000 yuan ($155) to 1,500 yuan for a full wig. Realhair wigs, which look and feel more natural, are the most expensive option, costing as much as thousands of dollars.
"Wigs are seeing solid online demand overseas. We have seen a 40 percent increase in online wig sales overseas since the outbreak of COVID-19. For brick-and-mortar stores abroad, sales have dropped 20 percent compared with pre-pandemic levels," said Zhang Tianyou, deputy general manager at Rebecca.
Rebecca said African Americans have been the demographic showing the highest demand, and North America constitutes an important wig market. Africa stands as the second-largest market after North America, and the market scale is continuously growing.
In addition, the wig market in Western Europe is mature and has a long history. Central and Eastern Europe are exhibiting growing demand for the products.
Asia has also become a huge emerging market for wigs. The continent, which has more than 60 percent of the world's total population, only accounts for 10 percent of global wig consumption, Rebecca said.
"In recent years, Asian consumers-especially females-have become more open-minded and international, and more people are willing to wear wigs to become more beautiful or for practical reasons. We aim to satisfy tailored demand of different consumers and integrate more stylish elements into the design of wigs, in addition to upgrading production technologies and raising product quality," Zhang said.
Rebecca said in terms of the research and development of wigs, the production process has become easier and production cycles shorter. Modern wigs are more adaptable to heads, and people feel more comfortable wearing them. Some of the latest dyeing technologies have been applied to the color design of wigs, which gives them a more fashionable look.
Currently, Xuchang is the world's top wig exporting base and the largest R&D and distribution center. The city has about 300 wig-producing companies, and more than 300,000 people work in the sector, according to the local government.
This year, Xuchang plans to establish five industrial clusters that focus on sales via livestreaming sessions, and foster 30 renowned online brands. The local government also plans to train 500 livestreaming anchors to help with online sales of major wig manufacturers and companies from other sectors.
Among the roughly 300 wig-making firms in Xuchang, only a handful sell products domestically or have retail stores.
They produce more than 3,000 kinds of wig products, and export them to about 120 countries and regions. The wig-making industry has integrated the latest technologies, techniques and materials, and more than 170 technologies have been patented.
By 2023, Xuchang aims to achieve wig export revenue of 20 billion yuan, with an annual sales growth rate of 10 percent. The city also plans to increase investment in cross-border e-commerce platforms, and set up wig exhibitions and sales centers in the United States, South Africa and the United Arab Emirates.
So far, more than 20 major companies have established branches overseas. In 2019, sales of wigs through cross-border e-commerce platforms reached $2.15 billion, jumping 15.6 percent year-on-year, according to the local government.
The Xuchang government said the wig-making industry in the city has entered a transformational period. With increasing costs of labor and raw materials, as well as fiercer competition with wigmakers in Shandong, Anhui and Hunan provinces, local companies need to upgrade their product quality, produce more high-end wig products and master more core technologies.
The key is to raise R&D and design capabilities and attract more talent in the design, sales and production technologies of wigs, the local government said.
"Overseas markets serve as the main body of the wig business in Xuchang, and the domestic market only accounts for 3 percent to 5 percent of the total," said Zhang Xiaogang, deputy director of Xuchang's commerce bureau.
"For some smaller wig manufacturers, it has been difficult for them to purchase real hair raw materials and the supply of wig products is sometimes inadequate to meet demand," Zhang said.
In China, more than 70 percent of wig manufacturers are located in Xuchang, Henan province, and Qingdao, Shandong province. China's wig industry is mainly export-oriented, and North America and Africa account for more than 70 percent of total exports, said LeadLeo Research Institute in a recent report.
Xuchang has been opening up to the outside world. Wig manufacturing is one of the pillar industries of foreign trade in the city and the production of wigs can be traced back to the late Qing Dynasty (1644-1911).
In the 1950s, nearly 10,000 people in the city worked in the industry. Since China's reform and opening-up in 1978, a large number of wig-making companies emerged in Xuchang.
Henan Shenlong Wig Hairdressing is another company thriving in the sector in Xuchang, and it mainly exports products to the United States, the United Kingdom and France. It currently has no domestic sales.
Despite the pandemic, Shenlong said the negative impact on wig sales began to ease in the second half of last year. Since October, it received even more orders compared with the pre-pandemic period. In recent months, the average monthly export value of the company reached $3 million, the company said.