Xu unleashes fury over Josh's jibes
Share - WeChat Chinese champ blasts 'baby' Brit as war of words erupts over on-off bout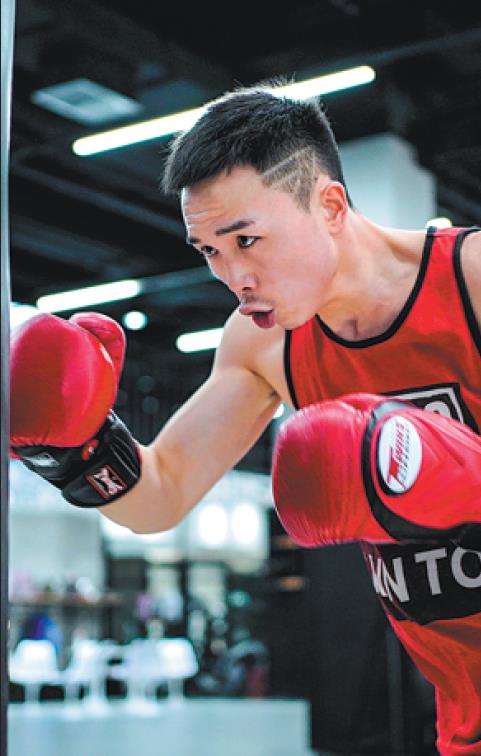 Xu Can has slammed British boxer Josh Warrington as a "30-year-old baby" after tensions flared between the two featherweights over their on-off bout.
"Remember this, Warrington: I dare to fight with you anytime, anywhere in this world. Do you dare do the same?" said China's World Boxing Association champion (18-2, 3 KOs) in a video message posted on Weibo on Thursday.
Fans have been waiting for the title-unification bout between Xu and the unbeaten International Boxing Federation champ Warrington (30-0, 7 KOs) since 2019. The fight was unable to be staged throughout 2020 due to the COVID-19 pandemic.
Warrington and Xu were reportedly close to finalizing a deal for a February showdown in the Englishman's hometown of Leeds, however the fight has been postponed again as the pandemic rages on and with international travel restrictions proving problematic.
Warrington ignited a war of words when he told media this week that he was "close to shedding tears" after Xu pulled out of the bout-a decision which led some fans on Chinese social media to question Xu's courage.
However, China's WBA champ had a different take on the story.
"My title-unification bout was once again postponed. Anyone who watches the news of the British COVID-19 pandemic situation would say to me: 'In February? To have a fight in the UK? Are you crazy?'" Xu said in the video.
"Calling me a coward who runs away from a fight? Let's see who is the real coward. The UK is still at a critical time in the pandemic, and the nation is still under lockdown. We invited Warrington many times to China. Or we can fight in a third nation.
"But he dared not to and he said he only can fight in his hometown in the UK."
According to his promotion agency, the Beijing-based M23 Boxing Club, Xu is planning a trip to Europe to train with Pedro Diaz, who has coached more than 20 world and Olympic boxing champions.
Xu's team is still in the process of arranging the Warrington fight, with more details expected to be revealed by the end of this month.
"My coach is waiting for me in Europe, and I'm going to meet him and prepare with him. As long as my team's safety can be guaranteed in the UK, we will have the fight instantly," said Xu.
"I'm not afraid of fighting in the UK. Now I wish to fight with you in your hometown. So please shut your mouth and do your training. And most importantly, protect your jaw. Save it for me. That's mine."
Xu, aka 'The Monster', became China's first WBA champ when he beat Puerto Rico's Jesus Rojas by unanimous decision in Houston, Texas, in January 2019.
The 26-year-old retained the belt for the second time in November of that year by throwing an incredible 1,562 punches (landing 402 of them) against American challenger Manny Robles III via another unanimous decision in California.
Warrington has held the IBF title since 2018, when he beat Welshman Lee Selby via split decision. He has successfully defended the belt three times, with 'The Leeds Warrior' claiming he is now raring to go toe-to-toe with Xu.
"A lot of people don't know that this fight has been on the cards for a long, long time. We had more or less been preparing for this fight since when I signed back up with Matchroom. That was the one we wanted," Warrington told Sky Sports News.
"I've got the artwork for the poster, all the game-plan has been about Xu, all the sparring partners have been tailored to his traits. At night time, I'm visualizing Xu. My team is studying Xu, we've got loads of data on him. All of a sudden, it's not happening."
In the meantime, Warrington will defend his IBF title against Mexican Mauricio Lara (21-2, 14 KOs) on Feb 13 in London.
"It has been so frustrating for him (Warrington)," Matchroom Promotions boss Eddie Hearn told Sky Sports News. "We spoke about the Xu Can fight, who was coming over from China and who wanted to fight in front of a crowd.
"All of a sudden, we were in lockdown and there were travel restrictions so Warrington will fight a tough Mexican in Lara.
"Warrington is one of the biggest names, the biggest stars, the top pound-for-pound fighter in British boxing. It's amazing to see him back.
"He has to put in a really big performance because I want him back out in April or May against Xu Can or Gary Russell Jr."