Shijiazhuang goes on lockdown to curb infection
Share - WeChat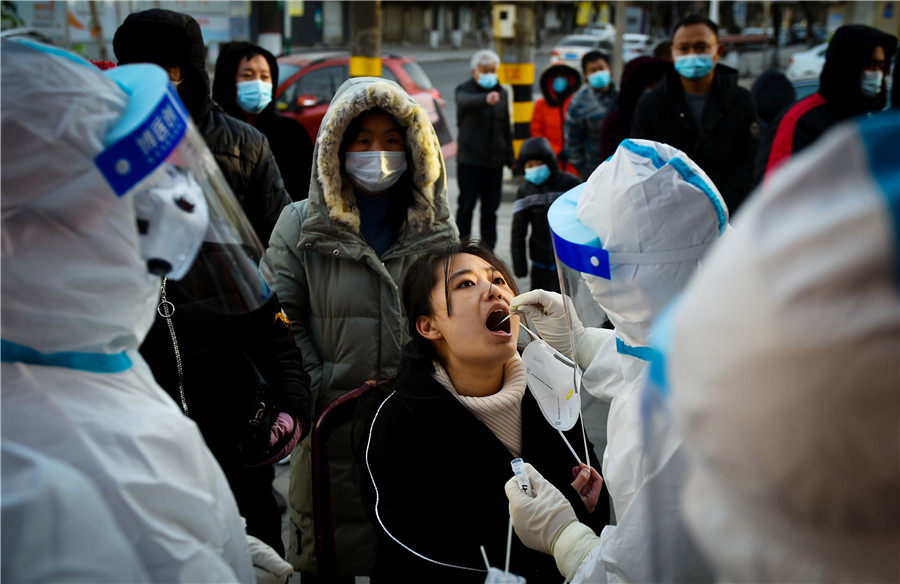 Three officials in Shijiazhuang's Gaocheng district, which is the epicenter of the latest outbreak, have been punished for negligence in COVID-19 intervention, said the city's top anti-corruption authority.
"Villages should identify, report, isolate and treat cases as early as possible, so as to cut off the transmission," Wu Hao, an expert at the National Health Commission's Advisory Committee for Disease Control and Prevention, said in a news report by cnr.cn.
Compared with cities, villages are more vulnerable to outbreaks, because the medical conditions there are not as good, publicity is limited and there are more elderly people and children, whose health awareness is relatively low, he added.
To lower the risk of virus spread, all communities and villages in Shijiazhuang, the provincial capital, have been under closed-off management since Wednesday morning.
The city has also suspended major transport links with outside areas, including long-distance buses and expressways and banned gatherings. People are urged to cancel or delay weddings. Passengers taking trains or flights must have a negative nucleic acid test result within three days of departure.
Citywide testing for all 10.39 million residents in Shijiazhuang started on Wednesday.
The provincial health commission in Hebei has sent about 1,000 medical workers from other cities to Shijiazhuang as of Wednesday to support its fight against the outbreak, Zhang Dongsheng, deputy head of the Shijiazhuang health commission, said at a news conference on Wednesday, adding that another 2,000 medical workers will arrive in the city on Thursday.