A warning, poster
Share - WeChat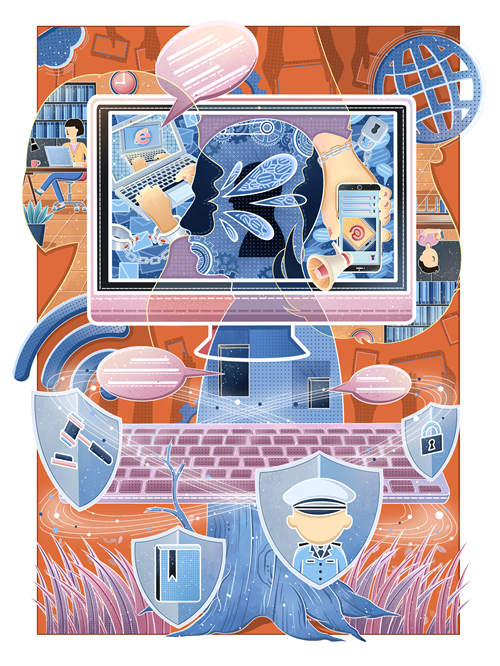 An ongoing 'cyber libel' case further highlights the need for caution in our online lives, not just in terms of personal security but also what we share, Wang Qian reports.
In this era of social media, someone's life can be changed, for better or worse, with just a post or a hashtag-and not always one of their own doing.
For Wu Min (alias) in Hangzhou, Zhejiang province, all it took to ruin her life was a 9-second video of her waiting for delivery of a package and several fabricated screenshots of a fake conversation over WeChat, which saw her branded as a cheating wife, who was engaged in an affair with a deliveryman. What's worse, the unmarried 28-year-old did not even know who was behind the post, which went viral online in August.
According to Wu, it has resulted in her "social death"-she lost her job in August and was diagnosed with depression in September. After an investigation by local police, two men, surnamed Lang and He, were arrested for making up the story on Aug 13. They were detained for nine days.
As an old proverb goes: "A lie can travel halfway around the world while the truth is still putting on its shoes." The damage to Wu's reputation continues to take a toll, with a constant stream of unpleasant messages flooding her social media accounts and friends from both home and abroad asking if the wife in the post is indeed her.
As a result, Wu has brought a private prosecution against Lang and He, which was taken over by the Yuhang District People's Court in Hangzhou on Dec 14. On Dec 25, the local procuratorate suggested that police file the case and said that a public prosecution will be pursued, because it has "seriously disturbed public order online, diminishing public safety" and "further harmed the social order", according to a statement released by the Zhejiang provincial procuratorate.
"I hope that my case will encourage people with similar experiences to say 'no' to internet defamation and offer a glimpse into the dark side of cyberspace," Wu says, adding that she refuses to accept any form of apology from the defendants and their families.
So far, no company has been willing to hire Wu after learning of her experience, because it may have an "unpredictable" effect on a company's image, according to Wu.
The case has hit national headlines, triggering public concerns about cyberbullying. Many netizens showed their support. A Sina Weibo user named Banrenbanhuo says: "You helped me realize the power of courage and resistance. Sometimes, these can make the world a better place."
Just like piracy and hacking, online defamation is illegal, according to Wu's lawyer, Zheng Jingjing. She adds that a person found guilty of libelous posts on the internet can be sentenced to serve up to three years in prison, but in reality, it rarely happens.
"With the popularity of smartphones and the proliferation of social media platforms, anonymous defamation on the internet has been on the rise, and Wu's lawsuit will be a wake-up call for people to protect their legal rights online," Zheng says, adding that due to the anonymity afforded to people online, everyone is at risk of becoming a victim of cyberbullying.
Most Popular