Skiers hitting slopes this season in record numbers
Share - WeChat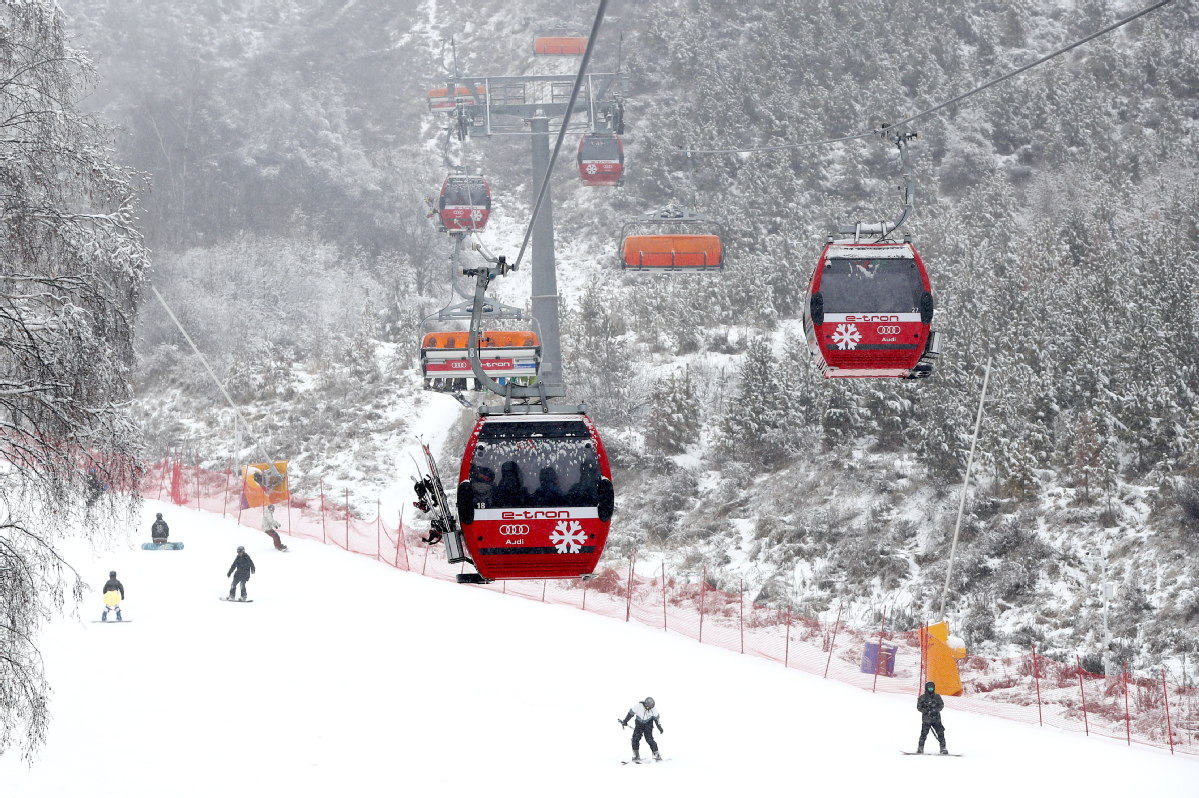 Operators upgrade products, services as COVID-19 control brightens prospects
This winter, ice-and snow-themed travel revenue in China is expected to hit a new high as operators offer products with upgraded services and qualities, thanks to COVID-19 coming under better control in the country.
In November, the booking volume of skiing getaways soared 350 percent year-on-year, according to Trip.com, China's largest online travel agency.
Skiing enthusiasts who often went to resorts in Europe, the United States, Japan and South Korea in the past few years have shifted their focus to domestic destinations this year, as most countries continue to see rising cases of confirmed infections.
This year, ski slopes in Northeast China have upgraded the quality of their products. The Heilongjiang provincial government has provided 48 million yuan ($7.35 million) in subsidies to online travel platforms to attract more visitors to the region, and local operators and sightseeing spots have introduced packages with discounted prices.
For instance, Alibaba Group's online travel arm Fliggy has provided subsidies worth 18 million yuan for winter vacation spots in Harbin, Heilongjiang's capital, on its platform. The discounts will cover hotels, admission tickets and packaged tours.
A five-day trip from Shanghai to Harbin, Snow Village or Yabuli ski resort-all in Heilongjiang-now costs as little as between 2,000 yuan and 3,000 yuan. In the past few years, such trips usually set travelers back more than 4,000 yuan, said Trip.com.
"For those travelers who come from South China and would like to experience snowy vistas and skiing adventures, they should grab the chance to take cost-effective trips this winter. Most group tours available are of small-scale and are linked with stays at high-end hotels," said Wei Bo, product manager of Northeast China at Trip.com.
"This winter, the number of visitors who took group tours to Heilongjiang edged up about 10 percent over the same period last year. Most people take trips that last from four to six days," Wei said.
Travelers from Beijing are particularly enthusiastic about skiing, and a large number are choosing to go to Changchun, Yanji and Tonghua in Jilin province, said Qunar, a Beijing-based online travel agency.
Jilin, along with the Xinjiang Uygur autonomous region and Hebei province, have become popular skiing destinations. Since the second week of November, flights to Changchun and Altay in Xinjiang started to climb, and the daily booking volume has been higher than the same period last year, Qunar said.
A price increase of hotel rates also indicates the popularity of skiing this year. Since early November, hotels in Jilin and Altay have seen rates climb 20 percent year-on-year, and most skiers choose to stay at hotel for two days on average, which is one day longer than last year, Qunar found.
Skiing venues in China closed during the Spring Festival holiday in late January this year following the outbreak of COVID-19, and the ski season was forced to end prematurely. Economic losses for ski resorts in China for the COVID-19 shortened season could exceed 8 billion yuan, industry researchers observed.
In China, the skiing season usually starts in late October and runs until March of the following year, depending on weather conditions in different regions.