US hospitals face severe PPE shortage
Share - WeChat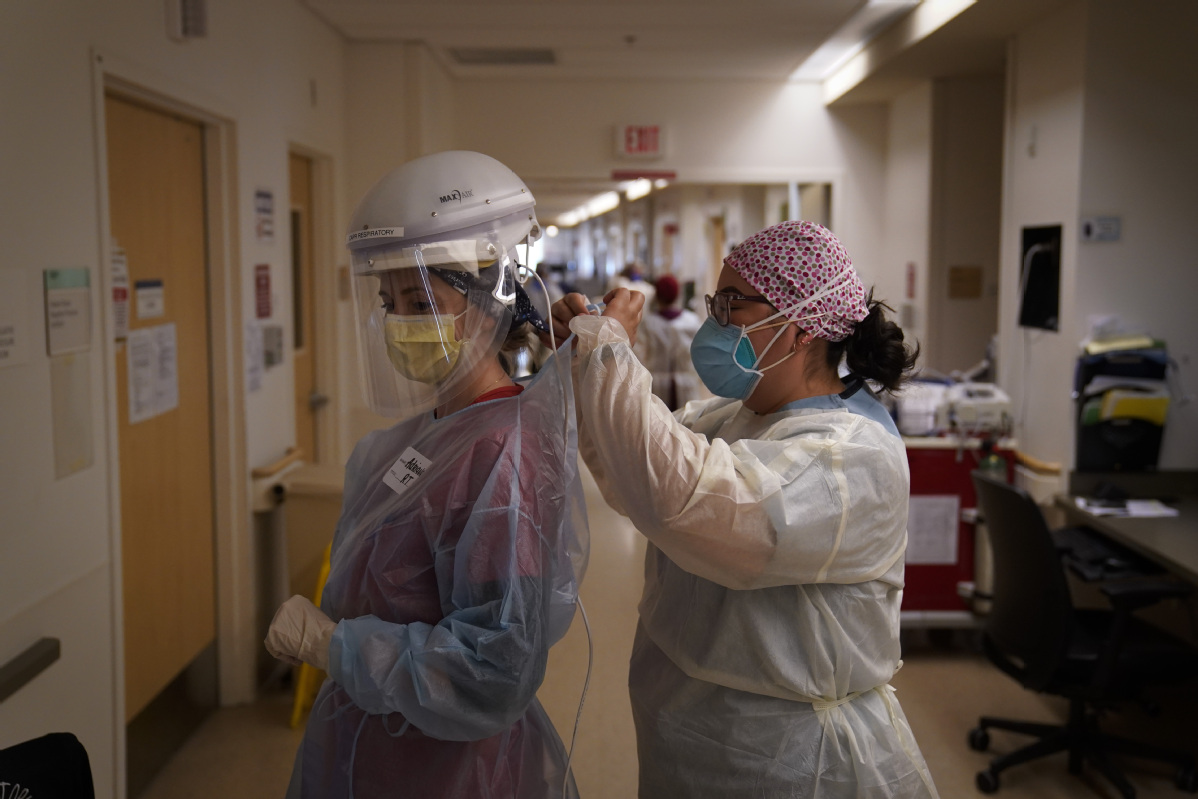 Health workers across the United States are reporting a critical shortage of protective personal equipment, or PPE, amid a surge in COVID-19 cases.
The federal government has fallen behind in achieving its goal to secure certain types of PPE, such as nitrile gloves. It set a goal in May to obtain 300 million N95 masks to supply health workers on the front lines fighting COVID-19.
But by the middle of November, the US Strategic National Stockpile and the Federal Emergency Management Agency had only secured 142 million N95 masks.
"There is still no centralized federal database for personal protective equipment," said Ali Raja, an emergency-room doctor who co-founded Get Us PPE, the nation's largest nonprofit founded by emergency physicians to give donated PPE to organizations that need it.
"The disconnect between what's purported to be in the stockpile and the needs on the front-line is astounding," she told The Wall Street Journal on Dec 9.
More than 24 million pieces of PPE are in demand every week in the US, Get Us PPE said. The group has delivered more than 3 million units of PPE, but said that met only 12 percent of requests.
The majority of healthcare facilities say they are facing an unparalleled shortage of PPE.
As of November, about 70 percent of facilities were completely out of one or more types of PPE for the third consecutive month.
Thirty-six percent of long-term care facilities had no supply remaining of at least one type of PPE, the group said.
A survey released on Nov 30 by National Nurses United, the nation's largest union of registered nurses, shows only 16.5 percent of nurses in hospitals report they have universal PPE in the emergency department.
Gloves in short supply
Nitrile gloves, an industry-standard item which reduces the spread of infectious viruses, are in particularly short supply.
In a November report to Congressional committees, the US Government Accountability Office pointed out that "availability constraints continue with nitrile gloves", with the national stockpile of gloves dropping from 16.9 million in December 2019 to 2 million in October 2020.
The government may not meet the supply target for gloves by the end of the year, said officials of the Office of the Assistant Secretary for Preparedness and Response, or ASPR, which operates within the US Health and Human Services Department.
The source of PPE including nitrile gloves is part of the reason why the supply is not meeting demand.
US medical supplies rely on overseas supply chains instead of domestic production, leading to shortages because of surging global demand.
"There is an increasing shortage of nitrile gloves," Rob Handfield, a professor at North Carolina State University and a supply chain expert said on Tuesday.
China has helped overcome PPE shortages in the United States.
Zhao Lijian, a spokesman of the Foreign Ministry, said that from March to October, China has exported more than 37 billion surgery masks, 740 million surgical gloves, 560 million hazmat suits, more than 41 million safety glasses, and 11,701 respirators to the US.