Bilibili looking to enhance online presence
Share - WeChat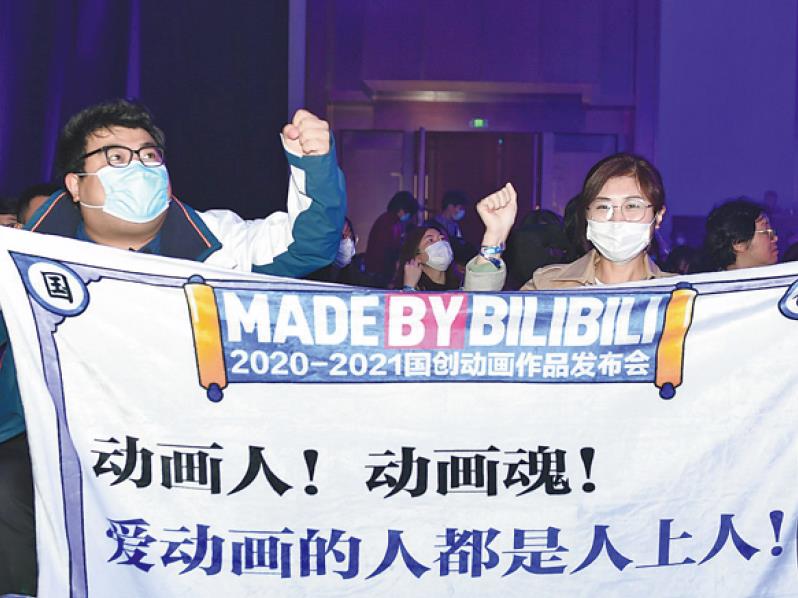 You may have heard Bilibili referred to as China's answer to Netflix, YouTube or Reddit. The fact is that it's a mixture of the trio, with an added sense of community belonging.
Initially featuring Japanese anime, comics and games, the 11-year-old streaming site is a good barometer of trends among China's younger demographic, which now watches TV dramas, learns foreign languages and picks up cooking techniques via the platform.
With 197.2 million active users as of September, Bilibili is now walking a fine line between pampering existing users and venturing into an emerging category-Chinese cartoons.
During a news conference last month dubbed "Made By Bilibili 2020-2021", the company announced the launch of 33 new animated film titles for next year. They include a coproduction of New Gods: Nezha Reborn, a story from Chinese legend produced alongside animated film specialist Light Chaser Animation Studios.
The theatrical release of Fairies Albums is also in the pipeline. Its anime series of the same name has garnered over 100 million views on Bilibili since its April debut.
Plenty of progress has been made since the inception of the inaugural Chinese-made anime release conference in December 2018, said Li Ni, vice-chair and chief operating officer of Bilibili.
This year alone has seen a total of 106 Chinese anime titles launched on the site, while the overall viewing hours of locally produced anime on Bilibili have jumped 98 percent year-on-year, Li said at the event without disclosing detailed figures.
"Between 2014 and 2024, we have this 10-year vision for animation at Bilibili-to become a Chinese anime hub that can help drive the industry's development in Asia and grows in terms of both output and audience. After 2024, we hope Bilibili will support and witness the birth of new Chinese anime superheroes and blockbuster animation hits," she said.
Bilibili is sparing no efforts in adapting existing movies or other successful works.
In the pipeline include an adaptation of the Chinese hit novel The Longest Day in Chang'an, whose animated series follows the storyline of the novel's protagonists.
A partnership was also inked to release an anime series based on Chinese action-comedy franchise Detective Chinatown.
Bilibili is moving into the mainstream scene by offering standard fare like textbook tutorials as well as serious knowledge-sharing content covering everything from medical to military matters.
Analysts view the company's ventures into the broader movie sphere a critical step forward to appeal to a wider user base.
"Bilibili has sought to reposition itself as a platform not only for animation fans, who were the initial users of its service, but also for moviegoers, gaming enthusiasts and merchants amid rising competition," said Charlie Chai, an analyst at consultancy 86Research, which focuses on China's internet, technology and consumer trends.
Chai said Bilibili's professional user-generated content serves as a glue to online communities and looks like a more sustainable business model than domestic peers like iQiyi and Youku, which plunk down tens of millions of yuan into content acquisition.
In the third quarter, Bilibili's 197.2 million active users were up 54 percent from the same period a year earlier. But it also booked a growing net loss, which jumped 2.27 times year-on-year and could be attributable to rising marketing dollars spent on brand awareness.
Such anxiety, however, could be somewhat quelled by the expected spending power and willingness of Generation Z consumers. Research by QuestMobile predicted the demographic will make up two-thirds of all online entertainment consumption by 2023. Gen Z refers to those born between 1996 and 2010.
"Millennials and Gen Z Chinese consumers pay for content," said Tanya Van Gastel, a columnist at Content Commerce Insider, which focuses on branded entertainment. "For brands looking to diversify ad placements away from display ads-knowing fully well that branded content is 22 times more engaging than display ads-Bilibili offers an opportunity."