Hole-in-the-wall cafe keeps its customers coming back
Share - WeChat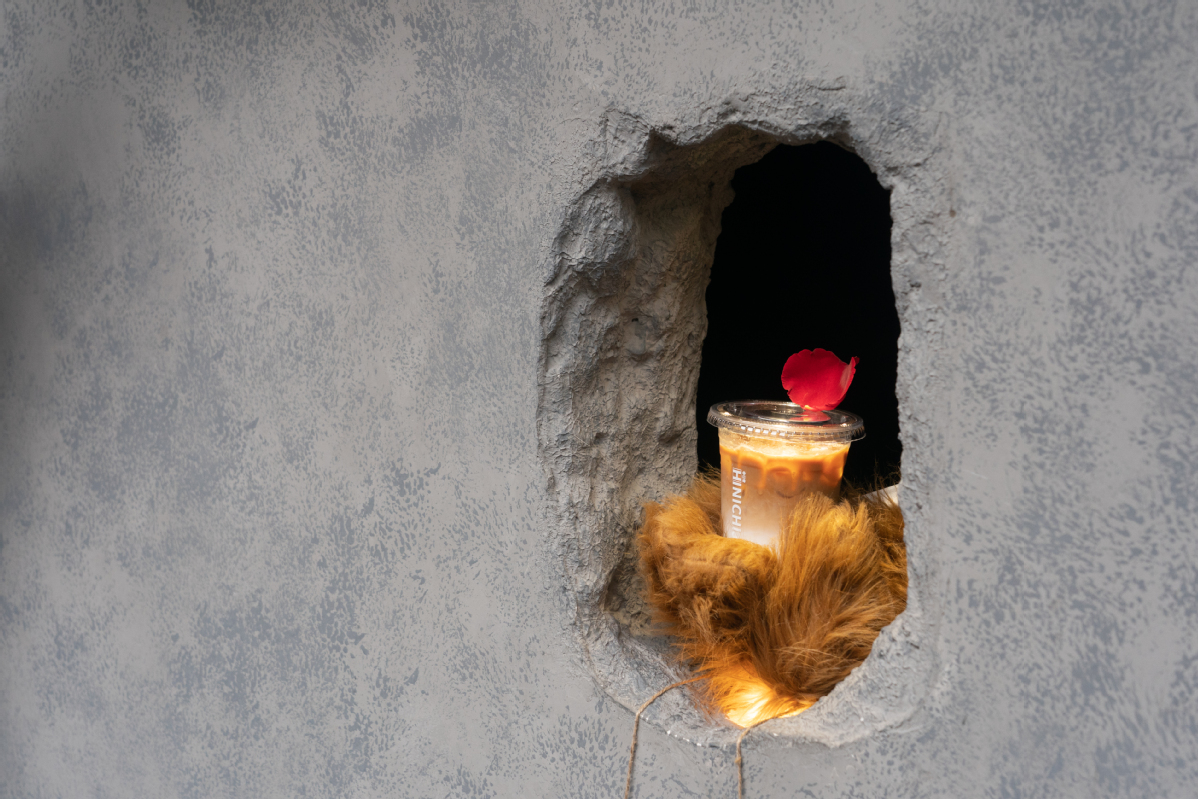 A new cafe on Shanghai's Yongkang Road has no seats or tables, and its storefront is nothing more than a gray wall with a hole through which a furry bear paw interacts with customers-by serving them coffee, giving them friendly pats or posing for photos.
Here, customers simply scan a QR code to place their orders. All beverages cost 20 yuan ($3.06).
The cafe, Hinichijou-a Japanese expression that can be translated as "extraordinary"-which is also known locally as the Bear Paw Cafe, has gone viral among netizens. That's not just because of its quirky features but also because of its goal of providing employment for people with disabilities.
According to the cafe's co-founder, Wang Haiqing, Hinichijou currently employs four baristas with hearing and speaking disabilities, including cafe manager Chen Yingying, who was the champion of coffee brewing at the 2019 National Professional Competition for People with Disabilities. The contest is an annual event run by the Shanghai Disabled Persons' Federation to encourage people with disabilities to improve their vocational skills. The federation trained Chen for over six months before the competition.
Wang said that the cafe's concept of placing staff members behind a wall is to help the disabled employees feel more comfortable at work.
Since their soft opening on Nov 15, the store has drawn hordes of customers and become one of the most searched items on short video sharing site Douyin. Hinichijou fully opened on Dec 3, the International Day of People with Disabilities.
The crowds have hardly abated. The current wait for a coffee is about an hour.
"Not all our employees have disabilities. For example, the employees who wear the bear paws are able-bodied people who take orders, interact with customers and perform other tasks like disinfecting the store," said Wang, adding that the server rotates between several bear paws, which are disinfected regularly.
Besides hiring people with disabilities, the cafe also provides them with free coffee as well as training on making the beverage.
But while the concept has been a hit with consumers, the cafe being behind a wall breaches the regulation stipulating that the certification and license of a business must be clearly visible to customers, officials said.
The market regulation administration of Xuhui district where the cafe is located has already notified the business that the situation should be rectified by displaying the documents and license on the board with the QR code.
"The administration is helping us to meet the required standards and we are working on it now," Wang said.
Li Mengqian, 29, went to the cafe after reading about it online.
"I know it is difficult for people with disabilities to find a stable job. It is great to have such a store to support their employment," she said. "I really hope that there will be more shops like this one and that society will pay more attention to the employment of the disadvantaged and give them more understanding and support."
Wang said they do plan to provide more job opportunities for people with disabilities by opening more stores.
"Right now, we'll just focus on this store," Wang added.