Oil majors expand wind power campaign
Share - WeChat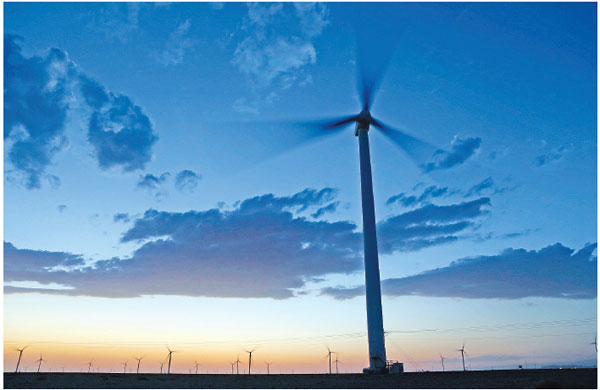 China's major oil and gas companies are stepping up efforts to develop wind power, as the focus on renewables gains traction amid ongoing efforts to achieve peak carbon dioxide emissions by 2030.
China Petrochemical Corp, also known as Sinopec, recently started its first wind power project to further expand its clean energy footprint.
Located in Shanxi province, the 20-megawatt distributed wind power project, including eight wind turbines with on-grid power reaching 42.87 million kilowatts every year, is in accordance with the company's plan to further explore the new energy sector, with a focus on wind, solar, geothermal and hydrogen power.
It will reduce standard coal consumption by up to 13,200 metric tons and substantially reduce emissions of carbon dioxide and dust, the company said.
Compared with big wind farms, where power originates from remote commercial wind farms and is transmitted to load centers over long transmission lines, distributed wind power is generated close to the consumption center and used on-site or in the local distribution system to meet energy demands. It is flexible and can produce clean power for homes, farms, businesses and other locations.
In addition to Sinopec, China National Petroleum Corp, the country's largest oil and gas producer by annual output, has also entered the wind energy sector with a plant in Shandong, while China National Offshore Oil Corp, China's largest producer of offshore oil and gas, has outlined plans to spend 3 percent to 5 percent of its annual budget on the offshore wind power sector after its first offshore wind power project was connected to the grid and began generating power recently.
Located off the coast of Jiangsu province, the project, with a total installed capacity of 300 MW, is scheduled to fully come into on-grid production by the end of this year, and its annual on-grid power generation is expected to reach approximately 860 million kWh by then, said the offshore oil and gas specialist.
Chinese energy giants' lackluster performances during the first six months of the year have also quickened their efforts to tap the renewables sector.
BP Energy Outlook 2020 forecasts that strong growth of the renewable power sector will be a key driver of energy transition in China, which is also expected to remain the world's largest primary energy consumer despite slowing demand growth.
According to the renewable energy generation data in 2019 released by the National Energy Administration, hydropower, solar power, wind power and biomass account for 63.73 percent, 19.89 percent, 10.10 percent and 5.45 percent of the total, up 5.7 percent, 10.9 percent, 26.3 percent and 20.4 percent on a yearly basis, respectively. Wind power saw the fastest growth among all sectors.
Analysts said the wind power focus of the oil giants reiterates their ambitions in advancing energy transformation and implementing the green and low-carbon strategy.
Such efforts are also in accordance with government efforts to promote renewable energy, as progress toward using more clean energy has been accelerating over the past few years in the country, said Wang Ziyue, an analyst at research firm BloombergNEF.
Peng Peng, secretary-general of the China New Energy Investment and Financing Alliance, an industry group, said after 15 years of rapid development of wind power, most of the regions suitable for turbine installation are already been developed, with as much as 80 percent of the good quality projects being operated by State-owned power companies.