Chinese firms ship steel rails for Jakarta project
Share - WeChat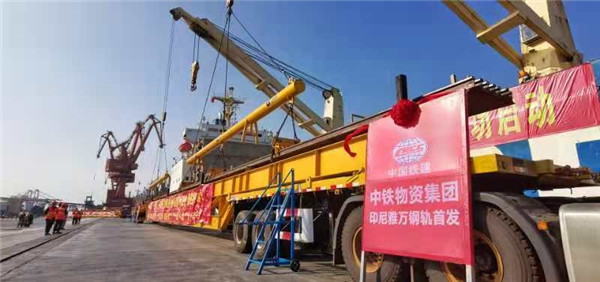 The shipment of the first batch of made-in-China steel rails for Indonesia's Jakarta-Bandung high-speed railway line from Saturday has signaled Chinese steel companies' increased competitiveness as the country is one of the few in the world to export long-length steel rails, experts said.
Made by Panzhihua Iron and Steel in Sichuan province, the rails measure 100 meters in length each, and were transported to Fangchenggang port in the Guangxi Zhuang autonomous region by railway through specially adjusted carriers. There the rails were cut into 50-meter-long ones for the sea journey.
Xu Xiangchun, information director and analyst with Mysteel, an iron and steel consultancy, said China has become one of the few countries in the world that can produce and lay long-length steel rails, and started exporting them recently thanks to growing long-rail demand from overseas, as well as foreign users' increasing recognition of Chinese companies' capabilities.
"The longer a rail is, the more complicated it is to produce, due to the higher precision requirements for product specifications," he said.
Despite Chinese companies' leading position in producing long steel rails, Chinese steel companies and their products were not that readily accepted in other countries as they are now, he said.
Chinese steel companies often had to produce and export products as per technological standards of the United States and Europe, but now more and more foreign users are accepting Chinese standards, he said.
The 142.3-kilometer-long Jakarta-Bandung HSR project, launched in 2016 connecting the country's capital of Jakarta and West Java provincial capital of Bandung, is an example, said Xu.
As one of the key projects under the Belt and Road Initiative, it is China's first contracted overseas high-speed rail project. With construction expected to be completed by the end of 2021, the high-speed railroad will be the first of its kind in Indonesia as well as Southeast Asia.
Xu said just like the high-speed railway in China which has spurred economic and trade activities along the network, the Jakarta-Bandung HSR is expected to enhance infrastructure in Indonesia and Southeast Asia, contributing to regional economic and trade development.
The high-speed trains are designed to run at speeds of up to 350 km per hour, cutting the travel time from Jakarta to Bandung from more than three hours to just about 40 minutes.
Construction of the project has continued amid the COVID-19 pandemic in Indonesia after changes were made in safety and health procedures at the construction sites, according to the Xinhua News Agency.
The Guangxi railway authorities said they had made a series of efforts to ensure the smooth transport of construction materials for the project.