Gold revenue spurred by recovering wedding sector
Share - WeChat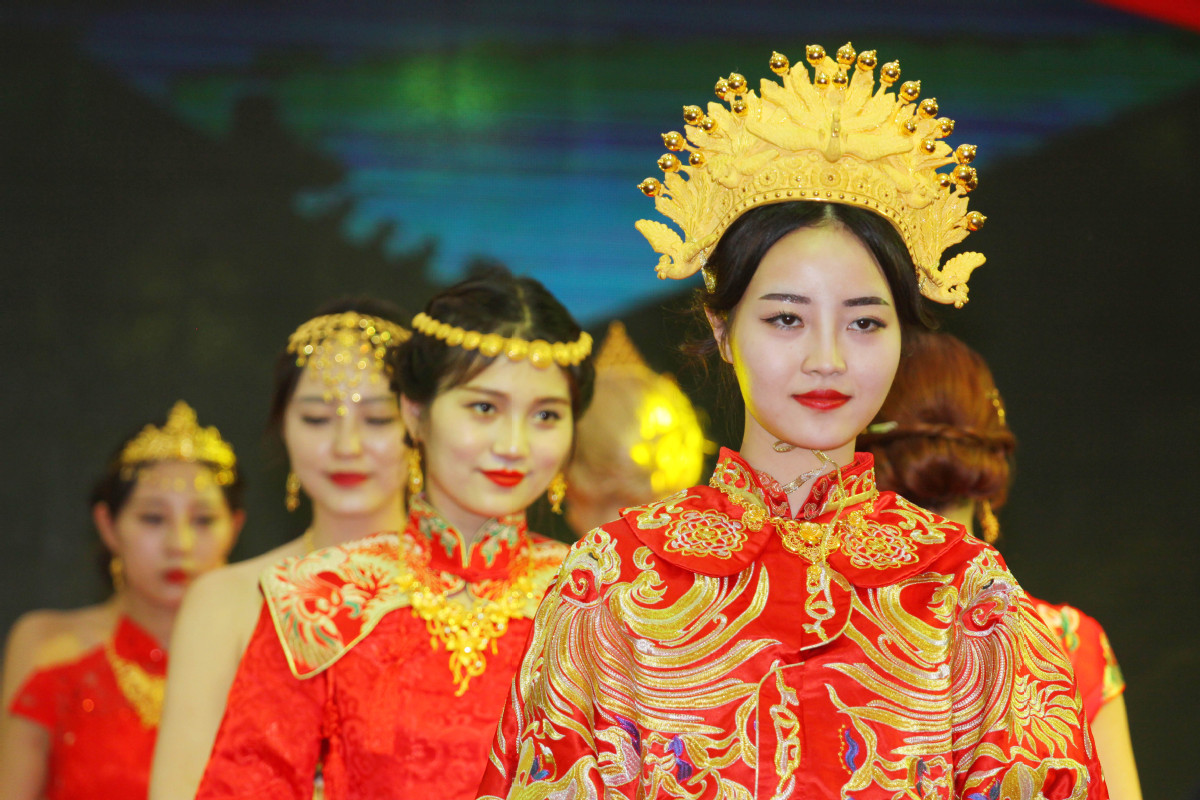 The rapid recovery of China's wedding market from the COVID-19 pandemic has boosted gold consumption in the third quarter and will continue to lift sales of the precious metal in the last three months of the year, an expert said.
Wang Lixin, managing director of the World Gold Council in China, said many couples have delayed wedding ceremonies due to the novel coronavirus outbreak in the first half. With new cases of COVID-19 slowing dramatically, many of these couples have rescheduled receptions to the second half and thereby boosted gold sales.
"According to the Chinese tradition, gifting gold to the bride is common. Many people see this as a blessing for the new couple," Wang said.
Wang added that gold jewelry purchased for wedding purposes, including rings, necklaces and bracelets, takes up over 25 percent of total gold jewelry consumption, which is the highest among all categories.
"Many of WGC's member gold retailers said they are actively preparing gold jewelry for weddings. We think the trend will continue in the fourth quarter," he added.
Buoyed by increasing wedding demand and steady economic recovery, China's gold consumption in the third quarter increased 28.71 percent from the second quarter, according to the China Gold Association. A WGC report also showed demand for gold jewelry rose 30.8 percent quarter-on-quarter to 119 metric tons.
According to data by retail chain Suning, wedding product sales surged 128.5 percent year-on-year from Aug 27 to Sept 26 as couples prepared to hold receptions during the extended National Day holiday. Gold and jewelry sales also increased 136.3 percent year-on-year.
Major gold jewelry retailers in China also saw improved business performance in the third quarter.
Chow Tai Fook Jewelry Group Ltd, headquartered in Hong Kong, reported a 21.2 percent year-on-year growth of retail sales value in the Chinese mainland from July to September, which is the second quarter of the company's fiscal year.
Retail sales value of gold jewelry and gold products from Chow Tai Fook's direct sales stores increased 6.7 percent year-on-year in the Chinese mainland from July to September. Sales of inlaid jewelry, platinum and karat gold jewelry from CTF's stores increased 14.8 percent year-on-year.
Shenzhen, Guangdong province-based Chow Tai Seng, another jewelry retailer in China, reported nearly 1.68 billion yuan ($255.3 million) in revenue in the third quarter, up from 996 million yuan in the second quarter.
"Gold prices soared above $2,000 per ounce in the second quarter, which to some extent has changed consumer behavior. Some people bought large-sized gold jewelry as an investment, while others went for lighter varieties whose prices are more affordable," Wang said.
"For the latter, many gold jewelry manufacturers launched 3D-printed gold collections, which are lightweight (as most of them are hollow gold with an empty space inside) and are thus cheaper, but look as good as solid gold jewelry. Some manufacturers choose to increase supplies of 18-karat or 22-karat gold, which contain other metals and are less expensive but more durable to be crafted into jewelry," he said.
Gold jewelry manufacturers are also seeking to innovate their styles to better target couples born in the 1990s, such as adding elements of traditional Chinese culture or using Chinese traditional gold jewelry manufacturing techniques.
"Products with traditional Chinese styles are increasingly attractive to young people today and gold jewelry manufacturers want to tap this trend. Gold jewelry from manufacturers in the Chinese mainland were known to be budget-friendly, but now many manufacturers want to change that stereotype and have more added value from designs and concepts for their products," Wang said.