Construction work begins on CRCC18 Guinea rail project
Share - WeChat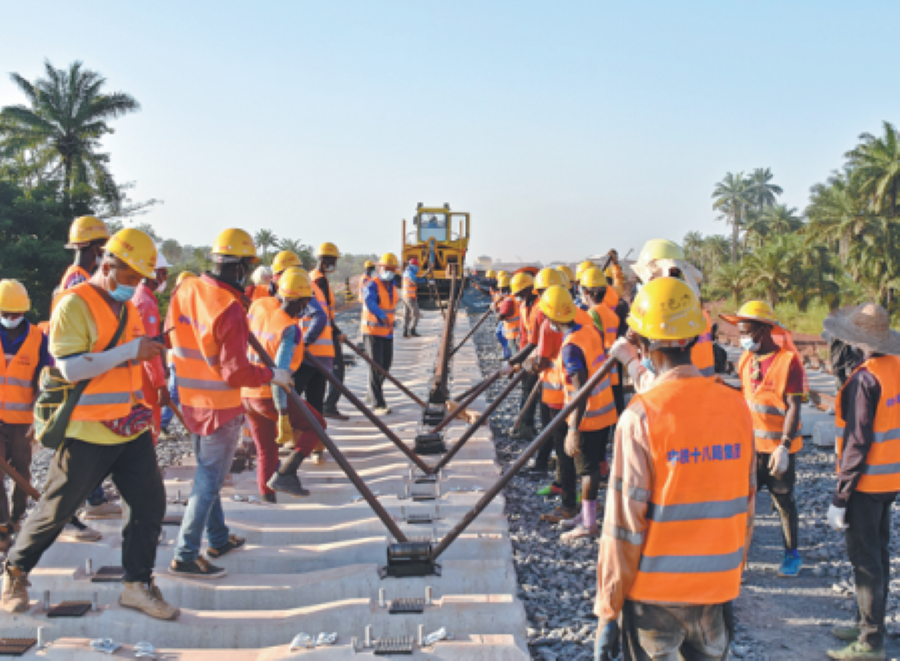 China Railway Eighteenth Bureau Group Co, or CRCC18, a subsidiary of State-owned China Railway Construction Corp Ltd, began to lay track for a part of the Republic of Guinea's first modern railroad on Sunday to further upgrade the African nation's infrastructure facilities.
Located in the Boke and Kindia regions in Guinea's northwest, the Dapilon-Santou railway is a new 112.3 kilometer-long project. It is designed to connect Santou mining zone and the port of Dapilon.
With a total investment of $1.2 billion, the entirety of the railway will feature 23 bridges, two tunnels and six depots. It is expected to be operational in June 2021 and provide the necessary infrastructure to serve bauxite mining companies along its route. It will also create an agricultural development corridor to promote the exploitation of fertile land that surrounds the area.
By using Chinese standards and technologies, CRCC18 is responsible for building 47.1 km of the Dapilon-Santou railway project including relocation, reconstruction, culverts and other aspects.
Chen Ertao, project head of CRCC18 in Guinea, said the company and its workers overcame many adverse difficulties such as the African country's long rainy season, the lack of locally made building materials and transportation difficulties.
Because COVID-19 has delayed travel and shipping schedules of many Chinese technicians and equipment such as construction machinery, the company had to optimize its construction plan and resources allocation, as well as train more local workers to enrich their knowledge in engineering and field operations, Chen said.
In addition to implementing the "three shifts" in some of its work units to ensure timely completion of certain key parts of the project, the company also actively coordinated the use of local equipment and materials to promote various construction and production work. It completed preparation work for the future railway building project 30 days in advance, providing a solid guarantee for the construction of track laying and ancillary facilities.
Chen said building this railroad will promote the modern railway network in Guinea and the further development of the railway network in West Africa, therefore promoting economic and social development of the entire continent.
In addition to Guinea, CRCC18 also delivered a two-lane road to a client in Uganda late last month.
With a designed top speed of 90 km per hour, the 104-km Musita-Lumino-Busia-Majanji road, linking the eastern part of the country to the border district of Busia in Kenya, will shorten travel time from Busia to Jinja from the original five hours to two hours, effectively alleviating the material transportation problem in eastern Uganda, according to the country's Ministry of Works and Transport.
Modern transportation infrastructure facilities can help African countries ship their agricultural and industrial products to other parts of the country as well as neighboring countries efficiently, and accommodate imports such as medical materials, daily necessities, machine tools, chemicals, factory equipment and construction machinery at lower costs from ports either within their country or in surrounding nations, said Luo Renjian, a researcher at the National Development and Reform Commission's Institute of Transportation Research.
Luo said continued foreign and domestic investment in infrastructure like new ports, roads and airports will be key elements in supporting economic growth in Africa, at least over the next decade. This will create favorable conditions to boost trade and people-to-people exchanges in this massive market.
Liu Xingguo, a researcher at the China Enterprise Confederation, said enlarging procurement and service activities in foreign countries can help Chinese companies win local support and provide timely maintenance services, as well as access more markets in other parts of the world.
To prevent infection risks from COVID-19, the Chinese government and business associations have urged companies operating overseas to prepare enough protective materials and make emergency plans, as well as maintain close communication with host countries, according to information released by the Beijing-based China International Contractors Association.