New focus areas key to Africa-China trade and economic ties
Share - WeChat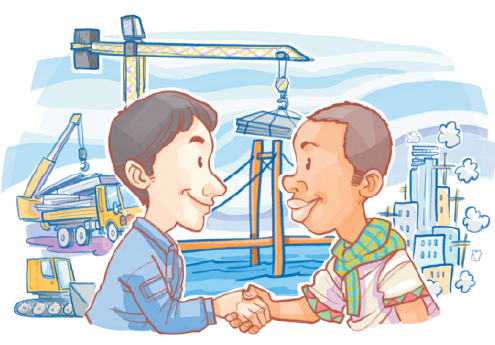 The losses caused by the COVID-19 pandemic to Africa's economy are incalculable. With the epidemic still raging, the global industrial chain may be vulnerable to massive disruptions and dramatic changes.
The United States had urged its corporations overseas to relocate their businesses back to the country. European countries such as the United Kingdom and France have followed suit. This has implications for the continent of Africa as it is a fragile link in the international industrial layout.
The Africa's Purchasing Managers' Index, a gauge of manufacturing activity, fell to 45.9 in March, compared to 47.6 in the fourth quarter of 2019.
Highly dependent on the European market, North African countries including Morocco, Tunisia and Algeria have endured the pain of industrial relocations. They had been home to the white goods industry of France for decades.
At the same time, the sharp drop in most commodity prices has affected the global economy, and caused more direct damage to African countries.
The African Union expects that the annual loss of merchandise trade will exceed $270 billion in Africa this year. Monthly average crude oil prices had plunged by 50 percent between January and March year-on-year to the lowest levels in history. Africa's oil and natural gas export losses would exceed $110 billion this year.
During the same period, largely influenced by the global uncertainties, the prices of key metals and minerals fell by 8 percent year-on-year.
African countries will lose nearly $100 billion, and their tourism industry $50 billion due to suspension of flights this year. Since most of the fiscal revenue of African countries comes from exports, the governments of South Africa, Angola, Nigeria and other countries that traditionally rely on natural resources as their economic pillars, will face growing difficulties.
Fitch and other international rating agencies have lowered the sovereign credit ratings of African countries one after another. African countries' sovereign bonds are struggling to find buyers, and foreign direct investment has shrunk by a quarter so far.
The World Bank pointed out in its latest report in October that Africa will have at least 40 million more people in poverty this year, mainly young people who have difficulty finding jobs.
In this difficult time, unprecedented in history, the economic and trade cooperation between China and Africa has been severely affected. Although the total amount of goods imported by China from Africa has not dropped significantly, the lower prices of goods have led to a sharp decline in the value of trade, making the trade balance problem between China and Africa more obvious.
On the other side, both the volume and value of goods imported from China by Africa have dropped significantly. Some trade committees in China pointed out that African countries generally suffer from a shortage of foreign exchange, which has reduced imports from China.
In addition, the currencies of many African countries continue to depreciate. International traders can only take a wait-and-watch attitude.
In the field of investment, due to the suspension and isolation measures adopted by some African countries, Chinese investment companies in Africa are unable to replenish goods locally, equipment and assembly parts are scarce, and large-scale shutdowns have occurred in manufacturing.
Nevertheless, the total trade volume between China and Africa is still in a relatively reasonable fluctuation space. China's trade with Africa was only $10 billion in 2000 and reached $100 billion in 2008.
Since then, it has been Africa's largest trading partner. In 2019, they created a historical record of $206.8 billion, accounting for almost 20 percent of Africa's total foreign trade. However, China-Africa economic and trade cooperation has not always maintained sustained high-speed growth, but has risen in a curve along with the global economic situation and the respective economic development processes of the two sides.