Brands make fair debuts to build on China play
Share - WeChat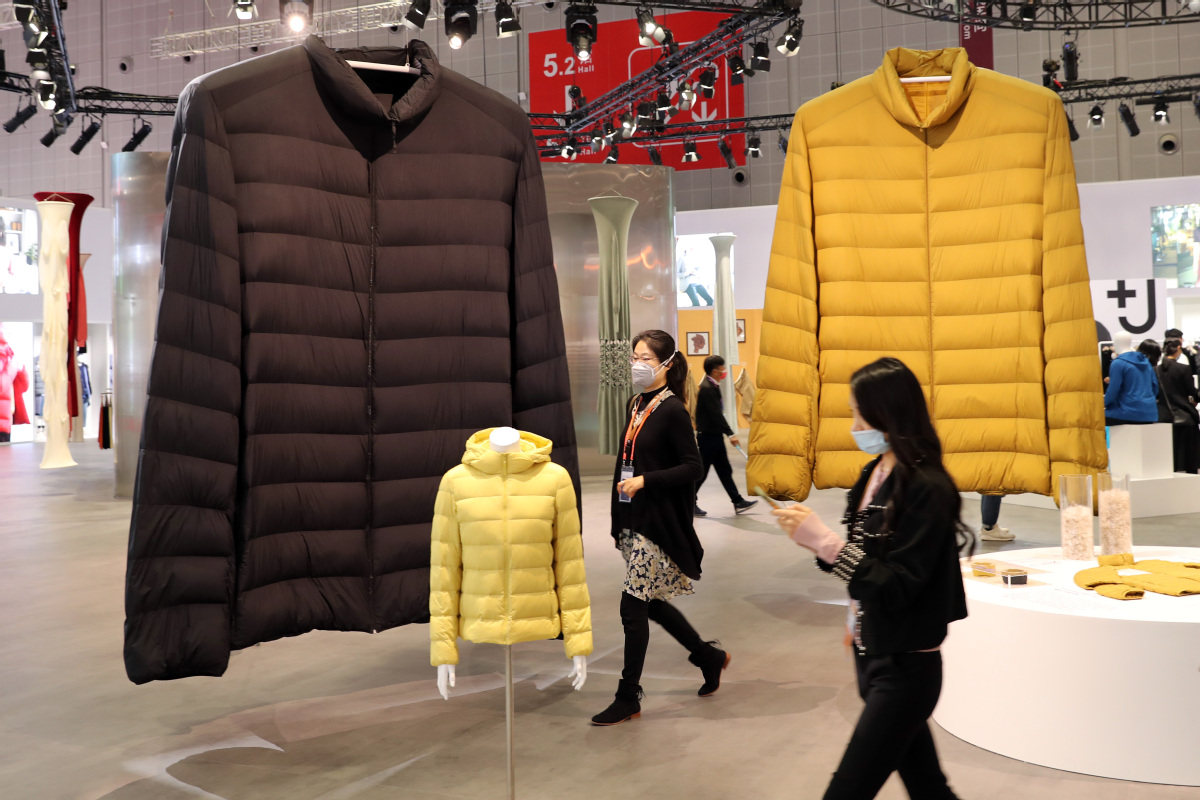 Despite their long presence in the Chinese market, a host of big brands from diverse industries chose to make their CIIE debuts at this year's China International Import Expo.
Among them is Japanese retail brand Uniqlo, which drew eyeballs with its massive 1,500-square-meter exhibition area named the "Museum of Tomorrow".
The largest of all booths at the expo's consumer products zone, Uniqlo's showcase comprises product displays, giant down jackets that visitors are flocking to take photographs with, and interactive experiments that allow visitors to understand the unique qualities of its fabrics.
According to the company, the exhibits were specially designed overseas before being brought to Shanghai for the CIIE.
"Although the Uniqlo Life Wear Global Brand Expo was previously held in London, Paris and New York, those events were not as large as this one. This time around, our showcase is about the size of a large store. We hope to use this museum concept to convey to our consumers that clothing can change your future and have an effect on your lifestyle," said Wu Pinhui, chief marketing officer of Uniqlo Greater China, during a group interview on Nov 6.
Asked about the motivation behind the company's debut at the CIIE, Wu said it was down to reflecting Uniqlo's commitment to, and confidence in, the Chinese market and thanking their Chinese consumers for their strong support.
She explained that Uniqlo has been among a small number of clothing brands that have managed to achieve a quick recovery amid the pandemic, with its China operations posting a better-than-expected performance.
"Sales at our stores started recovering as early as May and we have even been opening new stores over the past few months," she said.
"We opened 44 new stores in China, taking our presence in the country to nearly 800. This can be seen as an affirmation of our confidence in the Chinese market. We did not give up our cooperation with China because of the epidemic. Instead, we continued to invest in China."
Situated just across the Uniqlo exhibition is another first-time exhibitor that needs no introduction in the Chinese market-Cartier.
On Nov 6, the luxury brand, which made its first foray into China in 1992 with the opening of a store in Shanghai, celebrated its CIIE debut with the screening of a documentary that traces its long relationship with China. Chinese filmmaker Li Shaohong, the director of the documentary, was invited to share her experience of making the film during a roundtable discussion at the Cartier booth.
"The CIIE is showcasing how rich and strong the Chinese market is and how numerous the opportunities are in this particular market. It is inevitable that we are here," said Guillaume Alix, Cartier China CEO.
"At Cartier, we have been benefiting from the dialogue with China for so many years in terms of culture, sources of inspiration and clients. Participating in the CIIE is our gesture of appreciation to China."
Alix, who took over the brand's China operations in 2018, has been spearheading the company's digital transformation, which reached a new milestone earlier this year with the opening of a flagship e-store on Tmall, Alibaba's online market place.
"It is very important to maintain a balance. Earlier this year, we launched our Tmall flagship store and we have just finished an amazing high jewelry exhibition that is, on the other hand, much more traditional," he said.
"I think it is very important that we take the necessary time and means to make sure we continue to make connections with our clients, regardless of whether they are young or more mature."
For Stiebel Eltron, a German company that specializes in central heating products, making its CIIE debut this year was the obvious thing to do to promote its new heat pump.
"We are well-known in the Chinese market for our electric heaters. But many people here still don't know about our premium heat pumps as we only started producing them in China about two years ago," said Ingo Hamann, the technical sales support director of the company.
"Our company has been producing heat pumps since 1976 and they are among the best in the world. We want to show this to Chinese consumers and there's no better place to do so than this expo."
Hamann pointed out Stiebel Eltron, which is sharing a booth with other German companies at this year's CIIE, is planning to set up its own booth at the next edition.