Cycling on water
Share - WeChat A bike you can ride on lakes, launch from beaches and jetties, or take through deep water marks the birth of cycle-based hydrofoiling.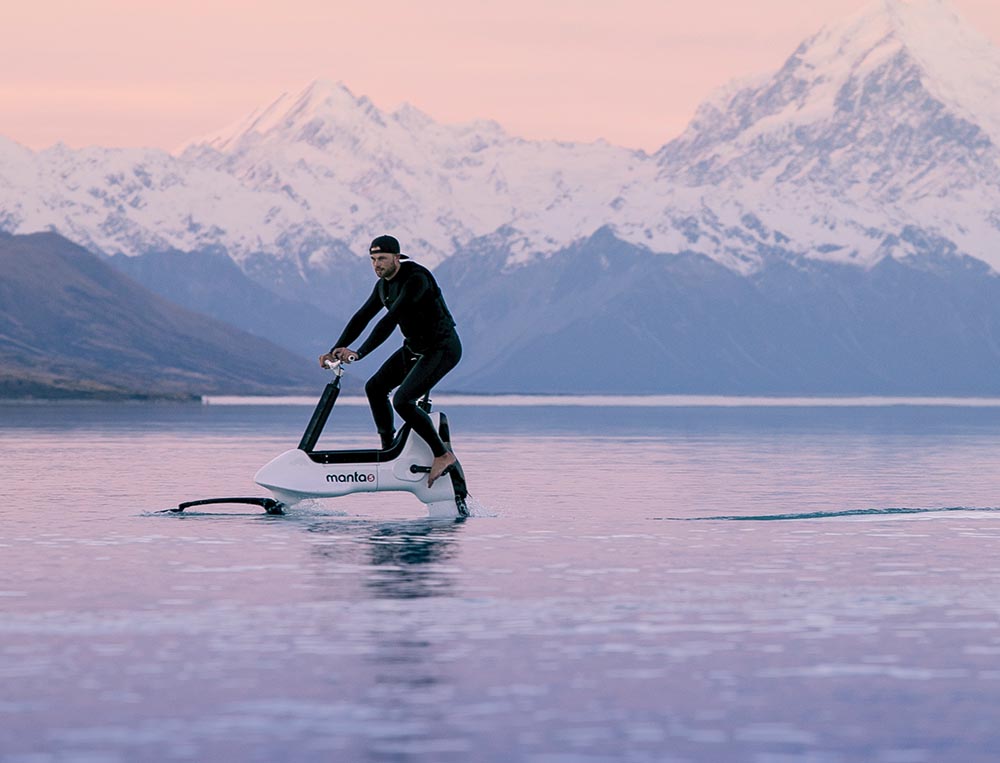 Following the hydrofoil-surfing hybrid Fliteboard, here's the next natural step in the chain: Manta5's Hydrofoiler XE-1. "This bike will come into its own, marking the birth of a new sport," says Red Bull of the world's first water-bike (or hydrofoil e-bike) that replicates the cycling experience on water, ensuring that its future will be exciting, stylish and potentially an Olympic sport.
Waikato, New Zealand-based Manta5 was founded in 2011 by two passionate and committed cyclists: Guy Howard-Willis (who co-founded New Zealand's largest outdoor and adventure sports retailer Torpedo 7, which he sold in 2013) and bike designer Roland Alonzo. The original design brief presented no easy feat. As a high-performance bicycle, the pair envisioned a concept that was lightweight, fast, agile, and easy to transport and assemble. On top of all this, the rider would need to launch from the beach, jetties or deep water without settling for any existing bulky buoyancy or hulls.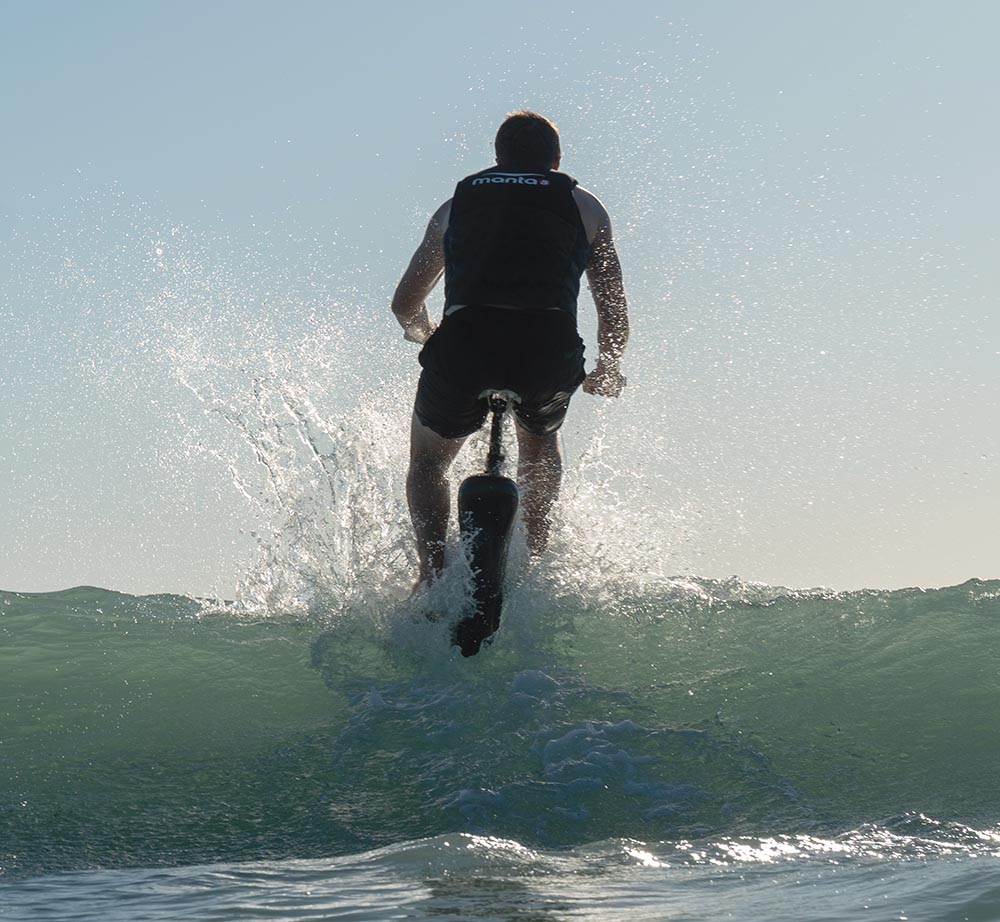 Early human-powered prototypes revealed a vast number of subtle complexities, especially the hydrofoils and propeller profiles. With no real precedent to draw on, the successful equation for a submerged launch continually eluded the pair. But after seven years, eight prototypes, and an endless supply of optimism and persistence, the Hydrofoiler XE-1 emerged from their design plans. Using the same technology as the boats for America's Cup, the XE-1 opens up a whole new cycling frontier.
Suitable for a wide range of fitness levels, riders can explore coastlines, train along waterways, or cruise lakeside with friends and family. It boasts a top speed of up to 12mph (or 22kph, similar to traditional sailboats) and weighs 63 pounds (29kg) when fully assembled.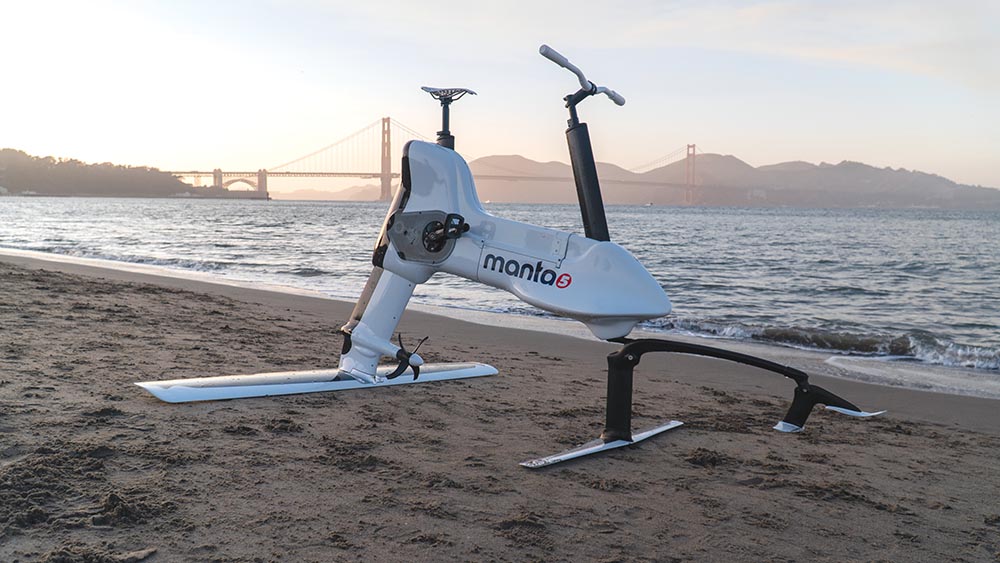 On the technological front, Manta5 has teamed up with activity tracker giant Garmin, which means you can track your speed, distance, heart rate and location. The bike features variable electric-assist modes – including training (low), cruise (medium) and performance (high) – allowing you to choose how you want to ride.
Manta5's profile exploded when its prototype won Gold in the Concept Category at the 2017 New Zealand Best Design Awards, followed by a 2018 TED Talk by Howard-Willis discussing his experience. Manta5 customers in New Zealand are already turning heads and making waves on the first-edition bikes. A community of riders is forming and in three years' time, Howard-Willis sees hydrofoiling as its own sport and fitness category – he even has his eyes on the Olympics.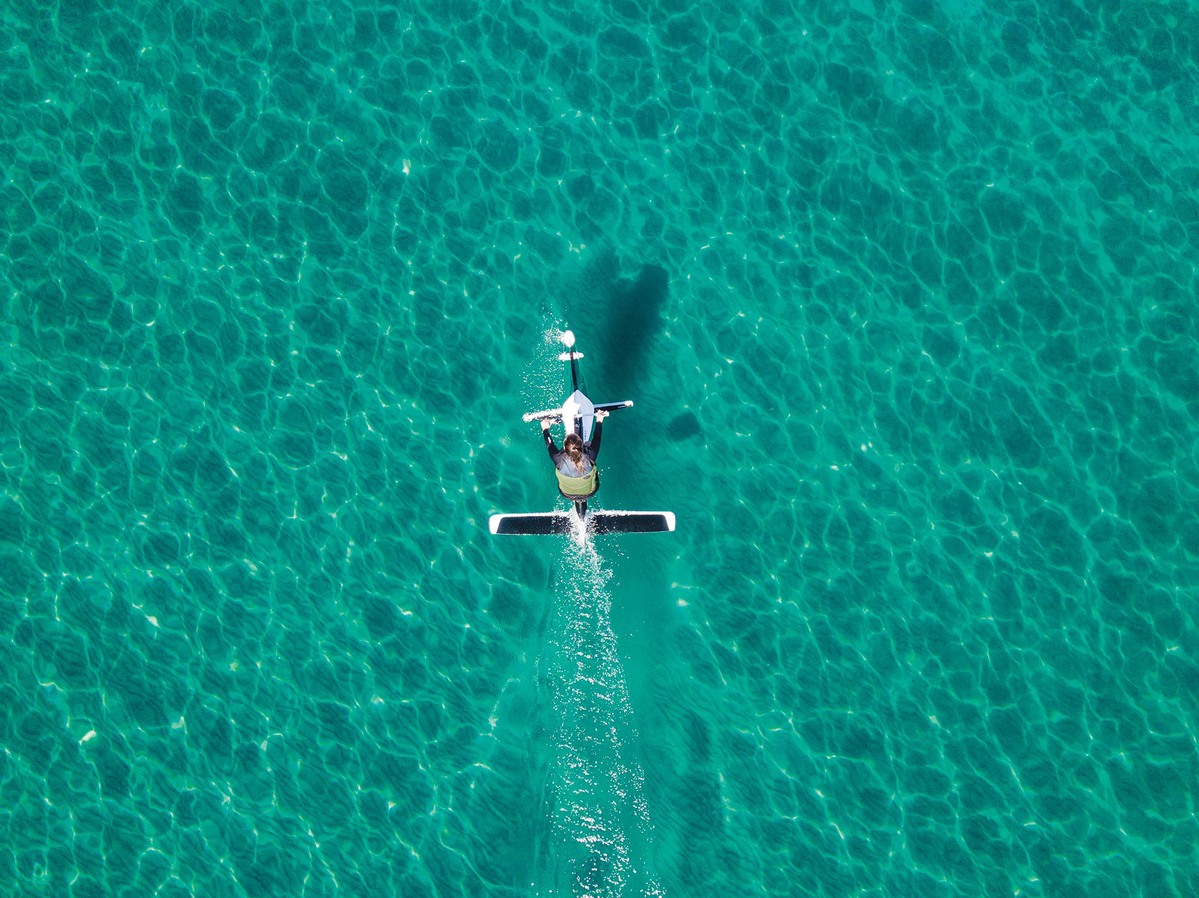 Most Popular