Securing virus-hit world with tech
Share - WeChat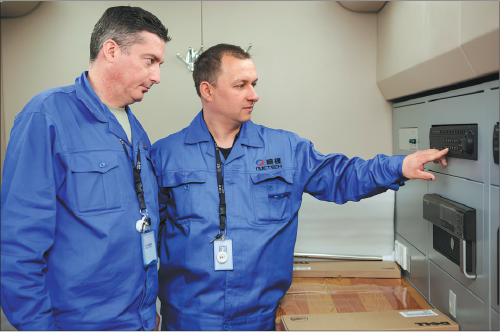 Nuctech's inspection equipment, solutions, instruments gain global acceptance
Although Nuctech Co Ltd's advanced security and inspection equipment, and related solutions and services, are now available in 170 countries and regions, its global journey started from a solitary research and development center in Beijing.
Today, its global layout includes several R&D centers and factories in countries such as Poland and Brazil.
Wang Weidong, Nuctech's vice-president, loves sharing stories about the company's success in implementing its go-global strategy.
He is proud that the company owns the most complete product line in the global security industry. Its over 30 series of more than 300 types of products, he said, cover goods and vehicle security check, luggage check, body check, explosives and drugs detection, liquid inspection, radioactive material monitoring and system solutions.
All these meet the world's growing need for security and inspection equipment.
"Two decades ago, we were just a little-known company in China. We decided to grasp the opportunities brought by economic globalization. In 2001, we received an order from Australia, thus achieving a breakthrough in the overseas markets. That was when the market share of our large cargo inspection system grew rapidly," Wang said.
"With 20 years of hard work, Nuctech has worked out a globalized development path that integrates R&D, design, production, sales and service."
The most testing time of Nuctech's global journey came in 2008, in the form of the Global Financial Crisis.
Wang has vivid memories of that difficult period. "At that time, as the impact of the financial crisis intensified, trade protectionism among the world's major economies rose further. Had it not actively sought new plans and measures for sustainable development, Nuctech might have been destroyed by the crisis.
"Therefore, at that time, Nuctech decided to make great efforts in localizing production in the European market."
The company invested quickly, and established a local production team in Poland, and actively explored the local supply chain resources. Six years of struggle and persistence paid off. Nuctech succeeded in overcoming the impact of the financial crisis, and gained a strong foothold in the European market.
Currently, the company's subsidiary in Warsaw owns a brand new factory where nearly 100 Polish staff members work with nationals from other member countries of the European Union.
Overall, Europeans account for over 90 percent of the total staff at the plant. The subsidiary was listed among the qualified suppliers to the EU, enabling it to provide products and services to the EU members and neighboring countries.
"By now, the company has formed a global supply chain and manufacturing system. Based on our overseas business, we are actively promoting the localization of marketing and services, by establishing overseas subsidiaries in countries and regions like the United Arab Emirates, the Republic of South Africa, the United States and Mexico.
"The innovative network of sales and service centers across the world provides a strong organizational guarantee for the development of the company's global business," Wang said.
Hu Qimu, a senior researcher at Sinosteel Group Corp Ltd, said: "Chinese security and inspection solution providers have an advantage in exporting products overseas, as they own complete core technology and intellectual property, and won't be restricted by others in the supply chain. By offering a whole security and inspection solution, user stickiness is enhanced, which is beneficial to increasing the company's market share in the overseas market.
"In addition, Nuctech enjoys Tsinghua University's research resources, which boost the constant innovation of products and technologies, to better suit market demand."
When the COVID-19 epidemic hit the world, Nuctech designed a new product called FeverBlock Infrared Face Temperature Screening System to meet the demand for body temperature measurement instruments.
In only 20 days, the product completed technical finalization, prototype development and field trials and was put into use. The company received thousands of orders for FeverBlock from across the world. The product was widely used at international airports and border ports.
Asked about Nuctech's overseas success, Wang said for 20 years, the company has been sticking to market dynamics and customer demand. It has accelerated the pace of innovation, and launched different types of products, ranging from fixed to mobile, from large to small, from single-view to multiple-view, from slow-inspection to quick-inspection.
"Innovation is the base for us to remain competitive. It is also the key to survival and sustainable development," Wang said.
He also said good after-sales service helped Nuctech to succeed overseas. The company established various after-sales service centers across 170 countries and regions in the world.
Besides, the local after-sales service personnel enabled the company to offer 24/7 zero-time difference service to its customers in a systematic and convenient way.
Hu said localized operations are vital for the company's overseas business. As the target markets involve different cultures and traditions, it is important for the company to make use of localized operations and public relations teams to reduce market resistance in the host country.
"In response to the feedback from the target market, the company should constantly improve its products and services to better suit overseas customers," he said.