Chasing golden opportunities
Share - WeChat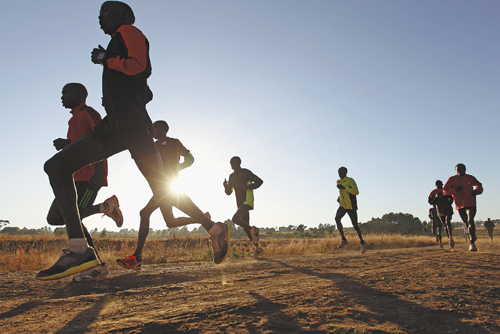 Decades of athletic success now yielding big financial gains for Kenya's Rift Valley
Kenya's Rift Valley has for decades produced some of the most distinguished and decorated distance runners in the world.
Ever since Naftali Temu's men's marathon gold at the 1968 Mexico Olympics, the mountainous region has churned out a succession of champions, including David Rudisha, Paul Tergat, Vivian Cheruiyot and Eliud Kipchoge, who in 2018 became the first athlete to break the two-hour mark in the marathon.
As a result of its athletic renown, the Rift Valley town of Eldoret and its environs has witnessed tremendous economic growth as elite runners invest heavily in the area.
"The economy of this town has always been dependent on farming. However, in recent years we have seen investments from athletes compete with agricultural revenues," said Philip Kemboi, an official of Uasin Gishu County, located in the heart of the Rift Valley.
"The town is now attractive to investors thanks to the new amenities and better infrastructure," he added.
Eldoret is the administrative capital of Uasin Gishu, one of 13 counties along the Rift Valley where much of Kenya's crops are grown thanks to an abundance of fertile land and water. Popularly known for supplying maize and wheat to the nation, the town is now taking on a new status as a commercial hub.
Boasting high-rise buildings, malls, taxi-hailing services, car showrooms, improved roads and international schools, Eldoret is now firmly positioned on investors' radars.
Local businesswoman Ivy Langat, 38, has witnessed Eldoret's metamorphosis first-hand.
"The town is not as it was 10 years ago. There were a few commercial buildings in the Central Business District (CBD). Moreover, they were the preserve of the affluent business owners who could afford high rents," she said.
Most of Langat's enterprises are housed in buildings owned by world-famous athletes. She added that the emergence of more commercial spaces in the CBD has catered to small business owners.
Andrew Rotich, a seasoned middle-distance runner who has bagged numerous 800-meter golds for Kenya over the years, invested the proceeds of his first race win into purchasing land.
"I built a home for my family and thereafter I bought a few more plots that I am yet to develop, hopefully I will construct rentals or sell some plots because they will be appreciated," he said.
Rotich, however, cautioned that some ventures require close supervision, a luxury he cannot afford given his service in the Kenya Defense Forces (KDF).
"Some businesses are hands-on and not suitable for an athlete who has a demanding career like me. Therefore, if I'm setting up a business, I have to be convinced it will thrive in my absence," he said.
His advice to up-and-coming athletes is to heavily invest in feasible businesses and shun extravagant lifestyles that could ruin their lives.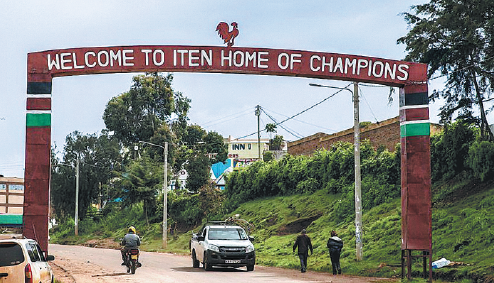 Screen of dreams
Running is so ingrained in Eldoret life, that the local government has erected a gigantic screen where major races can be watched by fans.
During last month's London Mar, thousands of residents, including politicians, gathered around the massive screen to cheer on Kenya's athletes, with local hero Brigid Kosgei powering to glory in the women's race.
Traffic was redirected and for a few hours everything came to a standstill.
Faith Modi, an entrepreneur who runs a successful sportswear shop in Eldoret, imports high-quality running gear.
"I observed that runners would go all the way to Nairobi to buy their kits because only second-hand clothes were available in Eldoret. My business instinct kicked in then and there, so I opened the shop," said Modi. Just like many other businesses, Modi's store has not been immune to the economic fallout from the COVID-19 pandemic.
"Many athletes are not moving out of the county to compete, therefore the uptake is low and far apart," said Modi.
"My hope is that organizers will schedule more races in the coming months because the athletes are slowly getting demoralized."
Additionally, the use of illegal substances to enhance athletes' performances has tarnished the image of running in Kenya.
According to a 2018 World Anti-Doping Agency (WADA) report, 138 Kenyans tested positive for performance-enhancing drugs from 2004 to August 2018.
"In this part of the country, running is considered an escape from poverty, hence new talents want to hasten their success and transform their lives. On the other hand, the elite athletes are concerned about maintaining their titles," said an athlete who asked to remain anonymous.
Kenya is considering enacting a law that will criminalize doping as a way of dealing with the problem.
"We are working on the document and hopefully it will be ready in two months' time. The anti-doping agency will bring the document to us to do what is required," said Amina Mohamed, Kenya's cabinet secretary for sports.
"It is about the image of our country. Kenya is a sports giant and we want to continue winning clean and therefore do not want a few people to tarnish our reputation on the global scene by doping."
Xinhua