CRHIC produces solid 9-month performance
Share - WeChat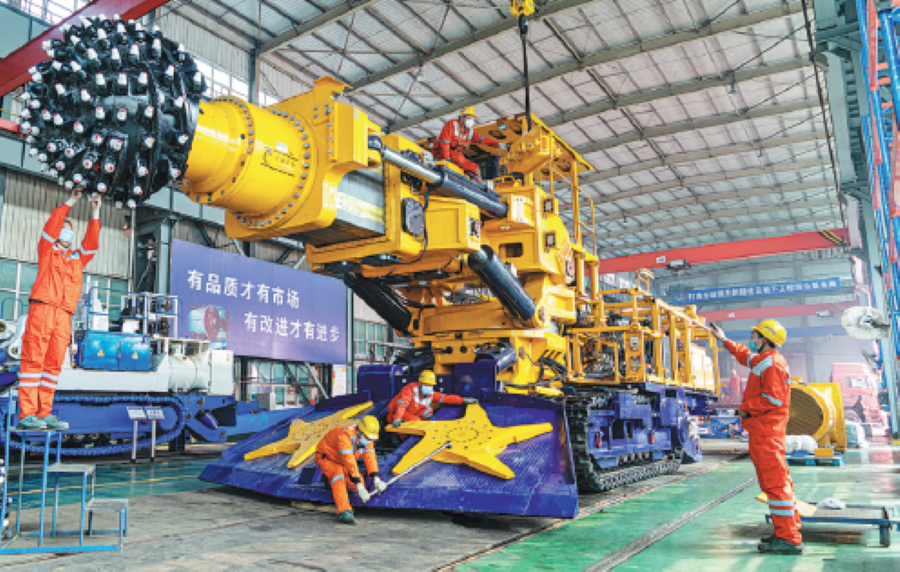 China Railway Hi-Tech Industry Co Ltd, a subsidiary of State-owned China Railway Group Ltd, saw both sales revenue and the value of newly signed contracts surge in the first three quarters, thanks to growing demand from markets participating in the Belt and Road Initiative and its diversified business scope.
Despite COVID-19 affecting business operations in many parts of the world, the Beijing-based company's sales revenue surged 18.68 percent on a yearly basis to 18 billion yuan ($2.69 billion) over the nine-month period, while the value of newly signed contracts jumped 35.26 percent to 30.97 billion yuan.
Many opportunities were seen both at home and abroad amid growing demand for special construction machinery and tunnel-boring equipment. Several new foreign orders for upgraded and renewed infrastructure facilities were also inked along with subway projects, water conservation and underground crossings, said Yi Tiejun, chairman of CRHIC.
After announcing the production of its 1,000th tunnel-boring machine (TBM) late last month, the company dispatched the equipment to Georgia for the construction of its North-South Corridor (Kvesheti-Kobi) road project.
The mammoth machine measures 15.08 meters in diameter and weighs 3,900 metric tons. It will be deployed in the Mtskheta-Mtianeti region of eastern Georgia to carve out tunnels in the mountains.
With improved technology and supportive services, Yi said the company's TBMs have become popular in markets related to the Belt and Road Initiative and CRHIC has so far exported the machines to 21 countries and regions involved in the initiative, such as Singapore, Malaysia, Italy, France, Poland and Australia.
"The company will continue to seize opportunities brought by the BRI and speed up its overseas expansion during the post-pandemic period," said Yi, adding the company has projects in over 20 countries and regions, and enjoys outstanding advantages in Southeast Asia and the Middle East.
In addition to exporting TBMs, railway equipment and other construction machinery, the company plans to install the steel structure of Bangladesh's Padma Bridge by the end of this year. The bridge will play an important role in the development of the BRI by crossing the Padma River and connecting the southwest of the country to the northern and eastern regions.
China Railway Steel Structure Co, a CRHIC unit, currently helps the Democratic Republic of the Congo to build mining, manufacturing and supportive facilities after shipping 14,000 tons of steel structures earlier this year. This is the unit's first overseas construction project involving steel structures.
Sufficient power supply, medical goods, international cooperation, stable trade flows, timely production of daily necessities and other living materials are key for China's trading partners to deal with the pandemic and revitalize their economies, said Sun Fuquan, a researcher at the Chinese Academy of Science and Technology for Development in Beijing.
Supported by more than 12,000 employees and 43 billion yuan in assets, the company currently runs 10 core subsidiaries such as China Railway Engineering Services Co Ltd and China Railway Engineering Equipment Group Co Ltd.
CRHIC also announced earlier this month that an order for turnout junctions serving high-speed maglev trains traveling up to 600 kilometers per hour-the world's fastest such speed for the devices-was signed and built by its subsidiary, China Railway Baoji Bridge Group Co Ltd. The order recently passed inspection in Baoji, Shaanxi province, and is now ready for installation and adjustment.
Its smart control system, flexible design and the precision group welding as well as complete machine processing skills ensure the turnout's construction accuracy and performance, said Yi from CRHIC.
He said the complete turnout assembly technology developed during construction is expected to contribute to future 600 km/h high-speed maglev lines.