Military hero leads humble life
Share - WeChat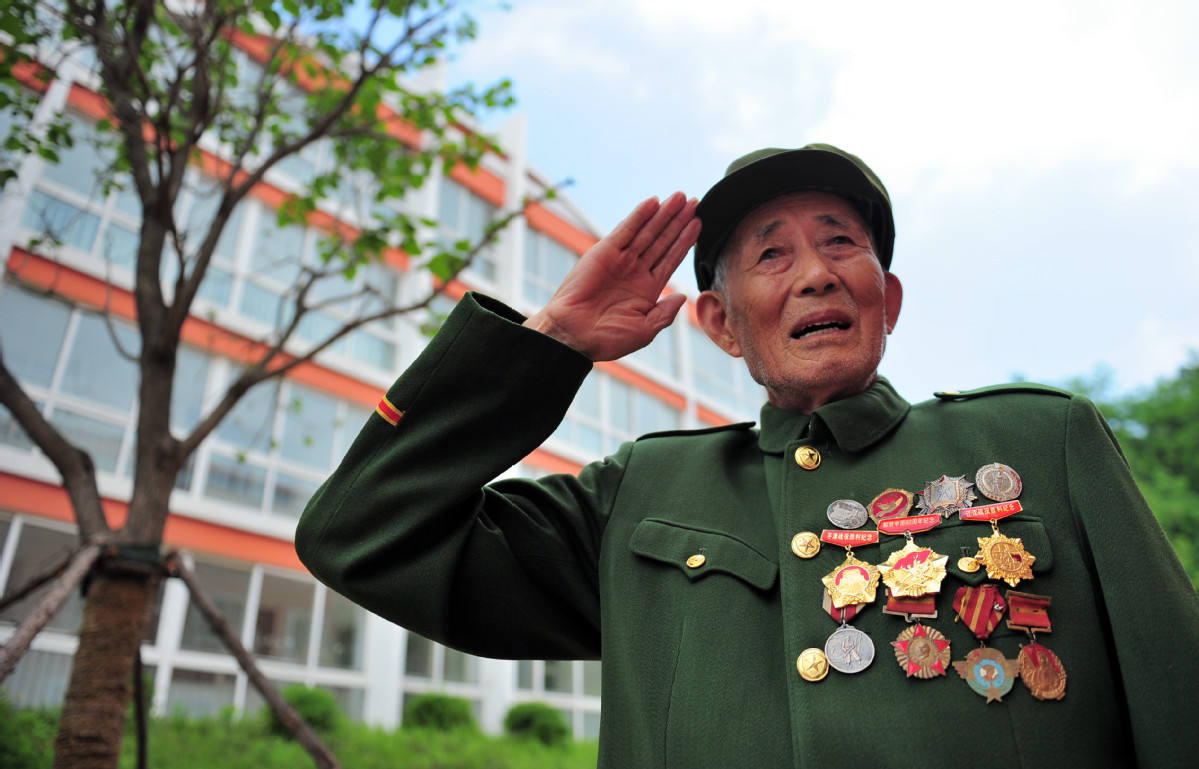 Friends knew little about decorated soldier's service
Veteran Sun Jingkun has been awarded eight medals for his years of military service, but after retiring from the military, Sun hid all the fame and honors he gained and decided to return to his humble farming life in his home village of Shancheng in Dandong, Liaoning province.
Sun, now 96 years old, joined the military in 1948 and fought in the War of Liberation (1946-49). The following year, he gained a third-class merit in the Liaoshen Campaign and second-class merits in the Pingjin Campaign and in the liberation of Hainan island.
In 1950, he followed the troops crossing the Yalu River to fight in the War to Resist US Aggression and Aid Korea (1950-53) before returning to Dandong in 1955 with one first-class merit, one third-class merit and more than 20 scars on his body.
Upon his return, the city government had initially planned to arrange for him to take a position as the director of a factory workshop, but he declined the offer and decided to go back to Shancheng and participate in local construction of a dam.
Shancheng is located at the turn of the Dasha River, a tributary of the Yalu, and has a very low flood control capacity, making building a dam an imminent task.
Sun took the lead in helping with the construction. At a time when there was no mechanized equipment, he and other workers transported baskets of soil and rocks by carrying them on their bare shoulders.
Thanks to the solid foundation laid by Sun and his team, the banks of the dam have today become places of leisure for the local people, protecting the land and guaranteeing villagers' lives and properties.
Liu Zhenfa, who worked with Sun, told People's Daily that Sun also walked at least 8 kilometers on the winding mountain road every day carrying two baskets, each filled with more than 50 kilograms of fertilizer in order to grow vegetables.
"He deeply loves every inch of land in his hometown. There was no hardship that he could not bear,"Liu, 86, told People's Daily.
Sun's friends and co-workers knew little about his wartime merits, as he had never talked much about those days. He has a large collection of various awards, but he never takes them out.
"I know Sun served in the military and went to the Democratic People's Republic of Korea, but I only just learned that he had earned first-class merits and was a great hero,"Liu said.
Sun's eldest daughter, Sun Meili, also talked to the People's Daily about what she knew of her father's service.
"My father occasionally talked to me about the war only when I couldn't fall asleep," she explained.
She said her father once mentioned his platoon entered a sorghum field and was attacked as bullets and shells dropped from the sky like "rainfall".
"He always had tears in his eyes when he talked about it," she said.
Sun Meili said she did not understand why her father was so "harsh" when she was young, and she held some resentment toward him back then. She explained that when she was 8, she was mocked by classmates for not being able to afford her school tuition fees.
"My father was the production team leader. As long as he had written a letter of reference, I would have been spared the tuition fees, but he firmly refused to do so," she said.
Though he was the production team leader for more than 20 years, Sun Jingkun never showed favoritism to his family members whenever a position opened. He has seven children, and five of them are farmers.
"I thought my father had never thought about me before, but he apologized to me two years ago, making me realize that he has always loved me," Sun Meili said, adding that as she grew up, she gradually understood that he always sought to give more to society.
In recent years, Sun Jingkun mainly relied on a subsistence allowance as his source of income. Some offered him financial help, but having been very used to enduring hardship, he always rejected it.
"How would I face my comrades who sacrificed if I only know a life of lying down comfortably and taking pleasure?" he told People's Daily.