Alpaca dolls set for Shanghai show help bring good life to Peru
Share - WeChat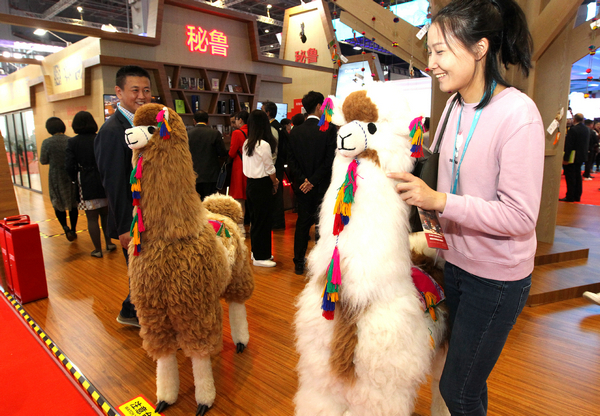 According to Ma, Peruvian artisans are "born to be designers" with a deep affection for alpacas. During the past two CIIEs, visitors found Peruvian handmade alpaca dolls so striking that Ma's booth became a major crowd-puller.
Ma, who had worked in South America after graduating from university, got the idea of doing business with alpaca products during a trip to Peru.
Initially, she focused on alpaca clothing. In 2016, Ma visited several local alpaca textile companies to explore business channels where she met Alejandra Bedregal, who then worked for one such company.
When visiting markets in Peru, Ma was also attracted by fluffy alpaca dolls for their cute appearance, smooth texture and traditional Peruvian patterns, and she bought some back for her clients in China.
"Surprisingly, my clients were more interested in the alpaca dolls than the alpaca clothing that I intended to introduce. One of the clients even ordered 1,000 alpaca dolls," Ma recalls.
The biggest challenge in producing 1,000 alpaca dolls was to find a suitable producer and standardize product design.
Most Popular