Hefei emerging as technology innovation powerhouse
Share - WeChat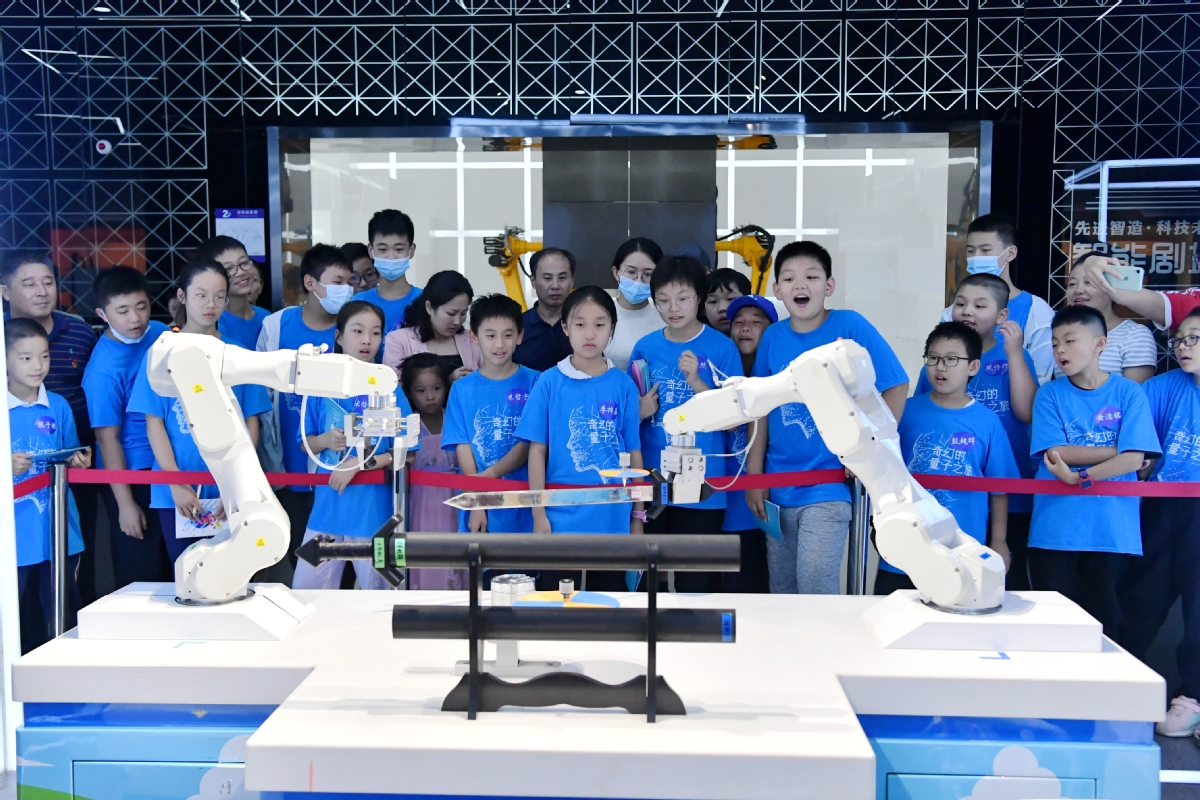 When the whole nation was engaged in the fight against COVID-19 earlier this year, many people received phone calls asking whether they had a fever, visited high-risk places or required medical attention.
Nearly 70 million such phone calls were made-not by humans, but by robots developed by Anhui province-based iFlytek. With its cutting-edge technology in intelligent speech recognition, the company managed to help patients get medical treatment and assist health authorities analyze situations.
In October last year, the company-dedicated to the development of artificial intelligence in the speech recognition sector-was added to the United States Entity List which prevents them from buying US-made technology.
"Without core technology, it would be like building your own house in someone else's yard. You will be worried about being robbed at any time although you might be temporarily safe for now," Liu Cong, vice-president of iFlytek AI Research Institute, told China Daily.
He said he was encouraged by the speech made by President Xi Jinping at a scientific symposium held on Sept 11, when Xi said that scientific and technological development must target global scientific frontiers and benefit people's lives and health.
Xi, also general secretary of the Communist Party of China Central Committee, said at the meeting that innovation, as the primary driving force for scientific and technological development, must be strengthened.
Noting that the situation at home and abroad has changed profoundly, Xi said China has a more urgent need than ever to speed up innovation during the country's 14th Five-Year Plan (2021-25).
"General Secretary Xi mentioned many problems of strangulation caused by lack of technological research," Liu said, adding that from its very founding, iFlytek has been pursuing the goal of breaking the monopoly of foreign companies in the intelligent speech industry.
To strengthen technological research, the company has been spending over 20 percent of its sales revenue on research and development since it was listed on the stock market 12 years ago, Liu said. About 61 percent of the company's 10,000 employees are technological researchers.
Inland city eyes AI
Headquartered in Hefei, capital of Anhui province, iFlytek is a leading AI firm in intelligent speech technology. But it is not the only one. At China Speech Valley, located in western Hefei, over 900 companies are currently operating, aiming to get a share of the country's huge AI development market.
Alan Qi, CEO of China Speech Valley, said that the venue had made great efforts to help its clients, mostly small and medium-sized enterprises, to build up their business in the AI field.
Qi said entrepreneurs can receive help on issues including renting offices at low prices, recruiting college graduates, seeking support from AI experts, expanding market share and procuring bank loans.
"We should not chant meaningless slogans but do real favors for entrepreneurs," he said.
Adding that many advanced technologies are still controlled by the US, Qi said that California's Silicon Valley is the model for China Speech Valley to learn from.
"General Secretary Xi has underlined the importance of basic research many times, which I think is quite visionary for the country's AI industry development," Qi said.
In 2017, the Anhui government provided a blueprint to build China Speech Valley into a world-class base for the country's intelligent speech industry.
According to the plan, the valley could get 800 million yuan ($119.4 million) annually from the government to improve its industrial chain, help entrepreneurs cut office rental expenses and increase investment in research and market expansion.
With a population of 8 million, about one third that of Beijing, Hefei is being built into a "municipality of innovation", according to the city government's plan.
Fang Hua, director of public relations affairs at Nexchip Semiconductor Corp, said Anhui authorities and the Hefei government have enacted plenty of supportive policies for the company's development.
Established in 2015, Nexchip is a joint venture between Hefei Construction Investment & Holding and Powerchip Technology Corporation from Taiwan. It is located in the Experimental Zone of the Cross-Straits Integrated Circuit Industry Cooperation in northeastern Hefei.
Over 200 people from Taiwan are currently working at the company, and the Hefei government has helped them address such problems as housing and education for their children, Fang said.
Fred Li, vice-principal of the Hefei campus of Taiwan-based Kang Chiao International School, said that he was very thankful to the Hefei government for the measures taken to support the school's development.
Li said the school received investment of 500 million yuan and opened last year with more than 200 students ranging from kindergarten to high school, with about 40 being from Taiwan.
Local authorities have put forward favorable policies in land usage, and a brand-new road accessing the school was completed last year, he said.
Mu Huihui, assistant manager of the business planning department of Hefei Eswin Materials Technology Co Ltd, said Hefei-based key universities-including the University of Science and Technology of China and Hefei University of Technology-have provided talented human resources for the company's development.
Featuring rapid development in chips, LED screens and robots, Hefei has been in the spotlight in recent years.
In August, President Xi paid a visit to the Hefei-based Anhui Innovation Center, where he learned about the province's technological innovation and emerging industries.
During the visit, Xi said that innovation is key to China's sustainable development and the fulfillment of national rejuvenation, according to Chen Lin, director of the center who briefed the president about the center's situation during his visit.
"What impressed me most was General Secretary Xi's great attention to innovation, and he said that the Chinese dream would be groundless without innovation," Chen said.