CNOOC looking to sharpen focus on offshore renewable energy ventures
Share - WeChat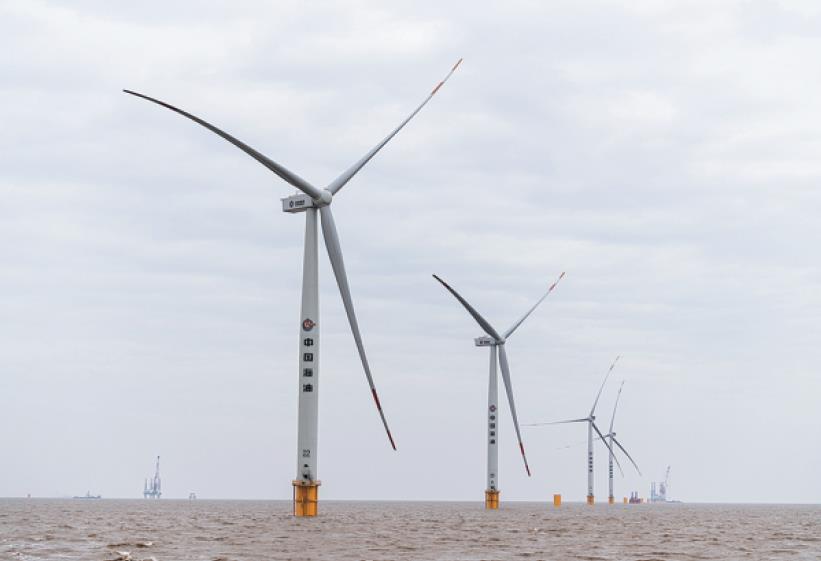 Offshore oil and gas major China National Offshore Oil Corp has pledged to spend 3 percent to 5 percent of its annual budget on the offshore wind power sector after its first offshore wind power project was connected to the grid and began generating power recently.
This is the first batch of wind turbines by CNOOC that has been connected to the grid. Located off the coast of Jiangsu province, the project-with a total installed capacity of 300 megawatts-is scheduled to fully come into on-grid production by the end of this year.
The annual on-grid power generation is expected to reach approximately 860 million kWh by then, said the offshore oil and gas specialist.
The company first entered the offshore wind business in 2006 but pulled out soon after. In 2007, CNOOC began operating the Chinese mainland's first offshore wind power plant, located in Liaodong Bay in the Bohai Sea, with an installed capacity of 1.5 megawatts.
It revived activities in offshore wind power in 2019 after closing its renewable unit in 2014, which had operated wind, solar and biomass projects. CNOOC's current Jiangsu project is the first offshore wind project it has worked on since then.
The wind farm, which will be equipped with 67 wind turbines, is based 39 kilometers offshore at a location with a water depth of 12 meters.
It is expected to save 279,000 metric tons of standard coal equivalent and reduce carbon dioxide emissions by 571,000 tons per year compared with conventional coal-fired thermal power plants with the same generating capacity, it said.
The company said earlier that the offshore wind sector aligns with the company's overall business, and it can apply its resources in offshore engineering and experience in offshore operations in the sector. Analysts said the grid connection of the company's first offshore wind power project illustrates CNOOC's ambitions in advancing energy transformation and implementing its green and low-carbon strategy, as the country's State energy giants, including Asia's biggest refiner-China Petroleum and Chemical Corp-and China National Petroleum Corp have all laid out plans to develop renewable projects toward a low-carbon future.
The company's efforts in developing offshore wind power is in accordance with government efforts to promote renewable energy, as progress toward using more clean energy has been accelerating over the past few years in the country, said Wang Ziyue, an analyst at research firm BloombergNEF.
CNOOC has been an early market player in offshore wind power. Ever since it stepped into the sector again in 2019, its progress has been steady, Wang said.
The operation of its first offshore wind power project will also provide precious experience for its future deepwater projects in Guangdong and other provinces, he added.
"The operation of its first offshore wind power project will also provide precious experience for its future projects in Guangdong and other provinces."
CNOOC holds a 47 percent stake in the offshore wind power project off Jiangsu. It also has plans for other projects off Guangdong and Shandong provinces.
The company also plans to more than double its natural gas production by 2025 to make up 30 percent of its total oil and gas output from 19 percent now.
The domestic wind and solar sector will experience strong growth between 2020 and 2030 due to declining costs, according to the China Renewable Energy Engineering Institute, a think tank linked to China's National Energy Administration.