Foreign trade set to continue stable growth in 4th quarter
Share - WeChat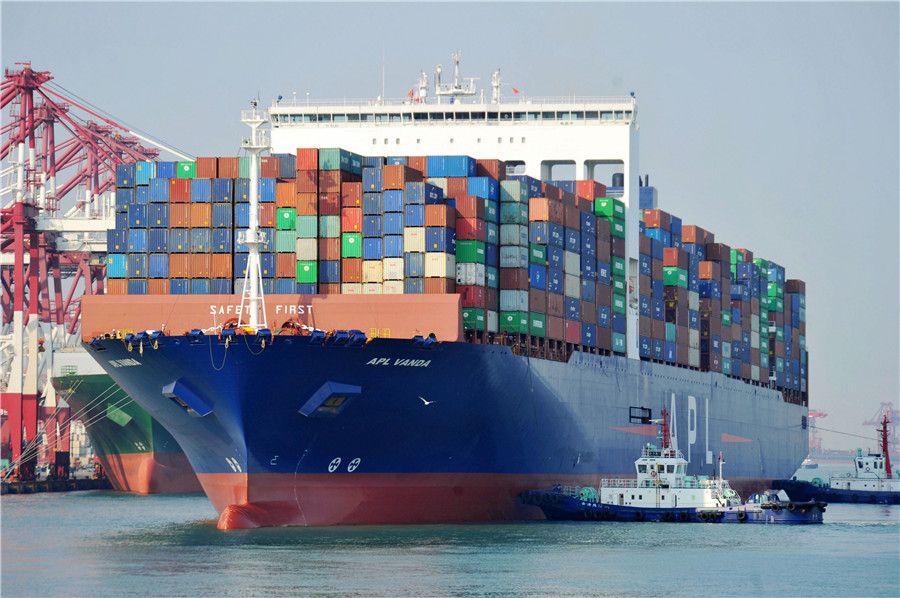 China's foreign trade will maintain stable growth in the fourth quarter as its manufacturing sector is capable of scaling up production within a short period to supply necessary goods amid the global pandemic, officials and analysts said on Tuesday.
The country's foreign trade surged by 7.5 percent year-on-year to 8.88 trillion yuan ($1.32 trillion) in the third quarter of 2020, with exports soaring 10.2 percent and imports rising 4.3 percent, and its total volume of exports and imports reaching historic highs during this period, according to the General Administration of Customs.
The notable expansion of exports and imports will strongly support China's economic growth this year and make the nation the first major economy to recover from the impact of the COVID-19 pandemic, said Chu Jianfang, chief economist at CITIC Securities, adding that this will also help to mend disrupted global supply chains.
China's surging imports between July and September also showed the country's growing demand for consumer goods and industrial materials, especially commodities and agricultural products from global markets, and contributed to the world's economic recovery, said Chu.
The country's total foreign trade expanded 0.7 percent year-on-year to 23.12 trillion yuan in the first three quarters of 2020, recovering from a 3.2 percent contraction in the first half.
Exports of China's electromechanical products rose 3.2 percent on a yearly basis to 7.46 trillion yuan between January and September, about 5.5 percentage points higher than in the first half, accounting for 58.7 percent of the country's total exports, according to the GAC data.
Due to lifestyle changes caused by the COVID-19 pandemic, exports of laptops went up by 17.6 percent and home appliance exports grew 17.3 percent.
In the first three quarters, imports of iron ore rose 10.8 percent, while those of crude oil increased by 12.7 percent and natural gas imports were up by 3.7 percent.
In the same period, imports of soybeans rose 15.5 percent, pork imports grew by 132.2 percent and beef imports increased 38.8 percent.
Despite rising headwinds from the possible worsening of the pandemic across the globe during the fourth quarter and declining goods demand, the basic advantages and growth conditions of China's foreign trade, such as the industrial cluster effect, labor quality and well-developed logistics networks, have not changed, said Gu Xueming, president of the Chinese Academy of International Trade and Economic Cooperation.
Policy support
China was able to quickly adopt a series of policy measures to stabilize foreign trade across the country earlier this year, focusing on key links and overcoming deficiencies, said Zhang Bin, deputy director-general of the Department of Foreign Trade at the Ministry of Commerce.
"These moves demonstrate the nation's comparative institutional advantages," he said.
As a dynamic trade format, cross-border e-commerce has become an important force in stabilizing foreign trade by the application of its advantages in online transactions, contactless delivery and shorter business procedures, said Li Kuiwen, a spokesman for the GAC.
China imported and exported 187.39 billion yuan of products via the GAC's cross-border e-commerce management platform in the first three quarters, up 52.8 percent from same period last year.
After a few months of losses caused by factors such as the pandemic and dropping global shipping activities, SAIC Motor Corp, the Shanghai-based automaker, has seen a recovery in its exports since the second quarter of this year.
The company exported 2,500 MG and Maxus-branded vehicles to Australia, New Zealand and Fiji last month as demand grows for Chinese vehicles.
Zhao Aimin, deputy general manager of SAIC's overseas sales department, said the company has expanded its global market share to 2 percent to date this year,
In the first three quarters of this year, China's trade with the Association of Southeast Asian Nations reached 3.38 trillion yuan, an increase of 7.7 percent, while trade with the European Union rose 2.9 percent to 3.23 trillion yuan and trade with Japan was 1.61 trillion yuan, up 1.4 percent, according to the GAC.
The goods trade value between China and the United States grew 2 percent year-on-year to 2.82 trillion yuan during the same period.
China, in the meantime, exported 2.18 trillion yuan of products to the US, an increase of 1.8 percent year-on-year, while it imported 640.86 billion yuan of goods from the US, up 2.8 percent on a yearly basis.
The country imported 91.39 billion yuan of US agricultural products, a growth of 44.4 percent year-on-year.