Filling gaps in drug development
Share - WeChat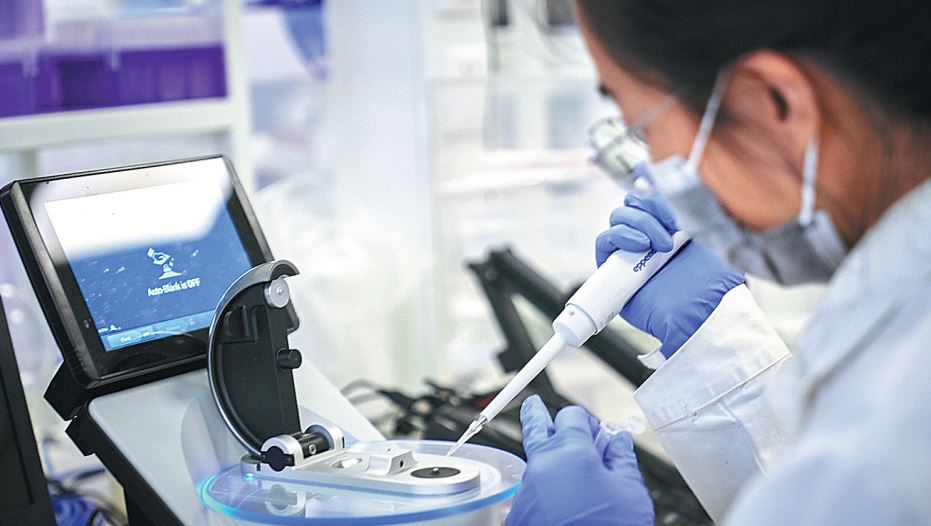 I-Mab Biopharma accelerates worldwide expansion through R&D, licensing deals
I-Mab Biopharma, a Chinese drug developer, is accelerating its global expansion through research, development, manufacturing and commercial capabilities.
In its latest move, the company announced on Sept 4 it has inked a collaboration deal with AbbVie Inc, a US-based drugmaker. The deal, estimated to be worth more than $2.9 billion, gives AbbVie global out-licensing rights for cancer therapy lemzoparlimab.
I-Mab also announced that a consortium led by Hillhouse Capital has agreed to invest $418 million through a private placement.
Hillhouse Capital is a China-based investment firm known for dozens of successful startup investments like Tencent, JD, and Zoom.
The latest funding will be used to speed up clinical research at a global level and strengthen commercialization capabilities in China, I-Mab Biopharma said.
It plans to build a drug producing base in Hangzhou, capital of Zhejiang province, which will conform to good manufacturing practice or GMP standards. It will mark the company's transition to a whole-chain company from an R&D-heavy firm.
Founded by Zang Jingwu, a Chinese scientist, I-Mab said it wants to build a pipeline of highly differentiated, novel biologics with potential to address the significant unmet medical needs in cancer and autoimmune disorders worldwide.
Zang, who used to be the head of China R&D for GlaxoSmithKline, founded Third Venture Biopharma in 2015, which merged with Tasgen to become I-Mab in 2017.
The company was founded to capture the opportunities presented by the confluence of two major developments: the emergence of an attractive and growing biologics market in China, and revolutionary scientific breakthroughs in cancer and autoimmune diseases that are driving the development of new and innovative medicines, it said.
According to McKinsey and Co, a global management consulting firm, China's biopharma market continues to grow at a healthy pace, with total sales reaching some $130 billion in 2018, making China second only to the United States in world rankings.
As the country pursues innovation-driven high-quality development, Chinese biotech firms have also been adopting a stronger innovation mindset, conducting world-class scientific R&D, and developing cutting-edge treatments, industry experts said.
Such firms have also succeeded in developing several homegrown PD-1/PD-L1 inhibitors, a fiercely competitive field with potential to revolutionize cancer treatments and to help the human body's immune system to target and kill tumors.
They have also been able to out-license drug rights to international pharmaceutical leaders. Recent instances include Amgen signing a global collaboration for oncology drug development with BeiGene, and Lilly licensing a neutralizing antibody asset for COVID-19 from Junshi Biosciences.
Lemzoparlimab, also known as TJC4, is an anti-CD47 monoclonal antibody discovered by the Shanghai-based company to treat multiple forms of cancer.
It is widely seen as the company's ticket into a global race for the next class of promising cancer immunotherapies.
Anti-CD47 therapies represent one of the hottest areas in cancer drug development, which, through blocking CD47 function, target a "do-not-eat-me" signal that allows cancer cells to avoid being targeted by the patient's own immune system.
But the development of therapeutic CD47 antibodies has been hampered by hematologic side-effects, such as severe anemia, because of the binding of CD47 on red blood cells.
Lemzoparlimab is designed to minimize inherent binding to normal red blood cells while preserving its strong anti-tumor activity, a critical attribute in potentially differentiating lemzoparlimab from other antibodies of the same class currently in development, the company said.
Topline results of the recent phase 1 clinical trial in the US confirm possible differentiation of lemzoparlimab in drug safety and a more favorable pharmacokinetics profile in cancer patients.
The drug is paired with Merck Sharp& Dohme Corp's Keytruda for solid tumors and Biogen and Genentech's Rituxan for non-Hodgkin lymphoma in the ongoing US studies.
I-Mab is also planning to launch Phase 1/2 trials in China among patients with relapsed or refractory acute myeloid leukemia, or myelodysplastic syndrome. Results are expected in early 2021.
The Sept 4 deal gives AbbVie an exclusive global license, excluding the Chinese mainland, Hong Kong and Macao, to develop and commercialize lemzoparlimab.
AbbVie will pay I-Mab $180 million in an upfront payment, as well as $20 million in a milestone payment based on the Phase 1 results.
In addition, I-Mab will be eligible to receive up to $1.74 billion in success-based milestone payments, of which $840 million are based on clinical development and regulatory approval milestones, with the remainder based on commercial milestones.
Upon commercialization of lemzoparlimab, AbbVie will also pay tiered royalties from low-to-mid teen percentages on global net sales.
Importantly, I-Mab retains all rights to develop and commercialize lemzoparlimab in the Chinese mainland, Macao and Hong Kong, which is turning into a lucrative market for innovative medicines.
The two companies will share manufacturing responsibilities with Abb-Vie being the primary manufacturer for global supply. The collaboration will accelerate I-Mab's establishment of commercial production operations in China, the company said.
Thomas Hudson, senior vice-president of R&D and chief scientific officer, AbbVie, said in a statement that his company has been impressed with what I-Mab has been able to accomplish in research and clinical development and looks forward to working together to make a meaningful difference to the lives of millions of patients globally.
Zang, I-Mab's founder and honorary chairman, said the collaboration comes at a critical time, recognizes the R&D capabilities of the company, and will boost its collaboration with Big Pharma at home and abroad, to accelerate its global presence in new drug development and commercialization.
Trailing behind the development of a CD47 drug that has reached phase 3 study at clinical-stage immuno-oncology company Forty Seven Inc, which Gilead took over earlier this year, the Nasdaq-listed I-Mab has been reportedly looking for months for a powerful ally to speed up its own program.
"Through the new collaboration with AbbVie, we hope to quicken the development and commercialization of lemzoparlimab," Zang said.
"As similar collaborations are certain to follow, we are able to attract more capital to accelerate our R&D, to develop more new competitive biologics to go abroad, which will then form a virtuous circle for the company's development."