Central firms walk the reform talk
Share - WeChat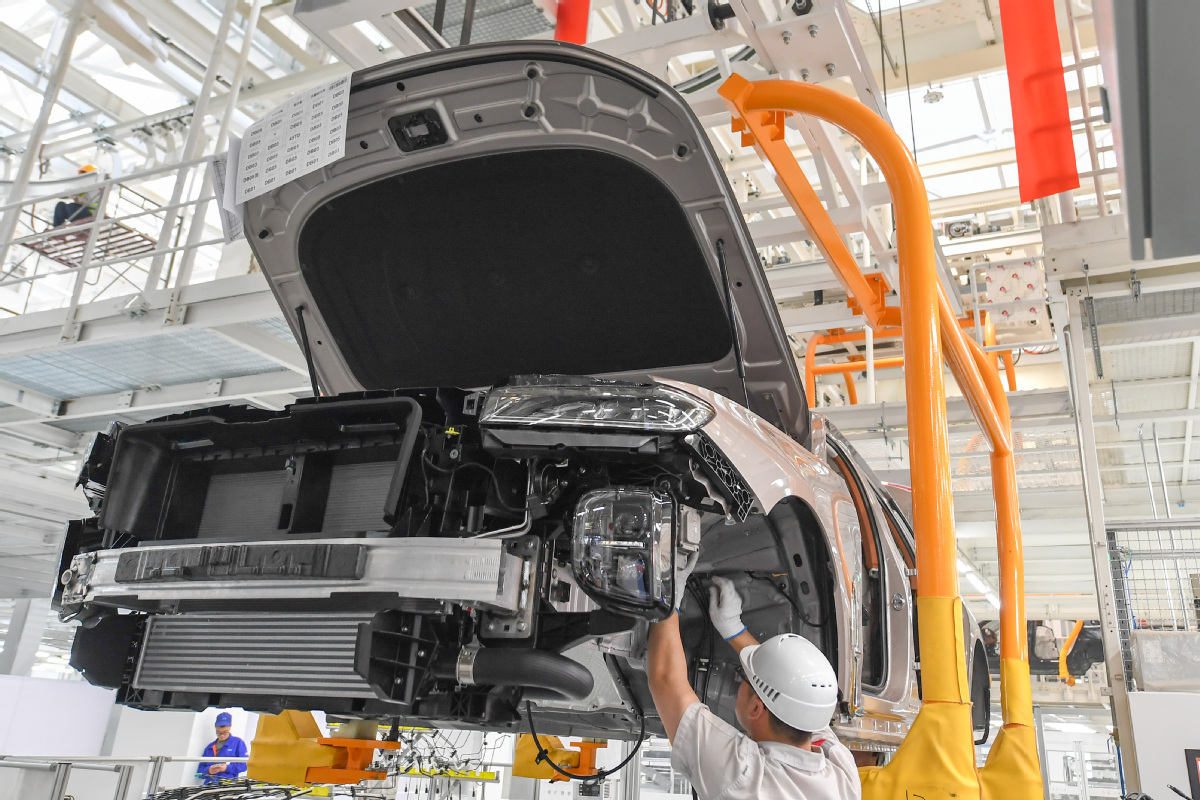 Three-year plan gets going with focus on market-oriented, law-based new era
Some of China's State-owned enterprises or SOEs that are centrally administered are stepping out of their monopoly roles and setting new goals to ensure resource allocation is determined by market forces, thus enhancing their competitiveness.
This follows the nation's decision to create more favorable conditions for the upcoming three-year action plan for SOEs.
The action plan is designed to implement the measures outlined by the 19th National Congress of the Communist Party of China in late 2017.
The Party's vision for SOEs is that they should adapt to the market-oriented and law-based rules and norms in the new era as soon as possible. SOEs are expected to assume greater responsibility in an open and innovative environment.
In line with the new thinking, China Baowu Steel Group Corp Ltd, or China Baowu, plans to build a high-quality iron and steel ecosystem and evolve into a strong player in the global market.
"We will focus on high-end technology, efficiency and market share as well as ecological digitization and internationalization. We have built a world-class indicator system consisting of 28 items and seven categories," said Chen Derong, chairman of the Shanghai-headquartered State-owned steel maker.
Besides taking a controlling stake in Shanxi-based stainless steel giant Taiyuan Iron and Steel (Group) Co in August, China Baowu implemented a performance-driven strategy to encourage managers to make breakthroughs and achieve progress.
Apart from improving its working mechanism including project operations, examination and assessment, training, dedicated platforms and performance evaluation, the company has set up models and applied the experience gained in its pursuit of higher efficiency and quality.
China Baowu is a group formed from the merger of Shanghai-based Baosteel Group and Wuhan Iron and Steel Group in Central China's Hubei province in December 2016.
It is currently the country's most competitive steel maker. Its output totaled 95.46 million metric tons in 2019.
Xu Liuping, chairman of China FAW Group Co Ltd, a Changchun-based automaker, said the company is eager to improve the market-oriented operation mechanism and vigorously promote mixed-ownership reform.
He said the company has set a higher sales target for Hongqi, or Red Flag, a sub-brand of FAW, for coming years, as the Chinese premium marque has become more popular than expected.
Thanks to its growing investment in research and development, especially in areas such as modern design, digital and electric power-related technologies, Hongqi car sales totaled 108,000 units from January to August this year, up 108.5 percent on a yearly basis, despite a 9.7 percent fall in sales of China's overall passenger car market during the same period.
"The sales goal of 200,000 units for Hongqi this year will not be an issue," he said, adding the group is considering a more aggressive target for this brand, pushing its sales in 2021 to at least double this year's figure.
Xu said Hongqi's new models including the H9 sedan have helped boost sales and a more important electric SUV, the E-HS9, is expected to hit the market in the last quarter this year.
The brand will launch 17 new models by 2025 to cater to a younger customer base and thus cultivate a larger following.
As the government has pledged continuous efforts to level the playing field for private companies and rolled out steps to broaden market access for them, FAW Group partnered with Contemporary Amperex Technology Co Ltd, China's largest automotive lithium-ion battery maker by production volume.
Contemporary Amperex is a private sector company based in East China's Fujian province. The two companies started to run a manufacturing facility to produce batteries for electric vehicles in Ningde, Fujian province, late last month. The batteries manufactured at this facility are designed to match the requirements of FAW Group's electric vehicles.
China will take more steps to implement the three-year action plan on reforming the country's SOEs, said officials at the national teleconference on the implementation of the action plan held in Beijing late last month.
The SOEs should become market entities with core competitiveness and push forward the mixed-ownership reform in an active yet prudent manner, according to the information released by the State-owned Assets Supervision and Administration Commission of the State Council at the conclusion of the conference.
Vice-Premier Liu He, who is also a member of the Political Bureau of the Communist Party of China Central Committee and head of the State Council leading group for SOE reform, attended and addressed the conference.
The conference urged the SOEs to play a larger role in leading innovation efforts as well as actions to improve the industrial and supply chains.
The SOEs will act as a safeguard in terms of maintaining social development and improving people's livelihoods, according to the meeting.