Holiday's blockbusters nurture cinematic revival
Share - WeChat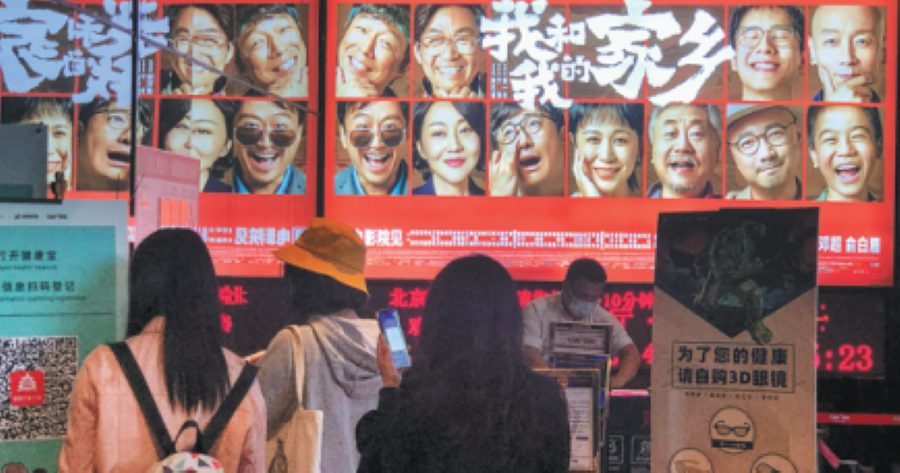 The Mid-Autumn and National Day holidays-the first weeklong break since nearly 70,000 screens were reopened on July 20-have shown a strong recovery from the COVID-19 pandemic shutdown despite seating capacity limits of 75 percent.
Boosted by two new blockbusters, My People, My Homeland and Jiang Ziya: Legend of Deification, the vacation saw box office results of around 2.94 billion yuan ($433.1 million) as of Monday, close to the same period last year and twice as much as in the time period in 2018, according to movie information tracker Beacon.
Coupled with earlier hits-including the war epic The Eight Hundred, the highest-grossing film this year, and Leap with actress Gong Li, China saw total movie ticket revenues surpass 10 billion yuan by Oct 3. It was another sign of the potential of the world's second-largest movie market in terms of box office.
An anthology in which seven directors worked on five standalone tales, the celebrity-studded My People, My Hometown, adopts a comedic tune to recount China's efforts to get rid of poverty.
The movie is similar to last year's blockbuster My People, My Country and has grossed 1.2 billion yuan. It has overtaken Jiang Ziya: Legend of Deification to top the holiday box office charts consecutively for three days since Oct 3.
Stirring a homesickness among moviegoers for their hometowns, the film garnered 7.4 points out of 10 on the popular review site Douban.
Ning Hao, chief director of My People, My Homeland, said the film is like a love letter written by a group of filmmakers as a tribute to various Chinese hometowns, hoping that their work would make theatergoers feel relaxed and happy.
Chinese theaters were shuttered for nearly half a year due to the pandemic, starting in late January. Three of the National Day blockbusters, Leap, Jiang Ziya and Vanguard, the latter starring action giant Jackie Chan, were once scheduled for the Spring Festival holiday, one of China's most lucrative box-office periods, which started on Jan 25.
Jiang Ziya: Legend of Deification is a follow-up to last year's smash hit Ne Zha, the country's all-time highest-grossing animated film, inspired by the Ming Dynasty (1368-1644) novel Fengshen Yanyi, or The Investiture of the Gods. While also inspired by the novel, Jiang Ziya tells a nearly new story shrouded in a darker atmosphere.
With mixed reviews-some parents have called the tale a bit scary for children-the animated film fell from the National Day box office champion's chair, which it had held for two days, Oct 1 and 2, but it still brought in more than 1 billion yuan.
Mu Chen, head of Beacon's research institution, said the China Film Administration, the country's top sector regulator, raised the seating capacity in movie theaters from 30 percent in late July to 50 percent in mid-August and to 75 percent since Sept 25, generating a stimulus for the market.
"The genres of films released during this year's National Day holiday are more diversified, varying from animation to action and comedy. With more options, more audiences have been lured to theaters," he added.
Saying that high box office figures and online praise for National Day blockbusters have sent "a positive signal", Mu predicted their performance will encourage industry insiders to release more quality films, as shown by the announcement of several films aimed at the golden time before and during the 2021 Spring Festival.
Beijing-based Capital Cinema's deputy general manager, Yu Chao, said the drop in overseas travel due to the pandemic has shifted a lot of customer interest to theaters, creating new box office highs during the holiday.
He said most of his fellow theater operators, especially those in downtown areas of big cities, have expressed the feeling that the domestic film industry's recovery is going much better and more quickly than was forecast.
Most of the National Day blockbusters-including Coffee or Tea?, a startup-themed comedy that opened on Oct 4-held test screenings in advance, accumulating popularity online. "Such strategies are useful to raise the films' power of attraction," he said. Yu predicted that the next hit might be the war film Jin Gang Chuan, an epic jointly directed by veteran directors Guan Hu, Guo Fan and Lu Yang and set to open in late October.
Yu said he hopes the Chinese film industry will use the momentum to accelerate the recovery.