Fight food waste, save people, planet
Share - WeChat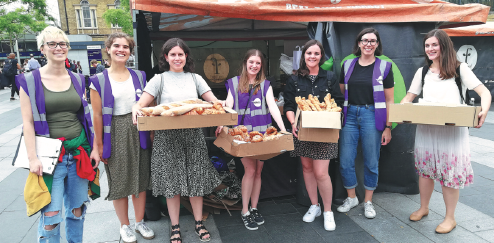 Volunteers, charities combine to prevent hunger
On a September morning last year in London's Borough Market, a group of nearly 200 volunteers donned aprons and sharpened their cooking skills to help feed people facing food poverty in the United Kingdom's capital and to prevent food waste.
The event, Wok for 1,000, was part of celebrity chef Jeremy Pang's work to support the charity Plan Zheroes, which aims to help connect food businesses with charities to redistribute surplus food and support measures to help prevent food waste.
The event produced about 1,300 meals that were distributed across London for those in need.
Organizers hoped the event would raise awareness of food waste and food poverty.
Pang said he decided to act after learning about the problem of wasted food, and said the battle to cut wastage is ongoing.
According to the Waste and Resources Action Programme, also known as WRAP, the annual food waste from UK households, plus the hospitality and food service sector, manufacturing and the retail and wholesale sectors was around 9.5 million metric tons in 2018.
WRAP said about 70 percent of the wasted food, worth over 19 billion pounds ($24 billion) a year, could have been eaten.
Pang, founder of the cookery teaching facility School of Wok in London's Covent Garden, said minimizing food waste starts with education.
"Although there are a lot of initiatives set up to tackle the problem of food waste in the UK, it's still a massive problem," he said. "There's a lot more to do and it's about teaching people that it's OK to use the last bit of wilted lettuce, for example, that's not gone off but you can still use it."
The annual Wok for 1,000 charity event has taken place for the last four years, but this year there won't be a physical event due to the novel coronavirus pandemic.
Instead, Pang is hoping to put together a virtual "cookalong" or class to continue to spread the food waste prevention message and help those in need. "It's also about confidence building, cooking and education on how to cook simple dishes at home and use up your leftovers or products that would otherwise go in the bin," he said.
Despite the huge food surplus, many people are still going hungry. WRAP estimates that some 8.4 million people are struggling to afford to eat in the UK.
A report commissioned by the UK government's Environmental Audit Committee found that the level of food insecurity in the UK is one of the highest in Europe.
The report estimates that nearly one in five UK children age 15 or younger lives in a home where the parents cannot afford to put food on the table
"Sadly, the issues surrounding food poverty are not going away. In fact, the number of people experiencing hunger has risen sharply in recent years, and we are seeing more and more demand from front line charities during the pandemic as people face job losses or similar crises," said Dee Vadukul, business development manager at Plan Zheroes.
"Awareness of food waste has most certainly increased over the years. Since Plan Zheroes was founded in 2009, many other zero-food-waste organizations have been established. We are really proud to work in a collaborative manner with a lot of them."
Since the UK's lockdown measures began easing, WRAP has raised concerns that the move could lead to more wasted food.
According to research WRAP conducted in June, although people have found ways to manage their food better self-reported waste has risen by 30 percent compared with the early stages of the lockdown.
"While concerns about going to the shops and running out of food motivated people to waste less in April, those motivations are weakening with restrictions lifting. Combined with the added time pressures of some 'normal' life resuming, such as more people returning to places of work and some pupils returning to school in June, people's commitment to wasting less food is waning," WRAP said.
Vadukul said that from Plan Zheroes' perspective, the demand for surplus food has never been higher.
"Our charities rely on food donations to help keep their overall running costs as low as possible. We are seeing donations made by businesses claimed within seconds by charities. This is partly because not all businesses have fully reopened, but also the need for food donations has increased due to the pandemic," she said.